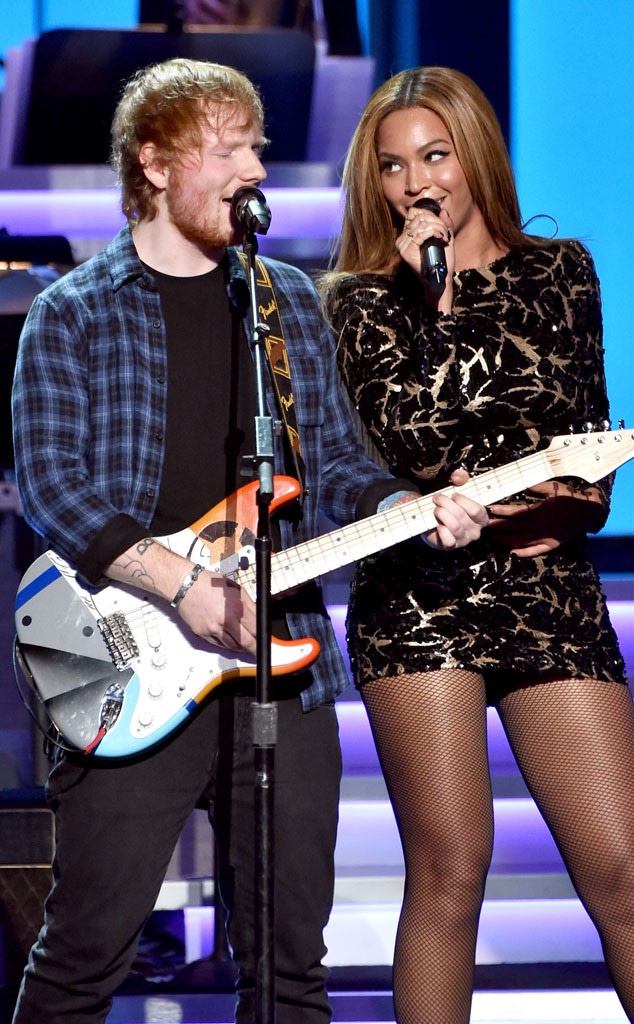 Kevin Winter/WireImage
We're getting closer to the release of Ed Sheeran's "Perfect" duet with Beyoncé!
On Thursday, the 26-year-old singer announced on his Instagram page that the collaboration with Bey would be released tonight, surprising their fans.
And this isn't the first time the duo has worked on a collab together, in fact, Ed and Beyoncé seem to be good friends!
While this might seem random, we actually have proof that this friendship isn't as random as you might think!
Let's take a look at all of the times these two have collaborated, talked about each other or just spent time together.
1. When Ed Covered Bey's Song: During an On Air With Ryan Seacrest interview in March 2014, Ed performed an acoustic version of "Drunk in Love." Take a look at the performance above!
2. Grammy Tribute: Beyoncé was joined on stage at Stevie Wonder's Grammy tribute in Feb. 2015 by Ed and Gary Clark Jr. "Had a brilliant time performing with these two tonight at the Stevie Wonder tribute," Ed wrote after performing with the duo.
3. Pizza With Bey, Jay-Z and Ed: Later in 2015, Ed told Jimmy Fallon about eating pizza with Beyoncé and Jay-Z. The couple went to see Ed perform at the Barclays Center in Brooklyn. After the show, Ed invited them to go to a dive bar with him and his friend and they all had pizza! Ed told Jimmy that Bey and Jay-Z are the "coolest people." See what else he had to say about the experience in the video above!
4. When Bey and Ed Performed "Drunk in Love" Together: During the Global Citizen Festival in Sept. 2015, Beyoncé was joined on stage by Ed and the duo performed the acoustic version of "Drunk in Love" together as the crowd went wild.
5. When Ed Gushed Over Beyoncé: After the Global Citizen Festival performance, Ed told MTV that Bey sent him the arrangement to the song and it was "really good." He continued, "She's one of these people that just is so good at what she does that even just to be involved, it makes you look better."
How excited are you for the duo's "Perfect" collaboration? Sound off in the comments!