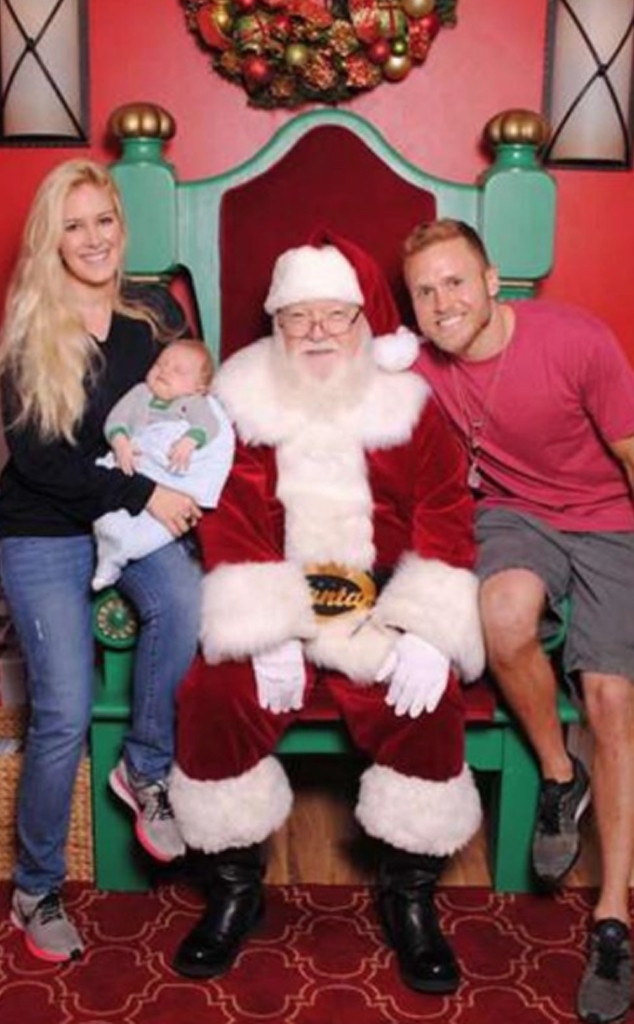 Instagram
Gunner Pratt, there's a special man in town that you have to meet. 
The Hills stars and new parents Heidi Montag and Spencer Pratt had a last-minute stop to make on Wednesday when they brought their 2-month-old newborn son for a visit to Santa Claus. Except, it looks like the little one used the moment to squeeze in some shut eye because it seems he dozed off during the shot.
Meanwhile, his famous mom and dad were looking casual in solid shirts, jeans, shorts and sneakers. "@gunnerpratt fist time seeing Santa! it was a last-minute decision so we don't look festive," proud mama Heidi explained on her Instagram account.
Of course, the last two months have been packed with firsts for this little one, including his first audition! That's right—the TV star couple are already showing their infant the ropes and took the baby to a callback in late October for a commercial that is set to air during the 2018 Super Bowl.
"You excited to upstage [halftime show performer] Justin Timberlake at the Super Bowl?" Spencer joked to his son in a Snapchat video as they left the audition room. "Gunner, you nailed that audition." 
 "Gunner's first audition was one of the most amazing experiences of my life," Spencer told E! News exclusively. "I was a total dadager. Dadager Pratt Daddy." Meanwhile, Heidi was a self-admitted stage mom. "Heidi was so nervous, I've never seen her so nervous," he said. "She was afraid another actor was going to have to hold her baby for a scene."
While little Gunner has already had quite the exciting first few months of life, the first-time parents have equally taken to their new roles. 
"I am loving being a mom, more than I could ever imagine, and watching Spencer with the baby is so special," Heidi told E! News. "They already have this unspeakable bond. We are loving being a family."
As Spencer added, "Being a dad is the most amazing experience of my life...Heidi is the most loving and amazing wife and mother. I wake up in the middle of the night and she's just wide awake staring at Gunner. It's all such a blessing. Life couldn't be better."
Plus, we'd better Gunner has been nothing but nice. Look out for those presents, little guy!