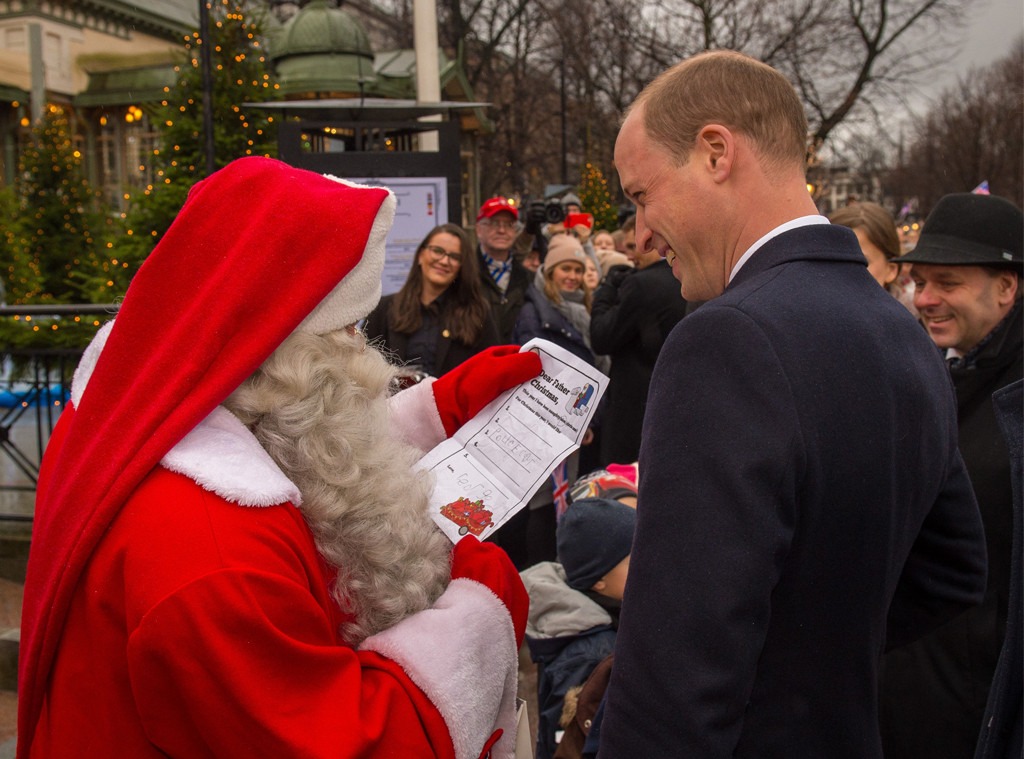 Dominic Lipinski/PA Wirere
It looks like Prince George will make Santa's nice list this year.
During Prince William's two-day trip to Finland, the Duke of Cambridge met with the one-and-only Santa Claus and presented him with his son's Christmas list.
"I've seen you, and I had to give you this letter, " William said to Old St. Nick at a Christmas market in Helsinki.
So what does the four-year-old royal want for Christmas this year? According to his handwritten note, there's only one item he's hoping to find underneath his tree: a police car. 
"He hasn't written down many requests, so I think one request is probably OK," William added with a laugh.
In addition to featuring George's short list of requests, the note featured a brief questionnaire—one that asked the young prince whether he'd been naughty or nice this year. George circled the word "nice."
William pointed this out to Father Christmas and offered to vouch for his son.
"But he's been a nice boy, a nice boy," he said to Santa.
George even gave his royal signature at the bottom of the form.
Dominic Lipinski/PA Images via Getty Images
Santa looked over George's list and seemed to nod in agreement—always a good sign. However, the tot will have to wait until Christmas to find out if Mr. Claus will grant his request. 
After giving Santa the list, William was offered a few holiday treats, including mulled wine and ginger biscuits that looked like reindeer. With Christmas just around the corner, William jokingly told the jolly man, "It's a busy time for you."
It looked like it was a merry day for all. Before meeting with Santa, William met with hundreds of well-wishers. He also met members of Finland's air force at Helsinki Airport, where he could see military aircrafts on display.
Now, the only question is this: What does two-year-old Princess Charlotte want this holiday season?
For more celebrity news, watch E! News at 7 and 11 p.m.