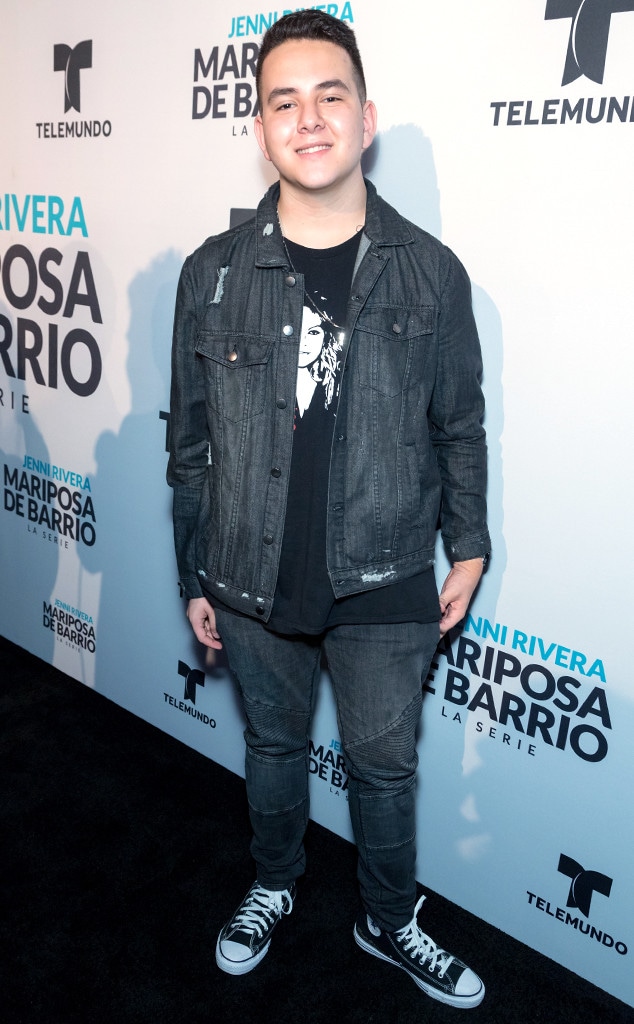 Greg Doherty/Getty Images
Jenni Rivera's youngest son Johnny Lopez has come out as bisexual. 
The 16-year-old star shared a video of himself along with his older sister Chiquis Rivera to address the speculation around his sexuality. 
"There has been a lot said about me in the past few weeks. Things didn't come out the way I wanted this to," he began."I wanted to make this video first and for everyone to understand me but my boyfriend, as you all know, Joaquín, we both got a little too excited, and he posted a few pictures of us, and I retweeted them, and it went viral."
"People began noticing that we were together. They didn't come out exactly the way I wanted to but they're out now. I am in a gay relationship right now and I am in love with this person. I've been dealing with this part of myself for a long time now," he said.
The Riveras star said that the two had first gotten together two years ago but broke up and have been together for the last five months. 
"In that time, I did experiment with girls, tried different things here and there. I still don't know what my preference is personally," he admits. "But I do know that I love this person a lot, I've been in love with him for about two years now and I'm happy and it's the happiest I've ever been."
"I've dealt with this for so long and I never got to tell my mom about this side of myself," he said. "And I know that's the number one question in everyone's mind, 'What would your mom think?'"
Lopez confessed that he struggled with his sexuality for many years. 
"And for so long I wanted to be completely straight or completely gay because I honestly didn't know where I am," he said. "I'm bisexual, but honestly, I know that some people don't necessarily believe in that but all I know is that I love this person and I don't necessarily have a preference, I love who I love."
In the video, Lopez defends his late mother, his sister Chiquis and his aunt Rosie Rivera due to hateful comments that people directed at them on social media.
Lopez also addressed those that have questioned the sincerity of his boyfriend's intentions.
"But with all due respect to all of the people out there, you all aren't with me whenever he tries to beat me to the check when we're eating or when he tries to get me gifts. He hates when I get him gifts because he doesn't want me spending my money on him. I know his heart, and I know why he's here," he says. "And I'm the one that went after him because he was hesitant to be in a relationship with me."
Chiquis concluded the video by sharing a message of support to her little brother that she's raised since their mother died in 2012.
"I support you in this, and I don't care, I don't care about what anyone has to say. I mean, a lot of people aren't going to understand. I respect everyone's opinions, I just hope that everyone can just respect ours," she said. "We're going to be fine and I'm going to be very proud of you. I don't care what they say about me, I just want you in your heart to be OK because that's the most important thing here."