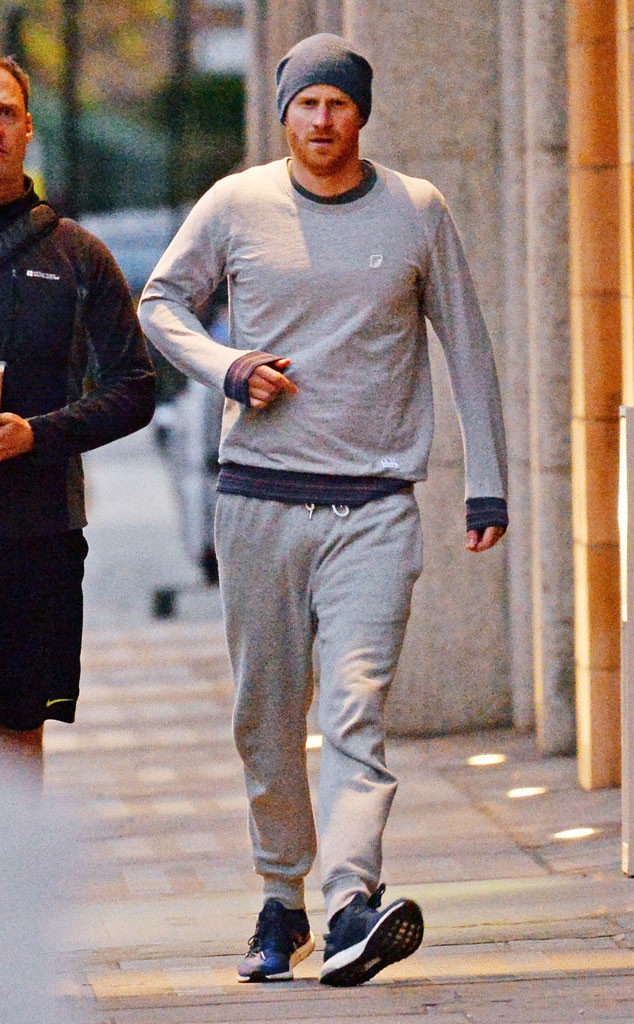 TheImageDirect.com
It's just another day in Prince Harry's life!
Despite the craziness surrounding the red-headed royal just one day after he announced his engagement to Meghan Markle, Harry is back at his day-to-day activities.
First up: Hitting the gym!
Harry was spotted Tuesday morning wearing grey sweats, a blue beanie and tennis shoes as he walked home from a sweat sesh at the gym. His casual outing marks the first time he's been photographed following the exciting engagement announcement on Monday.
But despite the news coming out just yesterday, Harry and Meghan have already accomplished quite a bit.
For starters, they set their wedding date and location. The duo will tie the knot at St George's Chapel at Windsor Castle this May.
The 14th century chapel has been home to a long line of royal weddings beginning in 1863. In 2005, Prince Harry's father, Prince Charles, received a blessing on his wedding day to, Camilla, Duchess of Cornwall, Harry's now-stepmother.
Furthermore, Meghan and Harry already took their first, joint interview yesterday with Sky News.
The sit-down revealed quite a bit about their love story, including how the prince asked the Suits star to marry him.
"It was a cozy night," Meghan recalled, noting they were together at their cottage in Kensington Palace. "We were roasting chicken. It was just an amazing surprise. It was so sweet and natural and very romantic. He got down on one knee."
Harry then chimed in, "It was a really nice moment—it was just the two of us. I think I managed to catch her by surprise."
Meghan, still giddy over the romantic gesture, smiled and added, "As a matter of fact, I could barely let you finish proposing! I said, 'Can I say yes now?!'"
Harry continued, "She didn't even let me finish. She said, 'Can I say yes? Can I say yes?' Then were hugs, and I had the ring in my finger, and I was like, 'Can I give you the ring?' She goes, 'Oh! Yes! The ring!'"
Needless to say, this wedding will mark another massive, fairy tale of an event, following that of Harry's brother Prince William and sister-in-law Kate Middleton in 2011.
"We are very excited for Harry and Meghan," the Duke and Duchess of Cambridge, who are expecting their third child in April 2018, said in a statement Monday. "It has been wonderful getting to know Meghan and to see how happy she and Harry are together."