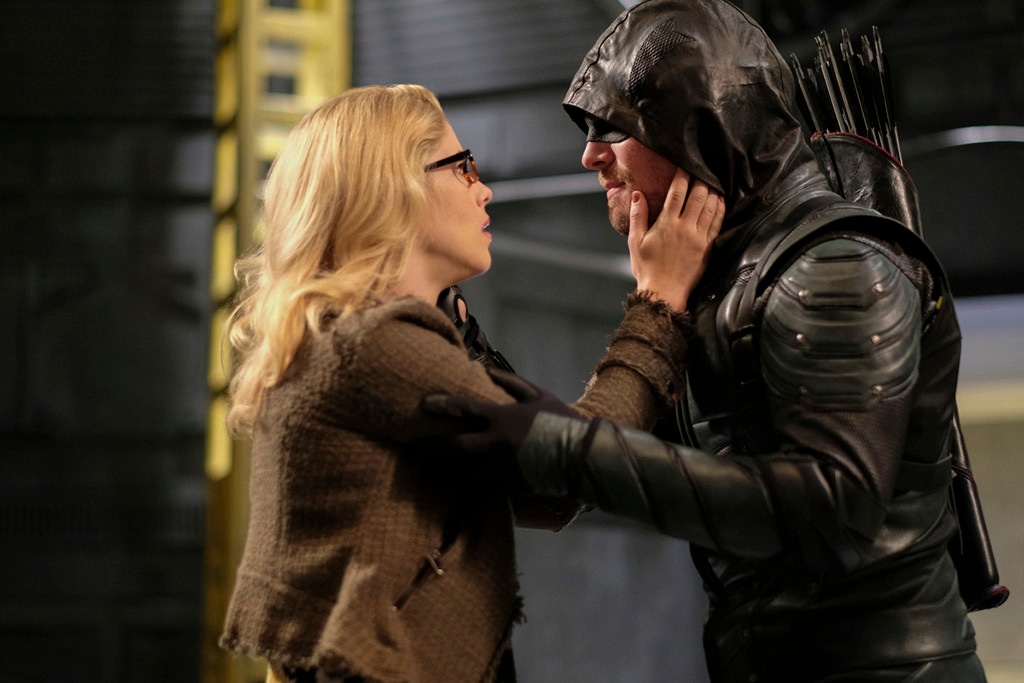 The CW
If there's one thing we learned from this year's CW crossover, it's to not invite Oliver Queen and Felicity Smoak to your wedding.
Or we guess we might be calling her Felicity Queen now, since she and Oliver tied the knot in what was probably the most obnoxious way possible, after the proposal happened in the most obnoxious way possible, and then they were all obnoxious about it while there were actual nazis (including a nazi version of Oliver!) roaming around trying to kill everyone. And to top it all off, they were among Barry and Iris' many friends who didn't RSVP for the wedding until the day before, which is just plain rude! 
But let's start with that proposal, which was barely a proposal. At the rehearsal dinner, Oliver just started talking about how he wanted his and Felicity's rehearsal dinner to be just like that, and Felicity got all "what are you talking about?" Finally he did actually ask her to marry him, and she said no, eventually declaring to the entire room of people focused on the happiness of Barry and Iris that she did not want to marry you, Oliver Queen. 
Whenever Oliver had a moment during any of the nazi-fighting, he brought up the fact that Felicity didn't want to marry him, either to Felicity or to Barry and Iris, and wanted to talk about it constantly. He had a nazi doppelganger married to nazi Supergirl, and all he wanted to do was talk about Felicity rejecting his proposal. 
Then, Barry and Iris were literally in the middle of an adorable impromptu ceremony with Diggle officiating (which was already awkward because it was right after Stein's funeral, still in funeral clothing, but whatever). Oliver and Felicity were supposed to be the best man and maid of honor, the silent witnesses to this beautiful event—silent being the key word. Instead, Felicity stopped Diggle while he was pronouncing man and wife to ask if she and Oliver could SHARE THE CEREMONY. 
She realized right then and there that she did, in fact, want to marry Oliver, and they should do it now! Right now! While another couple was also getting married! She and Oliver didn't even have their own vows, because they couldn't compete with Barry and Iris. So they not only stole their ceremony, but also essentially stole their vows. 
Barry and Iris just stood there, saying nothing, while Oliver and Felicity blabbered on about what they were doing, with no one ever pointing out that Oliver and Felicity could have Diggle marry them literally any time they wanted, any other time that was not during the post-funeral wedding of someone else. 
But since no one pointed that out, they just continued on with it, and both couples were married together for some reason. And it was clearly supposed to be cute and heartwarming but instead it was just SO RUDE. 
And another thing: Barry and Iris' second wedding did not include the phrase "I do," which might not be such a big deal in a casual setting, but remember the waitress who was most likely Barry and Iris' future daughter? "Remember to say 'I do,'" is the last thing she said to him. Does this mean we should be worried?! 
Of course, it's The Flash and we should always be worried, but honestly, WestAllen has had enough wedding drama to last them a lifetime, which Oliver and Felicity should have realized, which is why they should have just let them have this one to themselves, gosh darn it! 
Anyway, don't invite the Queens to your wedding because they will most definitely make it all about them. 
The Flash airs Tuesdays at 8 p.m. and Arrow airs Thursdays at 9 p.m.