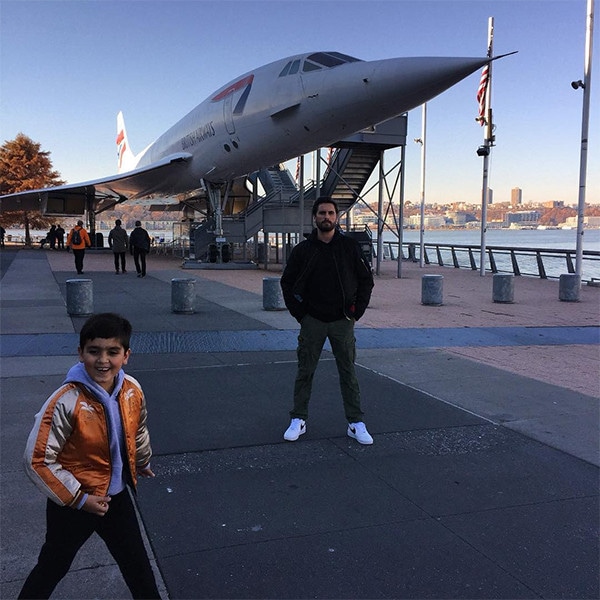 Instagram
Scott Disick treated son Mason to a boys' trip over the Thanksgiving holiday.
The two started this trip by jetting off to New York City. On Black Friday, the Keeping Up With the Kardashians star shared on his Instagram page a photo of him and Mason, 7, standing in front of the British Airways Concorde jet at the Intrepid Sea, Air & Space Museum.
"Take off," Scott wrote.
The two then headed south to Miami. Later that day, Scott posted a pic of the two standing next to a luxury helicopter provided by the Setai, Miami Beach Hotel.
"We got the moves," he wrote.
On Saturday, the two lounged on the beach at the Setai resort with several of Scott's friends. Scott was spotted sipping on a couple of beverages, including fresh coconut milk provided by the hotel. He and Mason were also seen walking together on the beach on Sunday.
Scott's ex and the child's mom Kourtney Kardashian "thought it would be nice for Mason to get quality time with his dad," a source told E! News.
Sofia Richie, who Scott has been seeing for the past few months, also spent the Thanksgiving holiday back in Los Angeles. She was spotted grabbing takeout food by herself on Thanksgiving Day.
On Black Friday, she shared an Instagram Stories video of someone massaging her feet, with the caption "best part of my week."