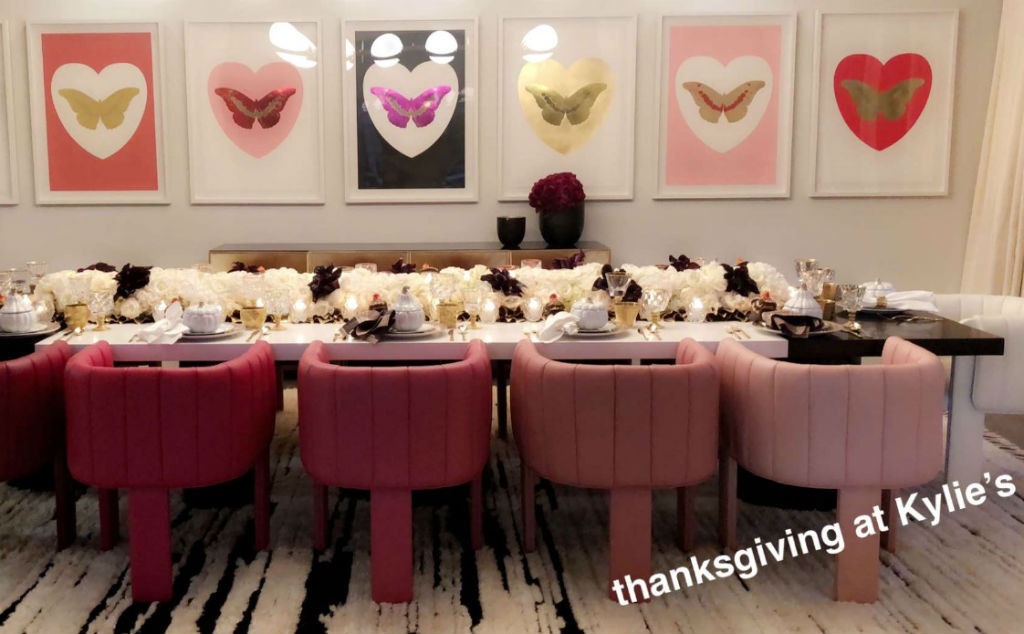 Snapchat
Kylie Jenner hosted Thanksgiving at her house again this year.
The 20-year-old Keeping Up With the Kardashians star, who also hosted family Thanksgiving last year, posted photos and videos on Snapchat showing all the yummy food and treats at her house on Thursday. Kylie showed her followers the gorgeous table settings for their holiday meal, writing "Thanksgiving at Kylie's."
Kris Jenner and Kim Kardashian were both in attendance at the celebration and appeared in a video posted to Kylie's Snapchat. Rob Kardashian also gathered with his family for Turkey Day; he can be heard talking in one of Kylie's Snapchat videos and she tells him, "Shut up, Rob."
A source tells E! News the entire family was "especially happy" to have Rob around for the holiday. 
The source adds, "The whole family was at Kylie's last night and had a mellow Thanksgiving. Kylie made a lot of the dishes herself and said she loved cooking. It was fun for her."
One person not in attendance was Khloe Kardashian, who was celebrating the holiday in Cleveland with boyfriend Tristan Thompson. Meanwhile, Kourtney Kardashian posted on Instagram that she was "away" with her three kids, but it seems like she made it back for Thanksgiving just in time and was posting on Snapchat from the dinner.
As for Kylie's boyfriend Travis Scott, he was far away from Los Angeles spending Thanksgiving in his hometown of Houston, Tex. The rapper gave back to his community by hosting the Houston City Wide Club of Clubs Turkey Drive, and was photographed passing out clothing and other items to victims of Hurricane Harvey. 
Despite being apart from her main man, our source reveals Kylie totally understood that "he was with his own family in Houston."
For those who did attend Kylie's holiday celebration, it looks like the night ended with some fun family games. Kylie posted a photo showing that the squad was playing a game of "family Taboo."
Our insider describes, "They all played games and told stories afterwards and everyone was on their best behavior."
Earlier in the day Thursday, Kris posted a message on Instagram, wishing her followers a happy Thanksgiving.
She wrote, "Wishing all of you a very Happy Thanksgiving, filled with joy, love, family and friends! #Thankful #Blessed #Love #HappyThanksgiving."
Keeping Up With the Kardashians returns this September, only on E!