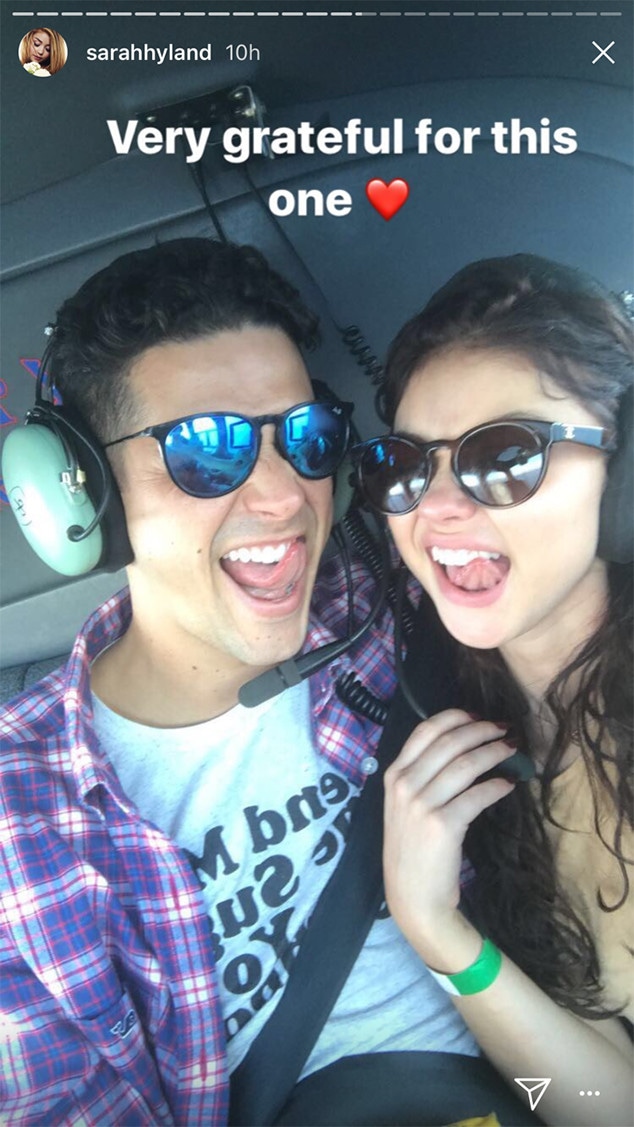 Instagram Story
If this were The Bachelor, Sarah Hyland would easily get Wells Adams' final rose.
Ahead of the Modern Family actress' 27th birthday on Nov. 24, the reality star and radio host surprised his girlfriend Wednesday with a special date: a helicopter trip to Santa Catalina Island. Hyland shared photos and videos with fans Thursday, prefacing it with a warning. "Now, I'm going to do an Instagram story of really, really annoyingly cute vomit-worthy videos of my day yesterday," she said. "Get out your vom buckets 'cause it's about to get real in this cute house."
"Wells surprised me with a birthday trip," Hyland added, biting her lip. "It was awesome."
Hyland shared photos and pictures, often doodling on them. "I can't. I'm all gushy," she wrote over one of the pictures. In yet another shot with Adams, she said, "Very grateful for this one."
For the last picture, she wrote, "OK, I think I'm done with the gush for now."
Hyland then resumed her Instagram Story. "Um, hi. That was annoyingly cute, and I'm very sorry I had to put you all through that," she said while playing with her hair. "I just...like it a lot."
Rather than leave her bed, the actress decided to share another message with her 5.4 million followers on Thanksgiving. "Cherish the ones you love. Be grateful for what you have," Hyland said "Don't take things for granted. Never push for something that doesn't want you back or that feels wrong, that doesn't work out the first couple of times, whatever in life that may be."
Hyland and Adams spent the holiday together, sharing even more Instagram Stories. 
The reality TV star reflected on the unforgettable date with his own Instagram post, detailing the "top 5 ways" helicopters are similar to his new girlfriend. 
"1. They make you feel like you're floating," Wells penned, adding, "2. Every moment with them is an adventure. 3. They make you feel like you're falling, in the best way.4. They defy gravity. 5. They are really f--king cool Happy birthday @sarahhyland. You're my favorite thing. Everyday should feel this good." 
The couple took their romance public in late October, and just last week, the actress revealed to E! News' Will Marfuggi that she was "rooting" for him when competed on ABC's The Bachelorette.