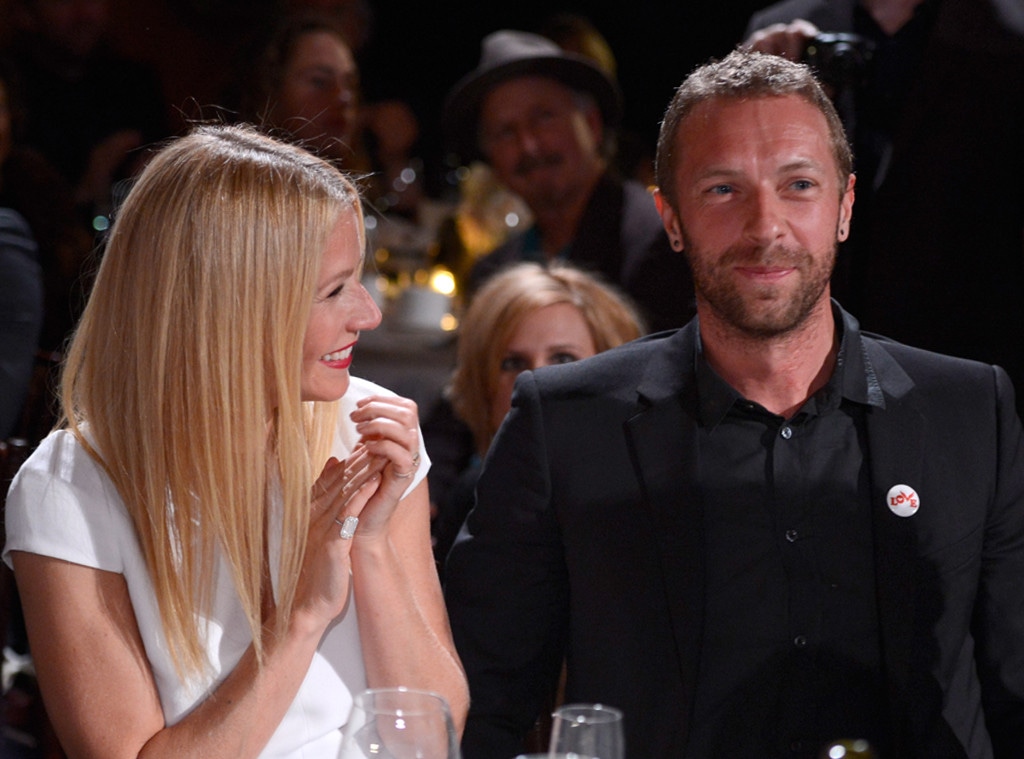 Kevin Mazur/Getty Images for J/P Haitian Relief Organization
In 2014, Gwyneth Paltrow catapulted a peculiar phrase to national stardom: "conscious uncoupling."
It was late March when the Oscar winner and her husband of more than 10 years, Coldplay frontman Chris Martin, penned a joint statement shockingly announcing their separation. 
"We have been working hard for well over a year, some of it together, some of it separated, to see what might have been possible between us, and we have come to the conclusion that while we love each other very much we will remain separate," they explained in the joint message. 
However, in assurance to the public, the two added that though they would no longer be linked by wedding bands, they were perhaps in a better place than ever before. "We are, however, and always will be a family, and in many ways we are closer than we have ever been. We are parents first and foremost, to two incredibly wonderful children and we ask for their and our space and privacy to be respected at this difficult time. We have always conducted our relationship privately, and we hope that as we consciously uncouple and coparent, we will be able to continue in the same manner."
While fans inwardly crumbled over the end of one of Hollywood's most beloved A-list couples, Paltrow had left hints that her marriage was not quite right anymore. A year earlier, she said in an interview with Glamour U.K., "It's hard being married. You go through great times, you go through terrible times. We're the same as any couple."
Fast forward 12 months, the acclaimed star offered some deeply honest insight into how her divorce made her take a closer look at herself. "I really don't come from a culture of divorce at all and I had very high hopes for what my life would be like and that I absolutely assumed that I would be in a long, successful marriage and I think that it was very difficult for me to come to terms with the fact that I couldn't do that and I wouldn't be able to be married to the father of my children for the rest of my life," she candidly told an audience at Pearl xChange in 2015. 
"It was very challenging for me in terms of having to reassess what that said to me about me….these ideas that I had about that kind of failure and how I could process through it and ultimately really embed myself with myself," Paltrow continued. "My real self couldn't be married."
Around that period, it seemed the renowned actress was coming to better terms with her "real self." She continued to hone in on and expand her lifestyle brand, Goop, and was appearing noticeably less in films. "It's my 24/7 focus right now," she told Matt Lauer during an interview on Today in March 2016. "I'll return to acting probably, but probably not right now."
After her high-profile marriage to Martin, it seemed Paltrow also took matters of the heart into her own hands—and out of the spotlight's. A few months after her separation announcement, the mother of two was spotted out and about with television producer and writer Brad Falchuk. While little was known about the seemingly new couple's dynamic at the time, Paltrow would manage to keep it that way as their budding private romance remained, well, private three years later.
Though they didn't exactly hide under a rock, the lovebirds kept their public comments about each other to a minimum, seldom shared photos of each other on social media and avoided a lot of the Hollywood benchmarks—and contributing pitfalls—of a public couple. 
Joe Schildhorn/BFA/REX/Shutterstock
Despite any internal bliss, Paltrow kept her new world as a public entrepreneur and her even newer world as a single woman with a new boyfriend separate, perhaps to safeguard both worlds from chipping away at each other. After all, she admitted relationships were never her strongest suit to begin with. 
"I'm actually a pretty good friend and a good sister and a daughter and a mother, but I am at my potentially most vulnerable and f--ked up in the romantic slice of the pie," Paltrow told Girlboss Radio's Sophia Amoruso in August. "So it's taken me a lot of work to get to the place where I have a good romantic relationship."
Now, as reports emerge of her and Falchuk's engagement, perhaps the personal lessons Paltrow learned and the change of course she took as a result led her to the marriage she always envisioned she would have. 
As the star told The Edit, "I haven't made one mistake that I haven't used as a stepping stone to get somewhere else. I'm ruthless when it comes to using the hard things."