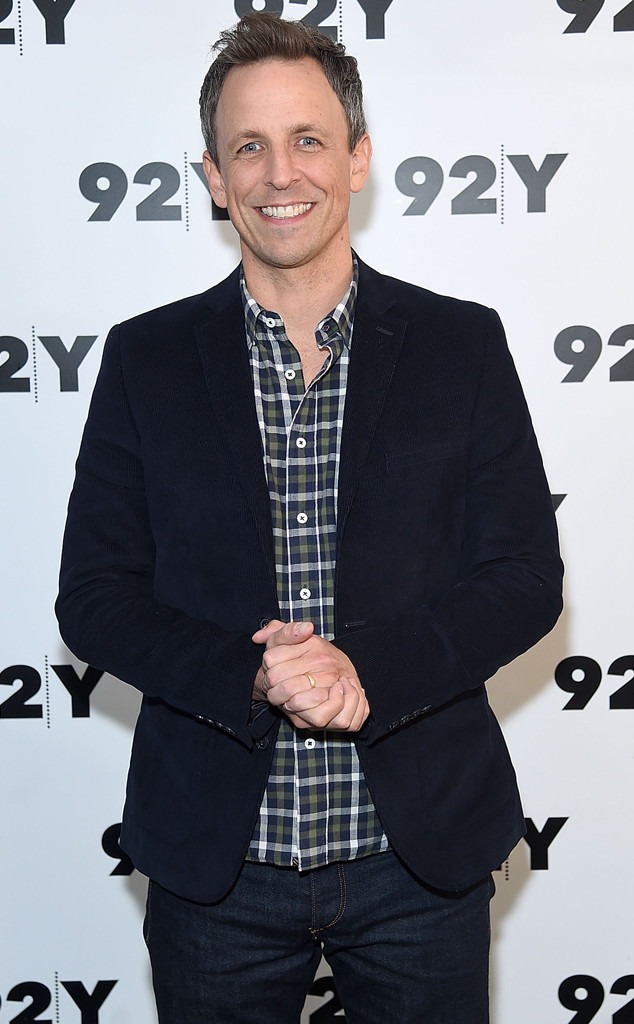 Jamie McCarthy/Getty Images
After some recent rumblings, it's official: Seth Meyers will serve as host of the 75th annual Golden Globes in January 2018.
The Late Night host takes the reigns over from The Tonight Show's Jimmy Fallon, who captained the ship in 2017.
Of course, all eyes will be on Meyers to see how the funnyman handles the wave of sexual misconduct and assault allegations that have taken down Hollywood's most notorious men (and many others) in recent months. 
Here's why we think he will score big as host of the Golden Globes...
Michael Loccisano/Getty Images for Worldwide Orphans
1. He's Got Mad Improv Skills: Meyers got his start in the land of improv, a no-holds-barred kind of unscripted comedy that keeps a player on his or her toes. After four years of auditioning for Northwestern's improv troupe, Mee-ow Show, Meyers finally made it on his senior year. He then continued training at ImprovOlympic in Chicago with the group Preponderate. Meyers then hopped the pond, performing a stint at the prestigious Boom Chicago, in Amsterdam.
His improv training has made him able to deftly navigate anything thrown at him on air, as well as the twists and turns of unruly guests over the past few years. Those skills will surely come in handy when dealing with the anything-goes and anything-can-happen award show like the Golden Globes.
2. He Gets Political: Hollywood loves politics almost as much as it loves self-congratulatory award shows. Unlike his predecessor, Fallon, who has been criticized for humanizing Trump (eh hem...the hair tussle of 2016), Meyers has often gone for Donald Trump's jugular and other Republicans.
On Monday night's episode of the Late Show, Meyers called out Roy Moore as "an accused sexual predator" and Trump as a "thug and wanna-be dictator." He even joked that the president was a "petulant manchild-in-chief." 
3. He's Pals With Former Hosts: The former head writer and star of Saturday Night Live has got a big in with former hosts and SNL stars Tina Fey, Amy Poehler and Jimmy Fallon, who can give him a tip or two on how to work the room. 
4. He Knows That Good Comedy Comes From Good Writing: Meyers may be a master of improv, but he also knows that comedy is all about writing a good punchline.
Meyers stared at SNL in 2001 and worked his way up to head writer, a role he had for nine straight years.  You can bet your bottom dollar that Meyers is going to craft some well-worked jokes before stepping on to the stage at the ballroom of the Beverly Hilton.
5. He's Got the Emmys Under His Belt: Meyers is no stranger to hosting big award shows. He hosted the 66th Annual Primetime Emmy Awards in 2014. And while the Emmys is a much more formal event than the laid-back nature of the Globes, he's proven he can rise to the hosting challenge.