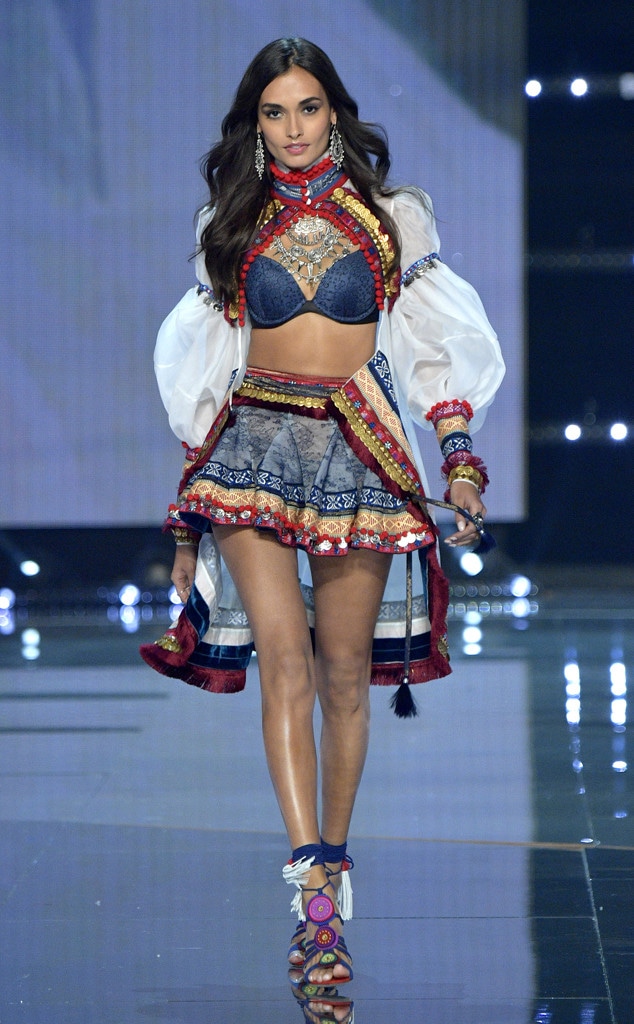 Matt Winkelmeyer/Getty Images for Victoria's Secret
This year's 2017 Victoria's Secret Fashion Show marked the first time that model Gizele Oliveira walked as an angel. 
She strutted behind model Ming Xi and witnessed the Chinese fashion model get tangled in her flowing, sheer ensemble then take a tumble on the catwalk. 
As the Brazilian beauty watched it all unfold in front of her, she could only think of doing one thing. 
"I just thought about helping her. She was having a hard time getting up with the long dress, high boots, and the wings," the 24-year-old model tells E! News. "Helping was the first thing that came to mind as it was all happening."
Oliveira says that some wings weighed over 20 pounds. 
"I think this year Josephine Skriver wore the heaviest one in the Balmain session!" she said. 
David Fisher/REX/Shutterstock
And although Xi handled the entire situation like a pro, she was overwhelmed with emotion as she went backstage. 
"Once she walked in, she started crying, and all the angels started cheering her up," Oliveira reveals. "She sat down, and I told her she had the most beautiful smile and that there was no need to cry because she's the most beautiful thing!"
As the model explains, the angels have a sort of sisterhood and genuinely tried to make Xi feel better after the situation. 
"Afterwards, we all hugged her at once and told her that this was nothing," she says. 
Walking this show was a career moment for Oliveira who has been a model for five years and considers this the "biggest recognition" she could receive for all of her hard work. She recalls the "funny moment" when she found out that she had made it.
"I did the casting that same day, and then, later on, I was shopping with my friend in NYC when my booker called me asking where I was. I already knew he was going to tell me about the casting, so I just told him. 'OMG! Go ahead!'" she explains "He started screaming 'You got it!' I couldn't believe it! I kept repeating, 'Oh my God!'"
Oliveira says that this show was exactly as phenomenal as she dreamt of it being. Although she might have been nervous, she explains that she tries to stay calm and keep it positive. She credits DogPound and Rumble boxing for getting her fashion-show ready. 
"I've worked really hard to be where I am today, and I couldn't be happier right now of where I am in my career!" she says. 
See a breakdown of Xi's tumble below: