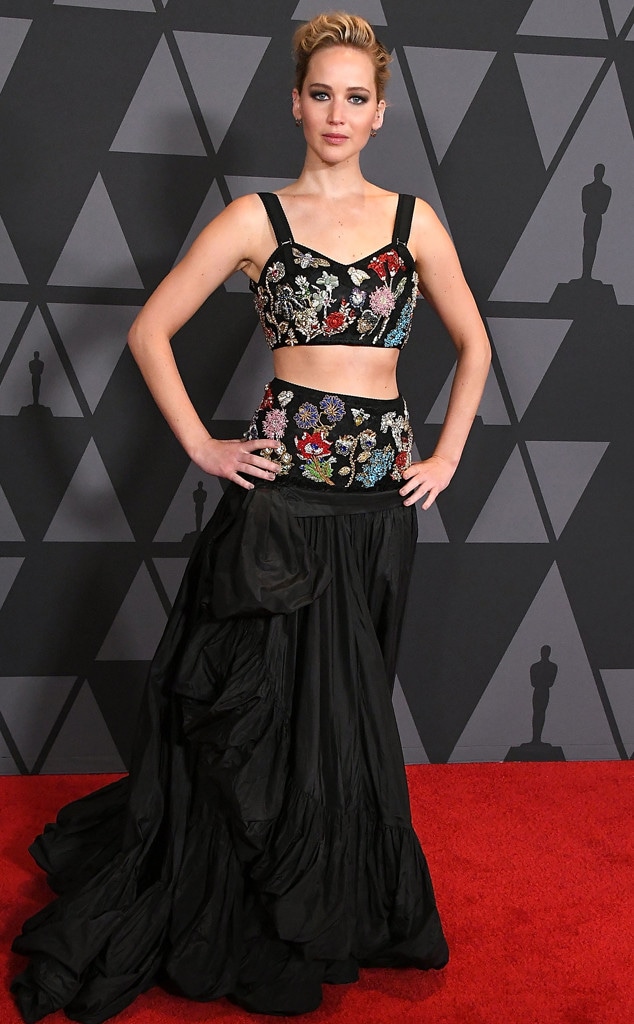 Steve Granitz/WireImage
Jennifer Lawrence is known for her candor, wit and ferocity of spirit.
The Oscar winner's revealing new interview with Scott Feinberg on The Hollywood Reporter's Awards Chatter Podcast is all of those things and more.
The movie star sat down for an intimate discussion on variety of topics that included her nude photo hack in 2014, her personal dealings with fallen movie mogul Harvey Weinstein and being body shamed to lose weight for a role.
In the podcast, the 27-year-old talked about the aftermath of having naked photos of her (and many other Hollywood actresses) splashed all over the Internet three years ago.
The Kentucky-born actress said, "When the hacking thing happened—it was so unbelievably violating that you can't even put into words. I think that I am still actually processing."
David M. Benett/Getty Images
The outraged star, who has a way with words, admitted, "I feel like I got gangbanged by the f--king planet. There was not one person in the world that is not capable of seeing these intimate photos of me."
She continued, "You could just be at a barbecue and someone could just pull it up on their phone."
The Hunger Games star also added that some women contacted her about bringing a lawsuit, but the A-lister revealed that she decided not to sue Apple or others over the hacked photos because they weren't going to get the images off the Internet.
She bluntly said, "None of that was going to bring me peace and none of that was going to bring my nude body back to me and Nick [Holt], the person they were intended for."
The actress said that even a year and a half after the leak, she still felt the residual effects of having her body exposed to the world without her permission.
On the podcast, Lawrence recalled a time a year and a half ago that that someone came up to tell her that she was a good role model for girls; she says had to run into a bathroom and sob.
The Passengers star said, "I felt like an impostor or I felt like I can't believe someone still feels that way."
The chat also circled over to the hot topic in Hollywood—sexual abuse allegations.
When discussing Weinstein, the actress said she had a lot of interactions with him because her Oscar-winning movie Silver Linings Playbook was produced by the mogul and his former production house, The Weinstein Company.
She explained, "Then with Harvey Weinstein, it was bizarre. I heard that he was a dog but he was always almost paternal to me. He was never inappropriate with me. I thought we had a nice relationship where when he acted like an a--hole, I called him an a--hole. I actually think the word I used was a sadistic monster, but it was just never of that nature so that was really shocking."
Unlike many women coming forward, Lawrence flatly stated, "I have never had a man use his power to sexually abuse me."
Lawrence did say that her worst dealings were with a woman that she worked with on a past film.
The Mother! star recounts a time in the past that she was told she was "too fat" for a role and that the unnamed female told her she had to lose 15 pounds in two weeks for this role.
She kept tight-lipped about the details of the film project, but said, "I took care of everything on my own. Trust me, they were handled."
Oh we trust that you handled it, J-Law.