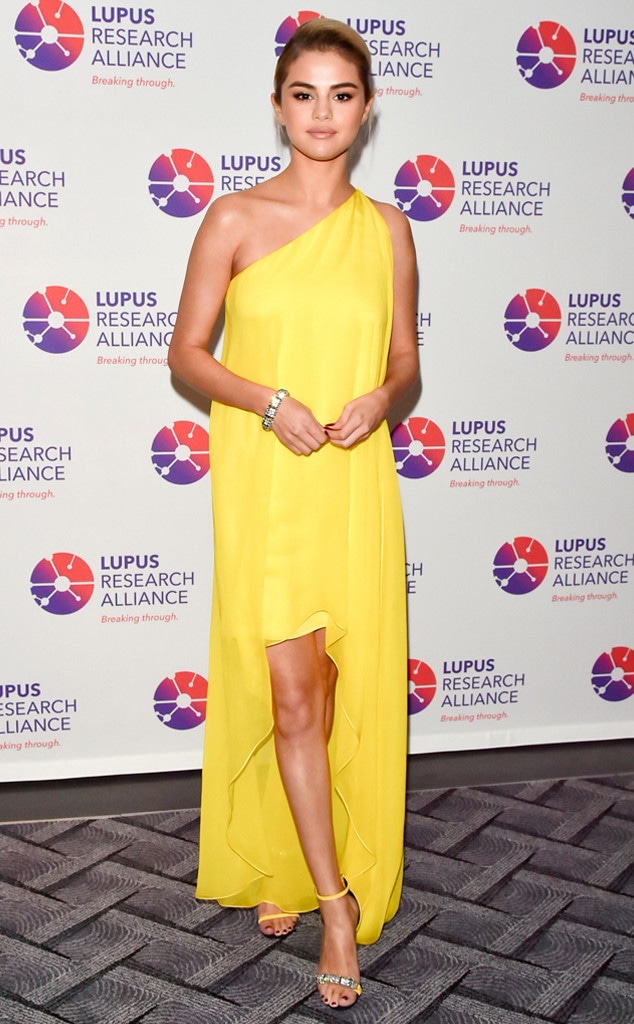 Walker/Rex Shutterstock via ZUMA Press
Selena Gomez won't let her struggle with Lupus define her, but she is committed to finding a cure. 
One day after performing at the 2017 American Music Awards, the pop singer delivered an honest speech at the Lupus Research Alliance's Breaking Through Gala in New York City. Taking the stage in a bright yellow, one-shoulder gown, Gomez reflected on her own journey overcoming the autoimmune disease and the moment she realized her diagnosis was "life-or-death."
"I am really honored to be here with all of you guys tonight, my Lupus community," she shared onstage. "As many of you know or might not know, I was diagnosed with Lupus about five or six years ago."
Selena said she's brought her own private struggle to light to encourage others to seek treatment and "raise awareness" about what it means to live with Lupus. 
She continued, "I also want people to know why research is so important and why we must support the scientists who bring all the promise of new discovery."
In addition to Gomez learning of her Lupus Nephritis diagnosis, the "Wolves" singer said doctors also warned that she might need a kidney transplant one day. In the celeb's words, "Maybe I wasn't necessarily really good at knowing what that meant so it actually got to a point where it was life-or-death."
"Thankfully," Selena added, "one of my best friends gave me her kidney and it was the ultimate gift of life. And I am doing quite well now."
Two months ago, Gomez revealed she was recovering from the kidney transplant, which was given to her by Francia Raisa. Now, according to Selena, there's only a 3 to 5 percent chance her Lupus will return, her arthritis is gone and she's seen an improvement in blood pressure and energy level. 
Selena took a moment to recognize her doctors during the event, who were also present. "It feels good to actually be honoring people like you or in my world it could seem kind of vain, but this is really, really special," she said. "Not everyone is lucky enough to have a donor, and something as monumental as an organ transplant shouldn't be the best treatment option available."
Gomez concluded her remarks with a hopeful look toward the future. 
"I'd like to see the day when all young women can realize their dreams of life without a Lupus," she said. "This is why I am committed to the Lupus Research Alliance. So that none of us are alone, especially the young women that I have grown up with and heard many, many stories."
"I just want to say thank you and I hope we can do something for all of the younger people who need to know what this means."
—Additional reporting by Jennifer Cooper