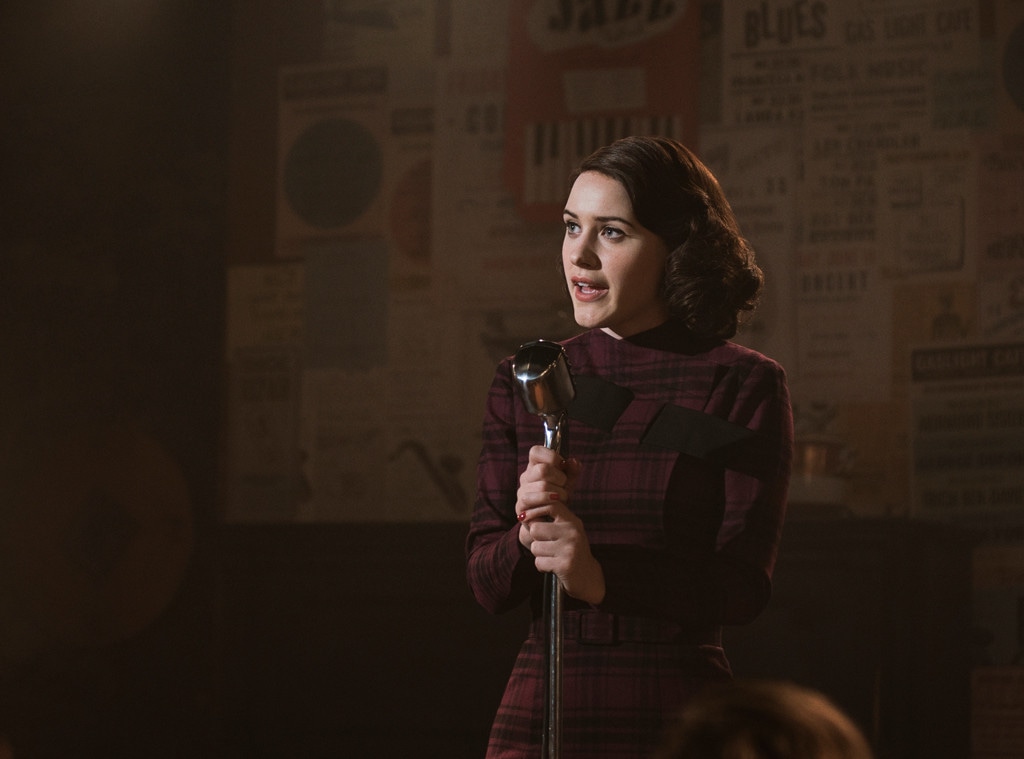 Amazon
Midge Maisel is the hero we need right now.
House of Cards veteran Rachel Brosnahan trades in the zip ties and inconspicuous hoodies for kitten heels and swing dresses as Miriam "Midge" Maisel, the lead character of Amy Sherman-Palladino's The Marvelous Mrs. Maisel, a new Amazon series about a 1950s housewife who finds herself on an unexpected journey through nightclubs as an up-and-coming stand-up comedian.
Brosnahan commands the screen just as her character takes control of the cafe stage. The character—and Brosnahan in real life—speak at Sherman-Palladino's trademark whiplash speed. Midge is unafraid to use her voice. To quote Hayley Atwell's Agent Carter, another fictional mid-century TV hero, Midge Maisel knows her worth, and doesn't back down.
"Midge doesn't know any way but forward. She's resilient," Brosnahan told E! News. "She will pick herself back up, and she will pick herself back up better than anyone you've ever seen."
Sherman-Palladino said she was inspired to create the series by the tales her late father, a comic, would tell her about New York City. As a kid growing up in the San Fernando Valley, New York's Greenwich Village "seemed like a very exotic, sort of fanciful Xanadu. Like, New York, people took subways! It was just crazy," she said.
With an idea in place, finding the right person to play Miriam "Midge" Maisel was key to the equation.
"She earned the part the old fashioned way. She just won it," Daniel Palladino said about Brosnahan. "We had been looking for a while and we had seen a lot of really, really great actresses...In the midst of the casting process, our LA casting person called us and said, 'There's nothing on her resume that really reflects this role or a lot of comedy, but I think Rachel Brosnahan could be Midge.'"
"We knew her from House of Cards where she was stuffed in a van and buried in a ditch," Sherman-Palladino said. "And we were kind of like, 'Is she funny? She's very good at being zip-tied, but…'"
"We had these actors read three scenes, including the stand-up scene, which is tough because it's just us pretending to be the audience for these actors, and she just did it. She just was the one. It felt instantly—she just grabbed it, knew how to do it," Palladino said.
"Grabbed it, shook it, wrestled it to the ground, kicked it in the head," Sherman-Palladino added. "We were like, 'Alright!'"
The Marvelous Mrs. Maisel is a departure for Brosnahan, who was nominated for an Emmy for House of Cards and went on to star in Manhattan and Crisis in Six Scenes.
"I love period pieces, I'm kind of a research nerd. I love to dive into worlds that feel really far away from me, that feel foreign in some way. I'm a huge fan of Amy and Dan," Brosnahan said when asked why the project appealed to her. "This pilot script is one of the best scripts I've ever read: It's sharp, it's tight, it's funny. And also, this is a woman who is so unapologetically confident and that's not something I read very often at all, and certainly never something that I played. That felt important to me."
"To be able to present Rachel in a vivacious, sort of energetic comedic way when usually she's zip-tied and hanging from a tree and people are burying her alive—it's a lovely thing to be able to show people," Sherman-Palladino said.
Marin Hinkle plays Rose Weissman, mom to Brosnahan's character, and said she sees something special in the actress that's evident in the character. Seeing her work is like "watching this genius little gift from the magical heavens," Hinkle said of Brosnahan.
"She's transformative, No. 1. She's luminous, No. 2, she's gorgeous , and she's spiritual, and she's confident…This young woman walked in with strength, they didn't see completely fractured and insecure and filled with the holes, which is a lot of what we love in characters. It's like they wanted someone that was like, 'Look at me world!' like a Barbra Streisand or Joan Rivers. I'm thinking Sarah Silverman…we embrace these people that are like, 'Take me!' And I think what's so great about her is she's not aggressive. She's aggressive in her pursuit of strength, but she's so happy, she's actually really joyous," Hinkle said about both Rachel and Midge.
"Rachel...you see in her, and you go, 'We can only see the beginnings now of this exploding talent that is so delicious to watch,'" she added.
The character of Midge Maisel is not one viewers have seen on TV in some time. The husband-wife duo credit Amazon for that. While they do get to show nudity and let the expletives fly, the main freedom "is to actually really do a character like Midge Maisel, which would not fit into anyone's box on the networks and a lot of the cable networks," Palladino said.
"We just use the language because it's a rough world, the comedy world. It's the club world, there's organized crime, it's comics, it's jazz musicians. It would be unreal to depict that world and not have anyone cursing, anyone smoking," Palladino continued. "It's nice that we're able to do that, but really the freedom when you go to a Netflix or an Amazon is they're just looking for different subjects—"
"Is in your character portrayal," Sherman-Palladino interjected.
"Yeah, different characters, different stories to tell. So this wouldn't have lived, we think, anywhere else except a couple of cable networks or a streaming service," Palladino said.
Midge Maisel is "a hero," Sherman-Palladino said. "She's an old-fashioned, Katherine Hepburn, Barbara Stanwyck kind of heroine. "
"I love how ambitious she is. That would be it for me. There's so many things, but I had to pick one," Brosnahan said about her character's qualities. "Midge is a woman of her time. To a modern audience it might feel like watching her do some of those things, you'd imagine it's a burden, but for her it gives her a sense of accomplishment and satisfaction. She loves, loves, performing, as a woman and housewife. That's something that brings her great joy. That was different for me and exciting to find all the colors of that."
Todd Williamson/JanuaryImages/Shutterstock
With a season under her belt and at least one more to go as Midge, Brosnahan laughed at the suggestion any of the character's funny rubbed off on her. "I don't know that I feel like I'm funnier, but I do think this exercise in finding Midge's level of confidence, which sometimes feels superhuman, is certainly something that has probably been great in my own personal growth and something that I'll carry with me moving forward," she said.
At the end of the day, Sherman-Palladino said the character's energy is her favorite thing.
"I like that every adventure is attacked—as someone who attacks everything from cynicism and negativity because that's how my life runs—I like the fact that she attacks in just sort of a blinding positivity," she said.
"You can't knock her down," Palladino added.
And that's marvelous.
The Marvelous Mrs. Maisel season one begins streaming on Wednesday, Nov. 29 on Amazon.