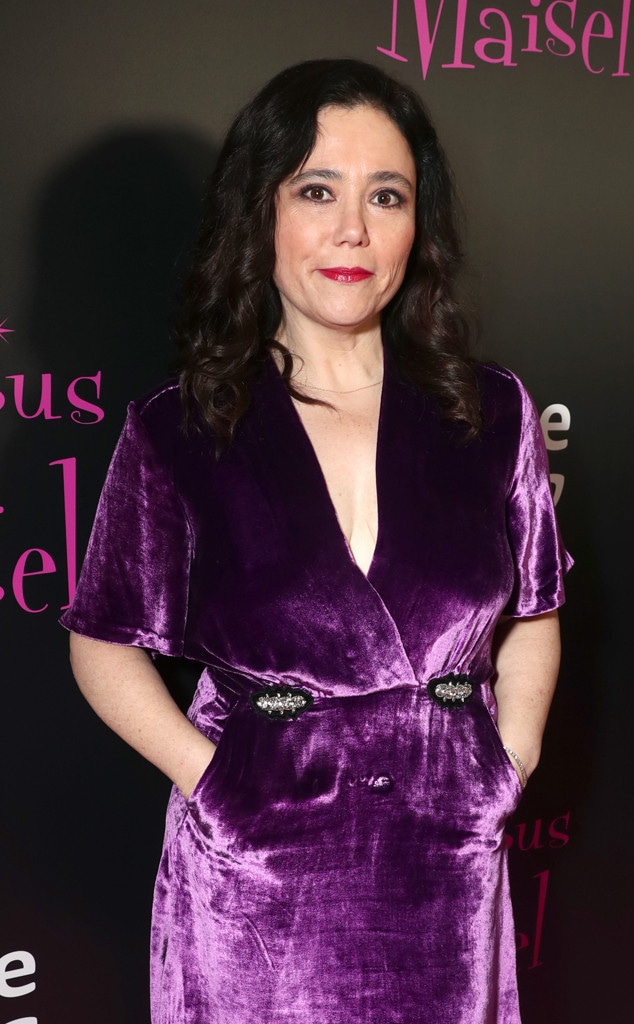 Todd Williamson/JanuaryImages/Shutterstock
Alex Borstein was ready to throw in the towel after Getting On, her critically acclaimed HBO comedy about the staff of a geriatric extended care facility, wrapped its three-season run in 2015.
"I was done. Getting On ended and my heart was broken, I'm not joking. It was like, 'I'm not going to ever date again,' is how I felt, like, I'm done. I was developing something afterwards for Fox that almost happened and then that fell through. I was just like, there's nothing that's going to happen that's going to equal the experience of Getting On," Borstein told E! News at the Crosby Street Hotel in New York City.
So, Borstein moved to Spain and planned to continue Family Guy and get to work on a long gestating play. But then something came along—something marvelous: The Marvelous Mrs. Maisel.
Amazon's The Marvelous Mrs. Maisel hails from Gilmore Girls creator Amy Sherman-Palladino and tells the tale of Miriam "Midge" Maisel (Rachel Brosnahan), a housewife in the 1950s who speaks at the same lightning-fast pace as Lorelai and Rory Gilmore. Midge Maisel had it all—until she didn't. And so began her adventure in stand-up comedy. Borstein plays Susie Myerson, Midge's manager. She's basically Midge's comedy guru.
The role was written for Borstein, according to Sherman-Palladino and fellow Maisel executive producer Daniel Palladino.
"That's what they say. A lot of times they say that just to make you feel good about yourself. Well, Amy told me about the show while she was developing it a few years ago," Borstein said. "We had lunch and she's like, 'We're working on this.' I don't know if she's testing the waters to see if I'd like the area and I said, 'That sounds amazing.' I choose to believe her, maybe she did write it for me."
Borstein met Sherman-Palladino while working on Gilmore Girls and the two kept in touch.
"She's a really great actress and just a great instinctual actress," Sherman-Palladino said. "She was the original Sookie on Gilmore Girls and then MADtv wouldn't let her out, so we've been trying to suck her back into our evil orbit for quite a while, so now we've got her!"
It's a period dramedy, but there wasn't a lot for Borstein to do to prepare aside from brush up on the comedy of Lenny Bruce. "The Jewishness of the show, checkbox, didn't need to study that. Her being kind of built like a little bulldog, check, didn't have to do much in terms of that," she said. "I got to have a lot of say about what I wore and how she presented herself…It looks like they dressed me from, like, a 1950s husky boys section of a Sears catalog. I look like a husky boy, like a 12-year-old, which I kind of love."
Working on The Marvelous Mrs. Maisel and being transported back to the world of the 1950s has only reinforced some of Borstein's beliefs about gender.
"I've learned that a lot has changed and yet nothing has changed. Women have won a lot of battles, but we're still fighting the same war—and probably always will be...I've said this before: We want gender equality, we want equal rights and we want to be treated the same, but the fact of the matter is we are different," she said. "We are very different. And so long as we're blessed and cursed with our bodies being able to give birth, we're different. Our anatomy's different, our DNA is different...we're a different creature. There's always going to be a difference. It's trying to bridge—to connect the two islands perfectly is what we have to learn how to do."
The role of Susie Myerson isn't one you'd typically expect to see Alex Borstein in. She shot to fame playing parts like Miss Swan and the Gap Troll on MADtv, and is known for her voice work, which dates back to Mighty Morphin Power Rangers. She's generally been regulated to side characters.
"You know, I've been so lucky with Getting On, even Family Guy, playing these women who are not a typical sitcom mom, or a typical thing you'd see. That's the same thing with Susie," Borstein said. "She's three-dimensional, she's interesting, she's different, she's not just a sidekick with a wisecrack. She's not the fat girl…it's not about getting a guy, or why don't guys like me, it's so refreshingly different and real and fun. She's hardened, but there's a lot of soft mushy vulnerability inside."
In Getting On, from Mark V. Olsen and Will Scheffer, Borstein played Dawn Forchette, one of the put-upon nurses at Mount Palms Hospital, opposite Laurie Metcalf, Mel Rodriguez and Niecy Nash. She said it was the first time she was able to be vulnerable on screen.
"Getting On, that show, it broke my heart. It really was like the greatest love of my life. I'm forever changed by it. Not just the character and experience, but my personal life was changing so much then. I had just given birth to my daughter and we started shooting…The thing these two shows share in common for me is the people at the helm, their heart and soul is in it. It's as much them—it's their baby. That's what this shares too," Borstein said. "Amy—it's 100 percent her, the characters are a piece of her. She knows how everything is going to look, how she wants everything done—even delivered. With Getting On, that was my first experience with that, working on something where you felt you were just a paint for them to help make a canvas. You were a part of something greater. That was transformative. It was amazing."
Borstein credits Getting On with helping change the perception of what she can do in front of the camera, but noted she wasn't looking to flip the script on her career with that series or her follow-up, The Marvelous Mrs. Maisel.
"I think Getting On made [Sherman-Palladino and Palladino] go, like, 'Oh, she can do other things?' It's fun. It's not just to give audiences something different, it's for yourself, to do something different, to surprise yourself. I'm so lucky with Family Guy that I don't have to take a gig if I don't want to, to be allowed that luxury to pick and choose...let's be honest: I don't get offers. No one's offered me to do anything. It's not like I had a bunch of opportunities saying, 'We'd like you to play this part of…after Getting On.' There were some scripts that I could've auditioned for, but I didn't want to. But it's really rare. Most people kind of just operate out of fear and take something because you need to, to make the next step, because you need to work...Being able to shape a career and not just take jobs is a real luxury."
While she wasn't looking for it, The Marvelous Mrs. Maisel is here to stay. The series was already renewed for a second season, but this might be the last time you see Borstein in the flesh on your TV.
"Maybe this will be the last on camera thing, I don't know if there will be something else. I don't get a lot of opportunities, and so I can't imagine there's going to be something else that would rival Getting On and Maisel…I didn't think there'd be any way I'd want to do anything else, and thought [about Maisel], 'This is pretty interesting. This is pretty different,'" she said. "Who knows what the future will bring."
The Marvelous Mrs. Maisel premieres Wednesday, Nov. 29 on Amazon.