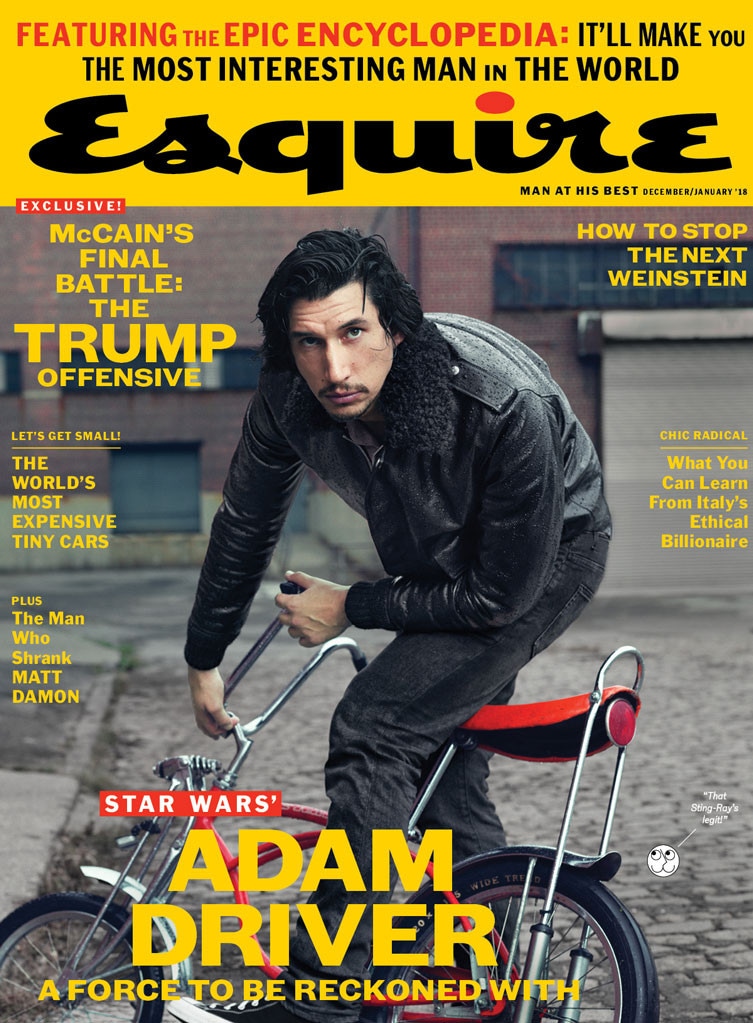 Norman Jean Roy
Adam Driver isn't sure that he'll watch Star Wars: The Last Jedi.
The 34-year-old actor, who plays Kylo Ren in the movie, appears on the cover of Esquire's December/January Issue and inside the magazine he reveals that he has a hard time watching himself on screen.
"I can't just watch it objectively. I always hate it and then come back to, like, 'Okay, that's fine, it's not about me. It's the story,'" he shares. "I can't watch it once. I have to watch it five times, you know? The movie is over. It's on film, so it's permanent. But if I think about it more, it's just an obsessive loop I keep playing in my mind that I can't get caught up in because it's totally self-destructive and not helpful moving forward. Because that's happened to me before. I see myself, and then the next thing I'm thinking about is F--king hell, my face is long or Why am I doing that thing!"
Driver then reveals that the only movie of his that he's ever watched is Star Wars: The Force Awakens.
"The Force Awakens is the only movie I've sat with an audience and watched," he shares. He saw it once at director J.J. Abrams' offices with the late Carrie Fisher and her dog, Gary, as well as co-star Daisy Ridley. He also saw it with audiences at premieres in London and Los Angeles. At the L.A. premiere he sat with his wife Joanne Tucker who hadn't seen the movie and right in front of guests of co-star Lupita Nyong'o.
"Joanne hadn't seen it. I didn't tell her anything about it. I didn't tell her I kill Han Solo," Driver tells the magazine. "Credits started, the whole scroll at the beginning, and they start screaming, 'Oh my God! It's happening.' And I flash-forward to where I killed Han, and I got really sick, and went really cold, waiting for when it was over."
So as for whether or not he'll see The Last Jedi, Driver says, "Undecided."
Driver also dishes to the magazine about working on the Star Wars movies. "The thing with Star Wars is that they're like, 'Trust us, there is space behind you.' Or 'Trust us, your lightsaber will work,'" he says. "So a part of the impulse in wanting to see it is because there is so much visual s--t going on that I didn't know what was happening. You know what's happening in While We're Young, you know? I did it. We're in a bike shop. With Star Wars, it's like, 'This is…where you meet Snoke.' And I'm like, 'Okay, it's kind of like a cave. I get it.' Or, 'Oh, that looks like Andy Serkis. I can't tell.'"
Driver has been in the business for years now, so what's his take on working on film sets?
"…Nothing on a film set, other than the other actors, is designed to make it easy for you," he says. "There's time in between takes, or somebody who just had lunch who's operating a boom who's getting sleepy, or people are burping or farting, or rain comes in, or the other actor is drunk, doesn't know his lines, is not available. Everything is designed not to help you, so how do you pretend? How do you take it all in if it's your ambition to make it the best you can, and to go as deep as you can? It maybe has to cost something."
Star Wars: The Last Jedi hits theaters on Dec. 15.