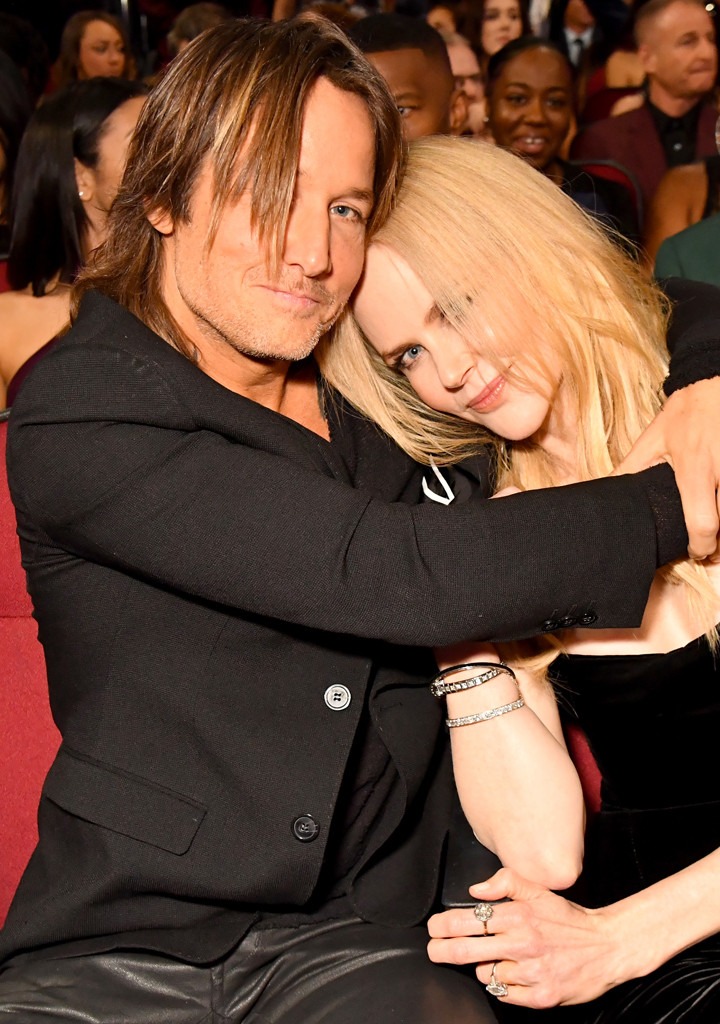 Jeff Kravitz/AMA2017/FilmMagic for dcp
From Pink and Kelly Clarkson's spine-tingling cover of "Everybody Hurts" to Christina Aguilera's big-voiced Whitney Houston tribute and BTS' dance-tastic K-pop number, there was plenty of action on and off stage during tonight's American Music Awards, which was hosed by Tracee Ellis Ross and held at the Microsoft Theater in Los Angeles.
But what you really want to know is: what happened between Riverdale castmates, rockstar bandmates and A-list couples when the cameras weren't rolling?
Getting the scoop from an AMA insider, read on for the slew of things you didn't see on TV...
1. Diana Ross Is the Queen: Even before the show started, Diana made her way to her seat when the director of the AMAs gave the icon a shout out. The crowd just went wild and couldn't stop screaming. 
2. Over the River: The cast of Riverdale sat sitting together in the audience and took selfies. Madelaine Petsch was with her boyfriend Travis Mills and the two were holding hands.
3. Behind the Scenes: The fans were going crazy for BTS. The crowd couldn't contain their excitement over the South Korean pop group. The fans were cheering so loudly during their performance that people were covering their ears.
4. Dancing It Out: This Is Us' Chrissy Metz got really excited when they announced Demi Lovato's upcoming performance. The actress danced in her seat through all of Demi's performance of "Sorry Not Sorry."
5. Coupling Up: Nicole Kidman didn't talk to too many people, but she did chat with Pink on a few occasions and her husband Keith Urban. The two stared intensely at Keith's phone during one part of the show. At other points during the show, the couple laughed and joked with each other.
When accepting his award tonight, Urban, who won the award for Country Male Artist, Favorite Country Album and Favorite Country Song, Kidman had a huge smile on her face and couldn't stop clapping with her hands raised in the air.
6. Not a Happy Camper: During a commercial break, Jamie Foxx, who was seated in the second row, was on the phone talking to someone while sitting next to his daughter Corinne Foxx. The model was eyeballing him and did not look pleased that her dad was talking on the phone. See, stars are like us!
Foxx also complimented Lovato after her performance and gave her a kiss on the cheek.
7. His Name is Jonas: Nick Jonas was the only one standing and dancing during Macklemore's and Skylar Grey's performance of "Glorious." Despite being the only one up on his feet, the "Jealous" singer was loving the performance and all about dancing with himself.
8. She's Every Woman: The crowd absolutely loved Christina Aguilera's tribute to The Bodyguard and Whitney Houston. Everyone was dancing around and clapping during the medley, which sounded amazing live.
9: Newlywed Bliss: Justin Hartley and his wife Chrishell Strause shared a cute moment sitting in their seats. The This Is Us star put his hand on her lap and the newlyweds were looking at each other laughing. 
For complete coverage of the 2017 American Music Awards, watch E! News Monday night at 7 & 11 p.m.