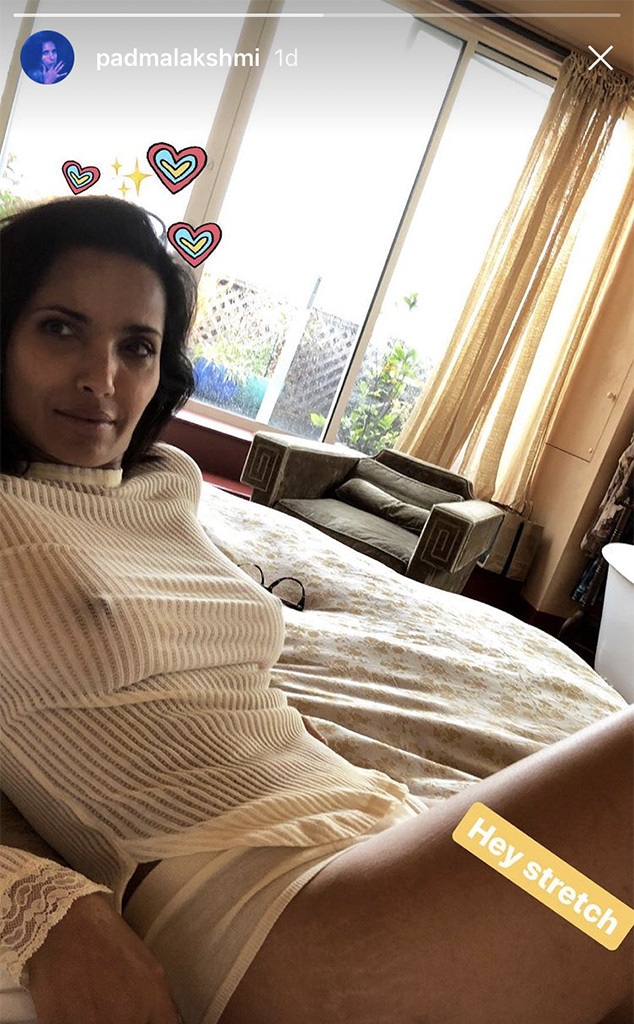 Instagram
Padma Lakshmi is not ashamed of her imperfections.
The 47-year-old Top Chef host posted on her Instagram Stories feed on Wednesday a racy selfie, showing her wearing a sheer, white-ribbed sweater that shows her nipples and white underwear. Stretch marks are seen on the side of her thigh.
"Hey stretch," she wrote.
Lakshmi occasionally posts racy pics of herself on her Instagram page, although that have been less revealing. She posted a photo showing her wearing a beige bikini earlier this week, writing, "Those were the days..."
"Week 5 of filming and hips getting rounder, thighs getting thicker...#topchefmemories #eatingmywaythroughcolorado," she wrote alongside a picture of her in a blue bikini, posted in June.
Watch:
Padma Lakshmi's Date Snuck Food Into the 2016 Emmys
"Don't hate because I'm in lingerie. Moms do that sometimes," she wrote alongside another racy Instagram post last year.
Other celebs who have shared photos of their stretch marks include Kendra Wilkinson-Baskett and Chrissy Teigen.
"I have those apps, the Facetune and Photoshopping ones, and I just didn't feel like doing it anymore," the model told Meredith Vieira last year. "And I'm never doing it again, because I think we forgot what normal people look like now."