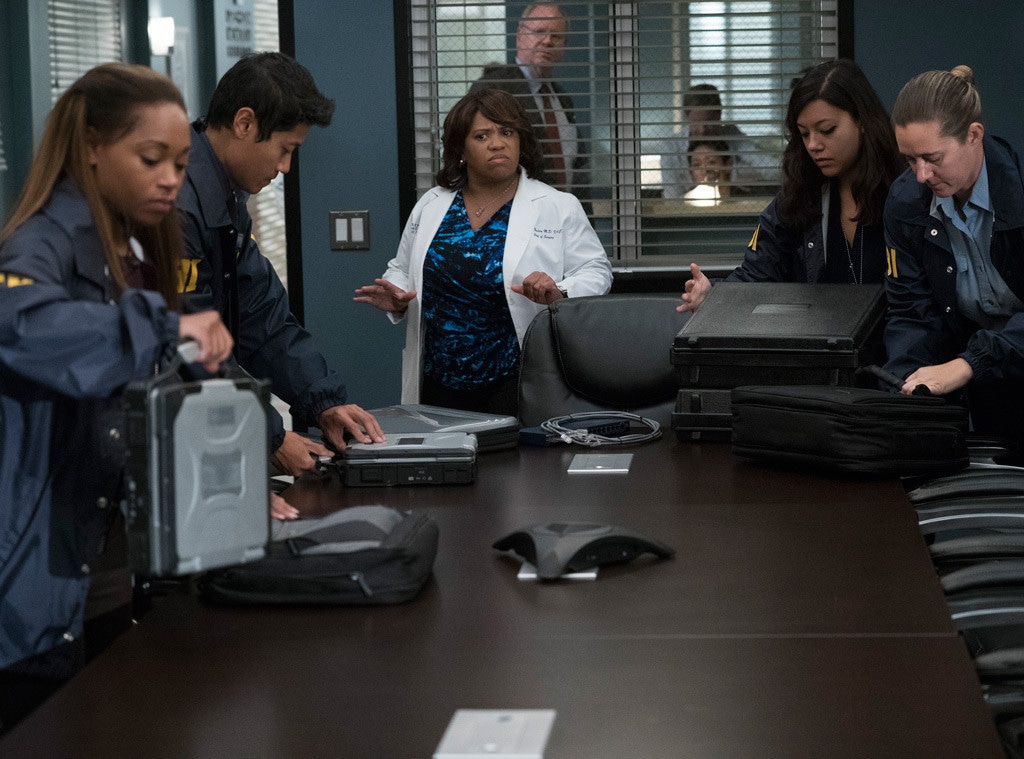 ABC
"Why is everybody dying?"
Those aren't exactly the sort of words you want to hear anyone shout in a hospital's emergency room, and yet, those where the exact words shouted at the start of the Grey's Anatomy fall finale when everything went nuts and the hospital's entire computer system was hijacked by some terrifying hackers looking to make a massive payday.
What did they want? Only 5,000 bitcoin. Only problem? That's about $20 million dollars. Maybe Jackson (Jesse Williams) could write that check, but he was too busy wiping blood off his and Maggie's (Kelly McCreary) faces in a helicopter to answer Bailey's (Chandra Wilson) call as she defied FBI orders.
As the doctors of Grey Sloan tried their alternative methods to keep everyone alive without the use of any electronic equipment, the results varied. Meredith (Ellen Pompeo) was forced to hook up her intern with the O neg blood type to a makeshift transfusion rig in effort to stop her patient from bleeding out, while Alex (Justin Chambers) was seconds away from giving the exact wrong type of medicine to his peds patient when Jo (Camilla Luddington) learned that it would likely kill the kid. 
And as she rushed to deliver the news and save the day, she was stopped cold in her tracks by her nasty husband Paul (returning guest star Matthew Morrison), who'd finally tracked the wife he abused down. And that, Grey's fans, is what you call a cliffhanger.
Which patients will make it out alive? And how will Alex react to Paul's arrival in Seattle? We'll have to wait until the new year to find out. Until then, hit us up with your thoughts on the fall finale in the comments below!
Grey's Anatomy returns Thursday, Jan. 18 at 8 p.m. on ABC.