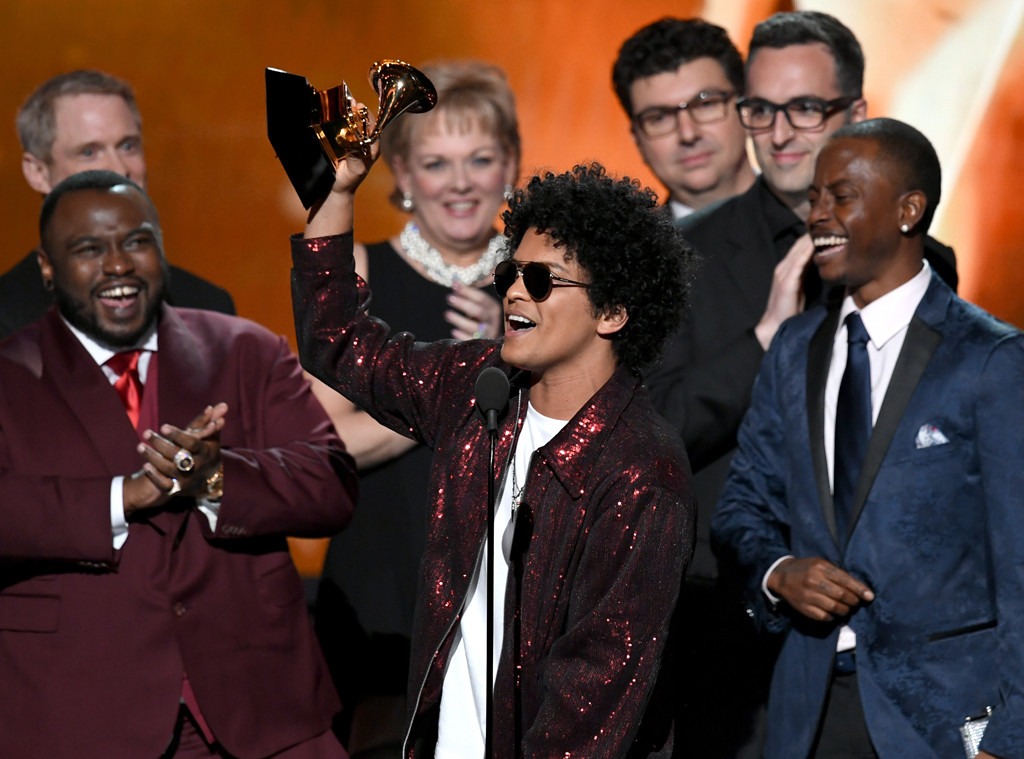 Kevin Winter/Getty Images for NARAS
The pop music world has witnessed its share of conflict in recent years, personal and professional issues playing out on stage, in court, or on Twitter as too many artists scramble for the mega-success granted to so few.
But without fail, when the dust settles, when the fires have been put out, there stands Bruno Mars, a force unto himself who doesn't even seem to operate in the same world as his peers, let alone the same industry, so far removed he is from the type of drama that dominates the headlines.
And that isn't because he's boring or without problems or uninterested in having a good time (listen to his lyrics, the man likes a good time). Rather, he's just too damn busy working to wade into all that feuding-and-sniping nonsense. You don't get to perform during two Super Bowl Halftime Shows; win Grammys; fulfill your childhood dream of selling out the L.A. Forum, as Mars did a year ago; be in the running for Favorite Male Music Artist at the upcoming 2018 People's Choice Awards; and sell millions of albums by getting caught up in the noise.
Well, some people do, but Mars, unlike some, is unapologetic about wanting to just be known for his work. He had his brush with scandal, and it wasn't for him. It's the work that matters, that allows him to live his rather epic lifestyle.
He doesn't reinvent the genre with his music or the subjects he chooses to sing about—sex, women, love, lady parts, heartbreak, more sex, sexy clothes, being a cool dude, sex again—but his songs are catchy AF. Therefore they become ubiquitous, break records and become part of the culture, such as when a painstakingly put-together video of President Barack Obama "singing" the lyrics to "Uptown Funk" became one of the biggest viral hits of 2015. Most recently, Mars had his seventh No. 1 single with "What I Like," which also spent 20 consecutive weeks atop Billboard's R&B chart.
The 32-year-old is every inch the slick entertainer, hearkening back to the days of Motown when performers only hit the stage dressed to the nines. From his tightly choreographed routines to the finishing touches of his dapper ensembles (never has the velvet tracksuit and chain cliché looked that acceptable on someone), Mars is determined to put on a stellar show, every time.
"I just really care about what people see. I want them to know that I'm working hard for this," Mars told 60 Minutes almost two years ago upon the release of his third studio album, 24K Magic. "The artists that I look up to like, you know, Michael [Jackson], Prince, James Brown. You watch them and you understand that they're paying attention to the details of their art. And they care so much about what they're wearing, about how they're moving, about how they're making the audience feel.
"They're not phoning it in. They're going up there to murder anybody that performs after them or performs before them. That's what I've watched my whole life and admired."
Literally, his whole life. One of six kids born to musical parents in Honolulu, Peter Gene Hernandez been performing since he was 4, when he joined the family band, The Love Notes. He's also the nephew of an Elvis Presley impersonator, and Mars eclipsed his uncle when he was all of 7 as the tiniest and most memorable of a series of Elvis impersonators featured in the 1992 comedy Honeymoon in Vegas.
The family suffered a rupture when Mars was 12 and his parents divorced. He and his brother, Eric Hernandez (the drummer in Mars' band The Hooligans), lived with their dad, Peter, while his four sisters stayed with their mom, Bernadette. For a time the Hernandez boys had no fixed address, sleeping wherever their dad found a spot for them, and they even lived for awhile in the back of a limousine. But asked if he remembered it as a happy time, he called it "the best."
Larry Busacca/Getty Images for MTV
"We had each other and it never felt like it was the end of the world," he told CBS News' Lara Logan. They'd say, "'It's alright we don't got electric today. It's alright, it's temporary. Well, we gonna figure this out.' Maybe that's why I have this mentality when it comes to the music. 'Cause I know I'm gonna figure—I'm gonna figure it out, just give me some time."
As soon as he graduated high school in 2002 Mars moved from Hawaii to Los Angeles, where he secured a $650-a-month apartment and started shopping his talents.
"It was pretty rough," he recalled the move to GQ in 2013. "I think [L.A.] was just a culture shock. Coming from Hawaii, this was a whole 'nother thing. It's so much faster than where I'm from. We don't got billboards in Hawaii. I remember I was freaking out about that for a long time."
He was promptly signed by Motown Records, but barely a year later the label unceremoniously dropped him.
Mars ended up finding another way in the door, as part of the songwriting-and-production team the Smeezingtons, which he formed with Ari Levine and Phil Lawrence. They spent years piling up credits, including Flo Rida's 2008 hit "Right Round," and Mars sang on other people's songs before finally landing a new deal with Atlantic Records in 2009.
His voice already familiar from his vocals on B.o.B's "Nothin' on You" and Travie McCoy's "Billionaire," "Just the Way You Are"—Bruno Mars' own first single off of his then-upcoming debut album—dropped on July 19, 2010. It eventually got to No. 1.
Unfortunately, Mars overdid it with the celebrating. A week after performing at the MTV Video Music Awards with B.o.B, he was arrested that September in Las Vegas for cocaine possession after security found it on him in a bathroom at the Hard Rock Hotel and Casino. In an attempt to assuage the situation, he apparently told the cops it was his first time ever doing something wild like that.
So all of a sudden, the jury was out on pop's newest potential super-star. Was he just another troublemaker in the making?
But you would have never known Bruno Mars had anything so unpleasant hanging over his head. His first album, Doo-Wops & Hooligans, came out that October and he ended up winning his first Grammy in February 2011 for Best Pop Vocal Performance, for "Just the Way You Are."
Five days later, he pleaded guilty to cocaine possession, but had his record wiped clean in 2013 after he successfully fulfilled the terms of his probation. Later that year he told GQ he had no idea why he said what he did to police.
"I don't know where that came from. I was really intoxicated. I was really drunk," he admitted. "So a lot of that is a big blur, and I try every day to forget and keep pushing." As for the arrest itself, "I was young, man! I was in f--king Vegas. I wasn't thinking."
Larry Busacca/Getty Images for NARAS
Mars' latest splurge at the time was the gold 1967 Chevy Super Sport Nova parked outside his one-story home ("I never grew up with stairs. I like to stick to what I know," he said) in the Hollywood Hills, where he lived with his Rottweiler, Geronimo, and his girlfriend, model Jessica Caban. 
Of note inside: a brass palm tree and a blow-up of Frank Sinatra's infamous black and white mugshot hanging on the wall.
Mars almost never talks about his personal (i.e. love) life, but Rolling Stone got him to admit in a May 2013 story that he had written "When I Was Your Man" when he and Caban were in a more tenuous place and he was in fear of losing her.
Things turned out well for the couple in real life, of course, but Mars said performing such a personal song wasn't easy. 
"You're pouring your guts out, and you record it," he told RS. "And you're so proud of it. And then when you perform it, you know, you're bringing up these emotions again. It's just like bleeding!"
But at least the sweat and tears weren't for nothing.
After making his debut in 2011, he performed yet again at the 2012 Grammys, his rendition of "Runaway" perking up an audience still stunned by the death the day beforehand of Whitney Houston. He's since performed at the Grammys three more times, including twice earlier this year, doing "That's What I Like," and—after idolizing him as a kid—heading up a pitch-perfect Prince tribute, right down to the purple suit and ruffly cravat.
In 2014, a year he kicked off by being included on Forbes' 30 Under 30 list, he won another Grammy, Best Pop Vocal Album, for Unorthodox Jukebox. He thanked his manager, Levine and Lawrence, sent love to his dad and Caban, who were both in the audience, and dedicated the award to his mother. Bernadette had died suddenly on June 1, 2013, of a brain aneurysm at only 55 years old, just weeks before the start of his Moonshine Jungle Tour.
Catherine McGann/Getty Images
"I know you're watching, I hope you're smiling, I love you," he said sweetly.
A few months later he headlined the Super Bowl XLVIII Halftime Show, which until Katy Perry roared the following year was the highest-rated halftime show to date, with more than 115 million viewers tuning in.
"God bless the Super Bowl," he told Rolling Stone in 2016. "They hooked me up, they took a chance on me. But I had to keep reminding them why they took a chance on me. You put that camera on my band and me, and I got you."
In 2015 he struck gold again with his collaboration with Adele on 25's "All I Ask." Last year he was invited back as a special guest for Super Bowl 50, as was Beyoncé, for a halftime show that was technically headlined by Coldplay. Then he and Mark Ronson won a pair of Grammys for "Uptown Funk," including Record of the Year.
All of which delayed the release of 24K Magic. The fact that it was only his third album in seven years and his first in four years was a testament to his perfectionism and dedication to putting out the most polished product possible.
Kevin Winter/Getty Images for NARAS
"Coming off the biggest song of my career ["Uptown Funk," which sold 12 million copies], it was super-daunting to come in here," he told Rolling Stone in the studio as he was tinkering with the album ahead of its November 2016 release. "I don't know if people are going to love this s--t. I don't know if radio is going to play it. But what I don't want to have happen is I put it out and say, 'Damn it, if I'd just done this and this, maybe it would have had a shot.'"
It's obvious that Mars has grown up a lot in the last few years after bursting onto the scene in 2010 as a supremely talented, but somewhat reckless, kid.
Recalling his Vegas bust on 60 Minutes, "I'm 24 years old. I'm, you know, drinking way more than I'm supposed to be drinking and it was so early in my career and I always say that I think it had to happen. That was the reality check I needed and I'm—I promised myself that that, you know, you ain't never gonna read about that again."
It's a promise he kept.
Some of that hard-fought wisdom of course comes from losing his mother, which he says forever changed his outlook on life.
"You just gotta know that she's with me everywhere I go," he told Latina in January 2017. "It's something that you can't imagine—the pain and the things that you keep going back to: 'I wish I would've done this or said this.' You just have to see life differently. It shows you the real importance of life. Nothing else matters in this world but family and your loved ones."
He also wanted to clear up once and for all the accusation that he changed his name to purposely mask his Puerto Rican roots. "My last name is Hernandez. My father's name is Pedrito Hernandez, and he's a Puerto Rican pimp. There's no denying that," he said. "My dad nicknamed me Bruno since I was 2 years old. The real story is: I was going to go by 'Bruno,' one name. Mars just kind of came joking around because that sounds bigger than life. That was it, simple as that."
Not usually one to talk politics, Mars more inclined to insist that he makes music for one and all, he did respond when asked about the prevailing divisiveness in the country: "I hate that we're even having a conversation about injustice in America," he said. "That we are having a conversation about this in 2017; the same conversation that's been had decades and decades ago."
And then it was back to the music, the role he plays in bringing people together.
Meanwhile, at the end of the day, Bruno Mars has always been his own toughest critic, albeit one who looks like the picture of what chill would look like, were it a person.
"It's just a roller coaster ride, trying to figure it all out," he said, smiling, during an interview on Charlie Rose. Still, the drive to match his prior successes is still a running theme for him.
"You know, you just want to be excited," he told Rose, admitting it's "almost impossible" to replicate or, better yet, top that feeling. Yet he did.
"At the end of the day you want to make yourself proud," Mars said. "If I can be happy with whatever song I write, and I'm genuinely proud of it, it doesn't matter if it gets success, 'cause I could say that's the best that I could do...If everyone didn't like this album, I would feel OK with it because"—he raised his arms in oh-well fashion—"that's all I got for ya."
(Originally published Nov. 17, 2017, at 5 a.m. PT)