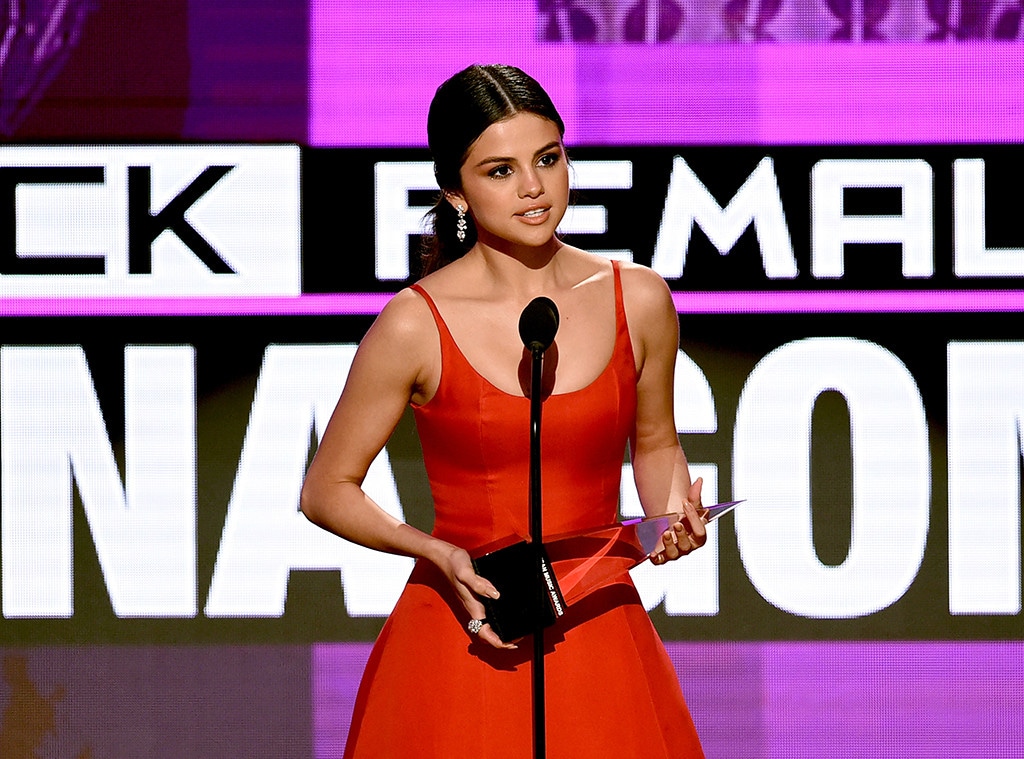 Kevin Winter/Getty Images
Selena Gomez is running to the American Music Awards. 
Well, figuratively. The songstress is clearly putting in the rehearsal work ahead of her highly anticipated performance at the 2017 American Music Awards Sunday night. Mic in hand, the 25-year-old sang through the lyrics from her latest single, "Wolves," and shared a video of the serenade on her social media. 
It seems as much as fans are eagerly waiting for her to take the stage, Gomez is equally counting down the days. 
"My first performance in over a year.. the AMAs have been a place where I've shared some of my most intimate moments," she noted in her video caption. "Heart wants what it wants, after treatment and now Wolves. This Sunday."
As the star said herself, she's been away from the stage and took time out of the spotlight as she underwent a then-secret kidney transplant over the summer. 
Prior to the surgery, Gomez last attended the annual ceremony last November, marking her return to public life after a two-month break to address anxiety, panic attacks and depression stemming from her Lupus diagnosis. 
Then, on Nov. 20, 2016, she took the AMA stage to accept the award for Favorite Pop/Rock Female Artist, deliver a strikingly honest and empowering speech and win over her fans yet again all in one fell swoop. 
"I think it's safe to say that most of you know a lot of my life whether I liked it or not. And I had to stop. Because I had everything—and I was absolutely broken inside. I kept it all together enough to where I would never let you down, but I kept it too much together to where I let myself down," she emotionally admitted at the microphone. 
"I don't want to see your bodies on Instagram. I want to see what's in here," she said as she patted her heart. "I'm not trying to get validation, nor do I need it anymore. All I can say is I'm so grateful that I have the opportunity to be able to share what I love every single day with people that I love. And I have to say thank you so much to my fans, because you guys are so d--n loyal, and I don't know what I did to deserve you."
As she memorably concluded, "But if you are broken, you do not have to stay broken. And if that's anything, whether you respect me or not, that's one thing you should know about me is, I care about people. And thank you so much for this. This is for you."
Two years earlier, the star gave a tearful performance of her hit, "The Heart Wants What It Wants," at the 2014 ceremony, later referring to it as "the first time that I was authentically 100 percent honest with all of you."
Well, it's time once again for Gomez to take the stage—and fans all over the world can't wait to listen. 
For complete coverage of the 2017 American Music Awards, watch E! News Monday night at 7 & 11 p.m.