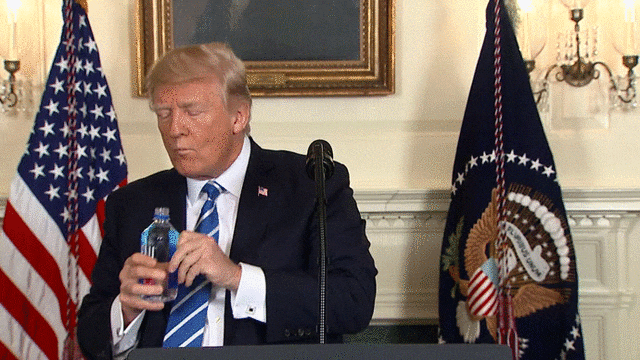 President Donald Trump is thirrrrrsty!
The reality star-turned-commander-in-chief got the Internet into a tizzy on Wednesday when he stopped his speech promoting his administration's foreign policy achievements and trade matters, not once, but twice  to take a full-bodied, two-handed drink of Fiji Water. Many online noting that the president looked like a baby drinking a bottle.
The Internet was quick to jump onto the move. Some commenters noted the awkwardness of the double-handed gesture and others took issue with it because Trump publicly called out Senator Marco Rubio, labeling him a "choke artist" for taking a swig mid-speech during his Republican response to President Obama's State of the Union address in 2013.
According to the Washington Post, Trump has mocked Rubio's now-infamous handling of h2O on eight occasions. 
On Feb. 2013, Trump tweeted, "Next time Marco Rubio should drink his water from a glass as opposed to a bottle—would have much less negative impact."
The hypocrisy of Trump's drinking water from a water bottle mid-speech wasn't lost on the sea of social media commenters always aimed at the controversial president—and it wasn't lost on Rubio.
The Floridian politician hopped on Twitter to similarly critique 45's drinking style. 
The Republican wrote, "Similar,but needs work on his form.Has to be done in one single motion & eyes should never leave the camera. But not bad for his 1st time [sic]."
The whole water affair has been blowing up social media, many applauding Rubio for his sick "burn" of The Donald. But of course, not everyone was a fan...
What do you think of Rubio's response? Sound off in the comments!