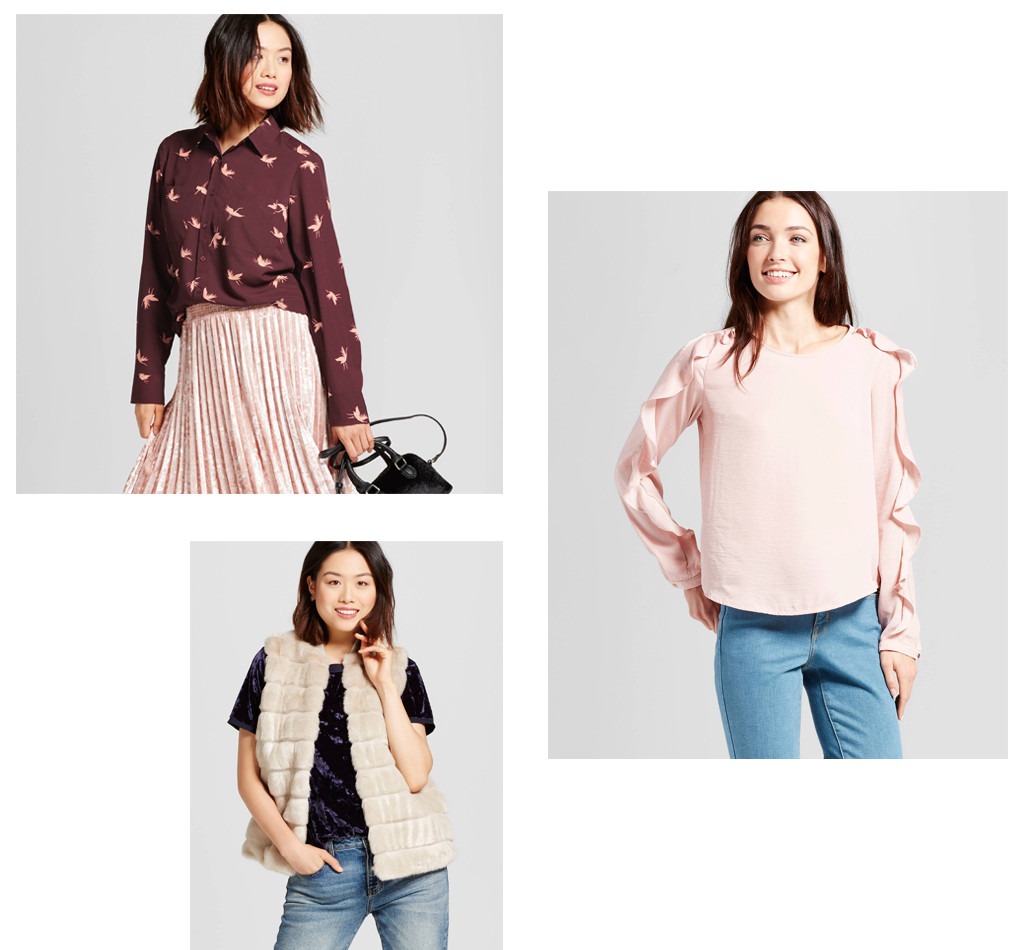 Celebs get paid to look good, so it's no surprise that they tend to kill it on the red carpet. But what exactly is it about these standout moments that make such a lasting impression?
If you ask any stylist in Hollywood, they'll tell you the magic is all in the details. From handmade lace overlays to intricate diamond accents, it's these designer touches that make one gown outshine the rest. But just because you're not vying for a place on the best dressed list doesn't mean you shouldn't shoot for the stars when it comes to your everyday wardrobe, too.
So while you're restocking your winter wardrobe, consider picking up a few detailed pieces like these five picks from Target's A New Day™ brand.
Textured Trousers
Trousers are always a good investment, but wearing the same black pair over and over starts to feel repetitive. Mix it up with a subtle black floral pattern that adds personality, but is still easily paired with a button-down at the office or an oversized sweater for weekend brunch.
Ruffle Sleeve Blouse
Everyone needs a few staple blouses that they can pair with jeans on the weekend or slacks at the office. To give your look a slightly relaxed vibe, go for a long-sleeve ruffled take that adds a touch of feminine flair.
Ribbed Faux-Fur Vest
Any way you slice it, faux fur is a smart look this time of year. That being said, nearly everyone is sporting it, so stand out with something different. Enter: This trendy vest with ribbed textured accents, which just so happens to be ideal for layering.
BUY IT: A New Day Women's Faux Fur Vest, $35
Printed Crepe Blouse
Button-down shirts are the bread and butter of any successful wardrobe, but that doesn't mean yours have to be boring. Personalize your look by opting for a fun pattern in a relaxed, lightweight fit. The payoff: You'll look serious but not stuffy.
BUY IT: A New Day Women's Printed Crepe Utility Blouse, $20
Lace T-Shirt
Whether you fancy yourself a style icon or a laidback low-maintenance girl, T-shirts are a universal wardrobe staple. You can't go wrong with the basics, but for the holidays class it up with a little lace. Layered over a colored bralette and paired with a pleather skirt, it's suddenly your go-to party outfit. 
BUY IT: A New Day Women's Lace Blouse, $18
Hollywood, here you come (well, sort of)!