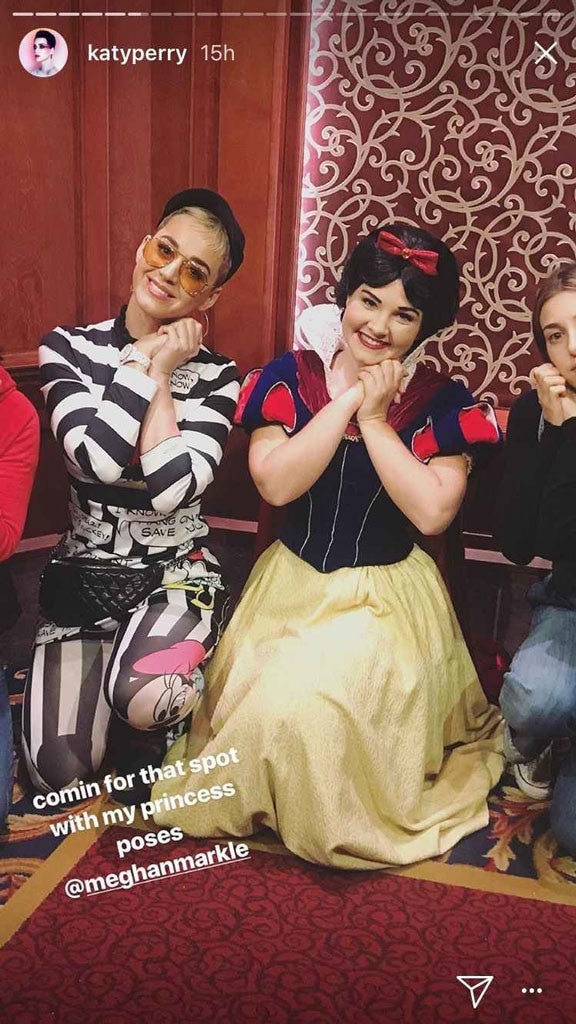 Snapchat
Every girl wants to be a princess or a pop star, but in this case, Katy Perry wants both!
The "Swish Swish" singer was spotted enjoying her Monday at the Happiest Place on Earth in Anaheim, Calif., where she decided to have a little fun via her Instagram story.
Katy captioned her classic Disneyland photo opp next to Snow White, "coming for that spot with my princess poses @meghanmarkle." Both her Snow White are pictured posing like sweet Disney princesses, though Perry rocked a Minnie Mouse-themed jumpsuit instead of a ball gown.
Between a Mad Hatter tea cup spin and a turn on the Merry-Go-Round, Perry even made sure to get a cozy interview with Mickey himself for Instagram.
She pretended it was a "date night" between her and the world-famous mouse, asking him, "Who does your lashes?" and, "Do you get threading on your eyebrows? How do you feel about hanging hair on your face?"
Fans were thrilled to see the star enjoying herself and being silly, although we're not sure if Queen Elizabeth II would approve of Perry's side fling with Mickey if she is in-fact gunning for a room at Kensington Palace!
Besides jokingly threatening to steal Prince Harry and therefore Markle's spot in the royal family, Perry has been very busy with her Witness Tour and the reboot of American Idol. Idol premieres March 11 on ABC, with Perry, Luke Bryan, and Lionel Richie as the new judges.
As for Harry's leading lady, Meghan was photographed for the first time in a month on the Toronto set of Suits. 
An insider recently shared with E! News, "While Meghan may not be wearing a ring or a formal engagement announced, it's fair to say they're as good as engaged now,. They've spoken about their marriage plans openly with each other and friends and family around them are pretty much thinking about wedding attire already!"