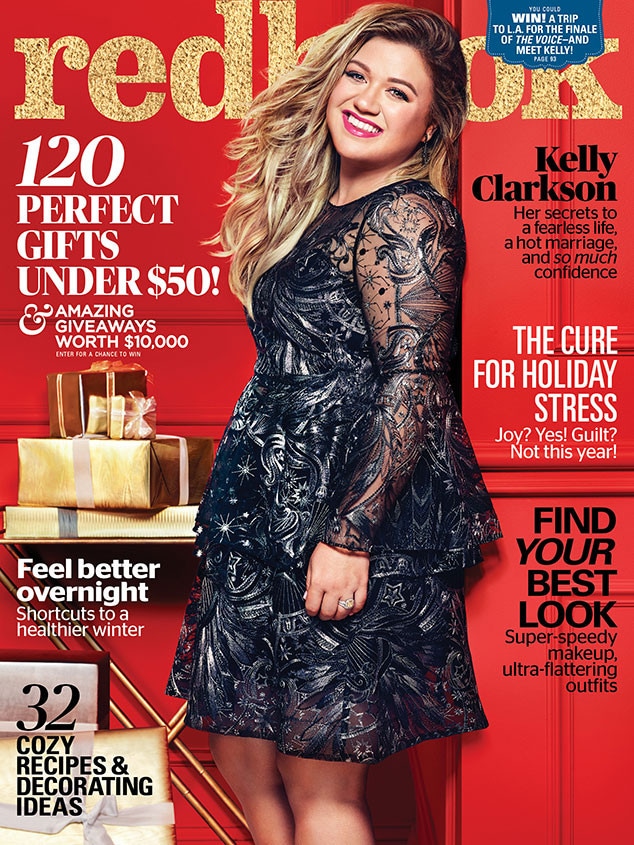 James White
Kelly Clarkson is piecing together the meaning of life, but she knows it doesn't involve what people think about her weight. 
As the Grammy-winning songstress basks in the debut of her eighth studio album, Clarkson has also been faced with a variety of personal questions along her press tour, many of them involving her shape. While her physique has been a subject of fixation in recent years, after more than a decade in the spotlight, Clarkson knows all too well you can't win the body debate whether you gain weight or lose. 
"They shame you for it. Same thing happened with Miranda Lambert—I had dinner with her and we were talking about that. She was like, 'Should I gain? Should I lose?" Clarkson told Redbook. "But no one actually cares about your health. They just care about aesthetics."
However, Clarkson's aesthetics send a sign. "It's when I'm fat that I'm happy. People think, 'Oh, there's something wrong with her. She's putting on weight.' I'm like, 'Oh, no! I'm sorry, but that represents happiness in my emotional world,'" she told the magazine. "For me, when I'm skinny is usually when I'm not doing well."
No matter the number on Clarkson's scale, the star insists people turn their attention inward. "If you gauge your life on what other people think, you're going to be in a constant state of panic trying to please everyone," she added. "People should just concentrate on their own lives and their own health and their own happiness, and whatever that looks like for you, be happy with it."
Meanwhile, she finds some of her bliss in her husband of four years, Brandon Blackstock. According to the songstress, they're quite, ahem, busy in the bedroom.
"Any time we're in a discussion about sex with a bunch of couples, Brandon and I stay pretty quiet. To keep it family appropriate, let's say we're just a lot more active than other couples," she told the magazine. "I'm a person who loves change. He loves spontaneity. Having a set time or place [to have sex] would be boring to us." 
As she sings in one of her newest tracks, Clarkson was looking for someone with heat. 
"When I met Brandon, I wasn't looking for a friend. I have a lot of great friends! I was looking for a lover," the star said. "I had never found someone I was truly passionate about, who I wanted to stay in bed with all day. The fact that I did, well…I was going to latch on and take advantage of that." 
Read the full interview in Redbook's December/January 2018 issue on newsstands November 21.