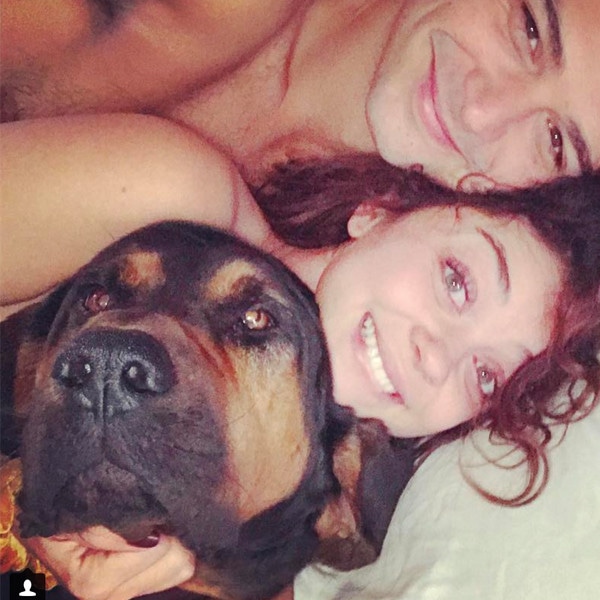 Instagram
Sarah Hyland has some choice words for her social media haters.
The Modern Family actress fired off a series of tweets on Tuesday after an Instagram follower criticized her for posting a picture in which she and new beau Wells Adams appeared to be naked in bed together.
"You can go out with whoever you want," a screenshot of the follower's comment read, "but there are limits. Do not you know that some things are private, and not be shared with the whole world. KEEP YOUR SEXUAL LIFE PRIVATE, we do not necessarily need to know all the details of your personal life. SH-T!!"
Hyland tweeted the screenshot along with the words, "Hey guysssss. I'm explaining myself again! Aren't you so happy???? "Isn't this what twitter is for???"
Hyland explained she wasn't "putting [the follower] on blast" but rather addressing the photo some fans deemed "inappropriate."
"So I just have to say I'm sorry…FOR POSTING AN ADORABLE PICTURE BECAUSE CARL WAS ACTING LIK THE NUGGETIEST SNUGGLW BUG!" she wrote in a tweeted note, referencing her canine pal. "Couldn't let that moment pass without getting a picture."
Hyland went on to explain why she shares only certain aspects of her life on social media.
"The only things I share about my [life] with you all is through Instagram and Twitter. I do want my privacy. Especially in my relationships," she wrote. "I've made the mistake in the past on being way too open and talking way too much about them. This time is different. It's special. And I will share what I seem 'appropriate' on social media because I still want you guys to be updated. Because you guys are the greatest fans in the world. I even hate saying fans…because you're people. You're people who had chronic illnesses, eating disorders, trouble[d] family situations that modern family helps you get through. People who share their stories with me and I love you all for that. So thank you all for always [being] so wonderful."
She ended her note by saying she will only talk about her relationship with the Bachelor In Paradise bartender on social media—for now, at least. 
"However…this relationship's tea will only ever be spilled on social media…for now. Cause never say never and I don't want to be reminded in the future that I'm a 'hypocrite.' Ok. Gotta get ready for work. I LOVE YOU ALL."
But she wasn't really done. Hyland went back to post another note in which she acknowledged the typos in her last post. She also addressed the commenters who said she looked naked in the picture.
"ONE MORE THING! I just realized I'm being criticized for being naked…which you don't even know if I am!" she wrote. "You can barely see any skin but it's ok for Instagram models to roll around in the sand ACTUALLY naked? (I mean, I'd post that too if I looked like that). My point is don't be hypocrites. Either be conservative on all fronts or FREE THE NIPPLE."
After posting her notes, Hyland couldn't resist posting a few more tweets, emphasizing her love for a "good clapback."
Ever since they started dating, Hyland and Adams have been sharing a lot of relationship updates with their followers. Hyland, for instance, shared pictures of their Stranger Things Halloween costumes and posted a picture of her necklace featuring her sweetheart's first initial.
The couple even met on social media. 
I guess we'll have to keep checking their feeds for further updates.