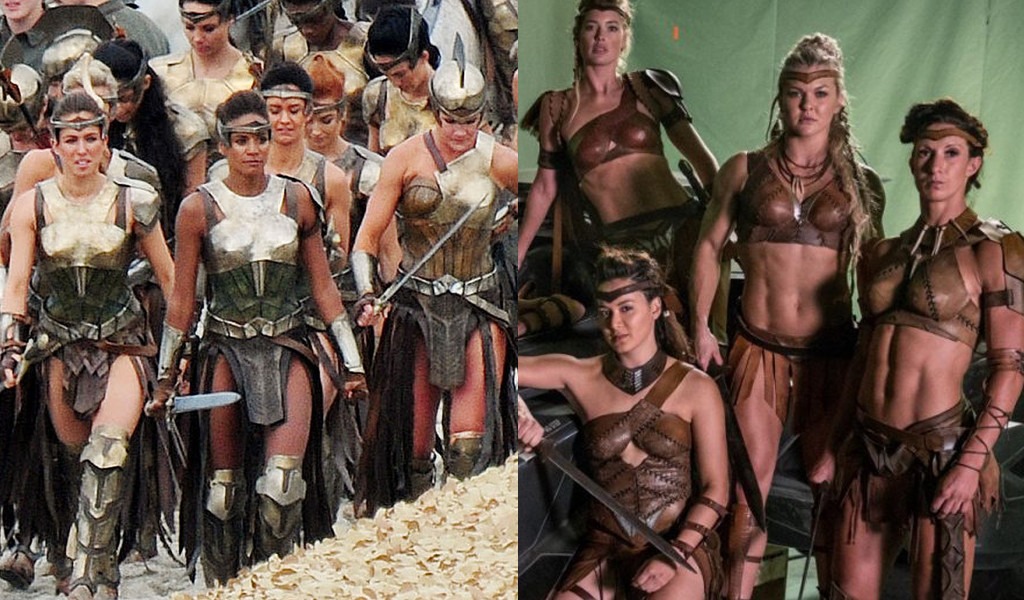 Backgrid; Warner Bros.
Some of these costumes do not look like the others—and people are noticing. 
As the release of Justice League looms just days away, the Internet is abuzz about the Amazon warriors' costumes for Zack Snyder's upcoming film as compared to their most recent previous depictions in June's Wonder Woman, directed by Patty Jenkins.
Notably, some of the Amazon warrior costumes in Justice League are two pieces, leaving their torsos uncovered. "Here is a fantastic example of the difference between the male and female gaze," Women and Hollywood founder Melissa Silverstein wrote in a tweet on Sunday. "Patty Jenkins' Amazon warriors on the left. Zack Snyder's on the right." 
The tweet caught the eye of thousands of Twitter users, among them Oscar nominee Jessica Chastain. "Hey men, what would you wear to fight? Hint: dont expose your vital organs. Ugh I miss @PattyJenks," she wrote in a retweet of Silverstein's comment. 
When pressed about her opinion of male Spartan costumes, which have typically exposed all of the upper body, Chastain retorted, "...Im sorry, its also ridiculous. Not a fan."
Watch:
"Justice League" Cast Dish on Kids & Costumes
The differing looks have garnered mixed reviews from fans and critics alike, some arguing that the new costumes are more sexualized or plainly impractical for battle, while others claim they highlight the women's strong physiques. 
Brooke Ence, one of the actresses portraying an Amazon warrior in both films, recently responded to the backlash, telling USA Today not every woman wore a two-piece costume.
"The girls on set, we never thought of [the new costumes] as a sexy version. It felt a little more glamorous, if anything, because we had bigger, beautiful hair, which I loved," she told the newspaper. "I'm an athlete first, right? [Usually,] I can't wear anything without someone commenting about my [muscular] body. So for me, it was actually really cool to be able to show it and not immediately feel masculine, but still very feminine."
Meanwhile, the actresses depicting the Amazon warriors garnered high praise from co-stars Jason Momoa, Ben Affleck and Ray Fisher, all of whom were impressed and intimidated by their work in the gym leading up to filming. 
 "They look phenomenal," Momoa told E!'s Will Marfuggi of their appearance in the film's battle scene. "They look like queens."
Justice League debuts in theaters on Friday.