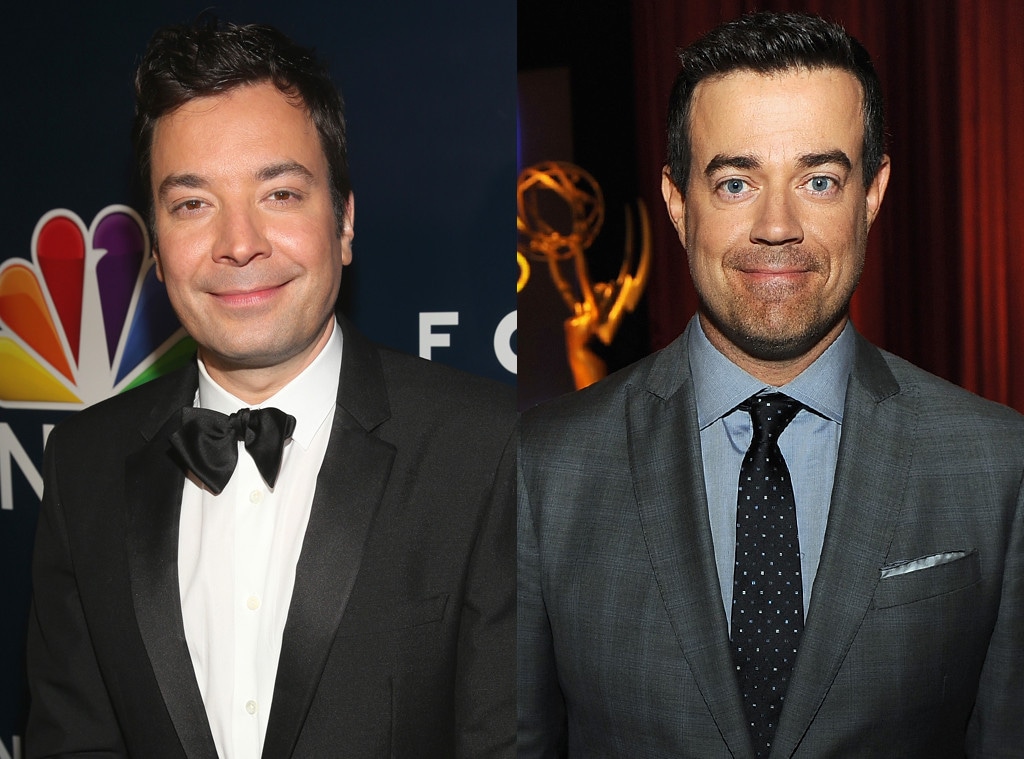 Jesse Grant/Getty Images for NBCUniversal; Kevin Winter/Getty Images
Carson Daly is pulling at our heartstrings this morning.
The Voice host took to Instagram to share a touching story about his late mother, Pattie, who passed away in September, and her special relationship with Jimmy Fallon's late mother, Gloria, who died just a few weeks ago.
Daly shared a photo of the two ladies, smiling from ear-to-ear while holding a bouquet of flowers. Alongside the sweet photo he shared their story.
"My mom & @jimmyfallon's mom Gloria met in 2004 on Letterman's top 10 Mother's Day list," Daly wrote. "They would become fast friends."
He continued, "A NY visit would later always include lunch w Gloria. They had a blast together. I know they're above proud, laughing & shinning light on their boys. Hang tough pal."
The host made similar remarks on the Today show, sending his deepest condolences to Fallon's family following the loss.
"Jimmy's mom Gloria and my mom were close buddies," Daly said. "I wanted to send deepest wishes to Jimmy and your family from mine and also all of us at the Today show. I'm thinking about you."
Meanwhile, Fallon's mother passed away on Nov.4 in New York. A rep for the late night host released a statement to E! News saying, "Jimmy Fallon's mother, Gloria, died peacefully on Saturday. Jimmy was at his mother's bedside, along with her loved ones, when she passed away at NYU Langone Medical Center in NYC.  Our prayers go out to Jimmy and his family as they go through this tough time." 
Douglas Gorenstein/NBC/NBCU Photo Bank via Getty Images
Following her passing, The Tonight Show Starring Jimmy Fallon tapings were canceled last week.
"On behalf of everyone at NBC, we extend our deepest condolences to Jimmy and all his family at this time of enormous loss," the show's network said in a statement to E! News. "Our hearts go out to Jimmy and everyone else whose lives were so touched by Gloria Fallon's love, kindness and support."
However, Fallon made a tearful return to his beloved show Monday night, paying tribute to his dear mother.
"As some of you know, my mother Gloria passed away recently and I canceled our shows last week to be with my family and make arrangements. She was the best audience. She was the one I was always trying to make laugh, and she was such a fan of the show and everything I did," he said as tears flowed. "When we were little, my mum would walk us to the store—me and my sister—and we would hold hands. And she would squeeze my hand three times and say, 'I love you,' and I would squeeze back, 'I love you, too.' Last week I was in the hospital, at her side. I grabbed her hand and I squeezed, 'I love you,' and I just knew we were in trouble."
Jimmy continued to cry as he thanked his fans for their encouragement. "I feel so grateful to be able to do this every single night, and I'm very appreciative of all the support from all of you that my family received over the past week. We are going to continue to work hard to bring life and laughter into the world. Thank you for watching. Thank you for helping me and my family recover from this loss."
He concluded, "Mom, I'll never stop trying to make you laugh. I love you."
(E! News and The Tonight Show Starring Jimmy Fallon are both members of the NBCUniversal family).