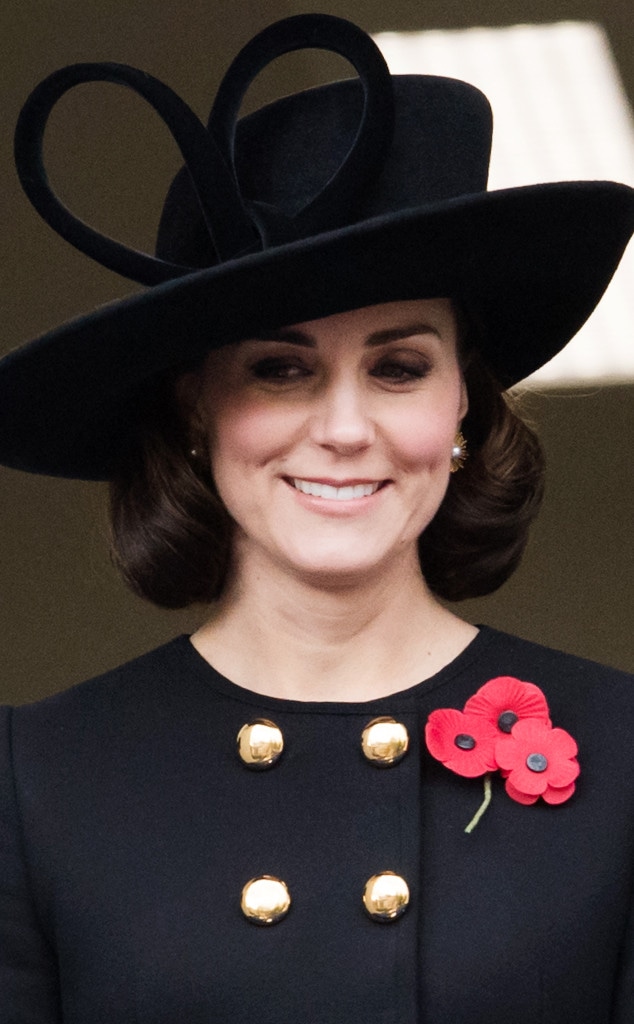 Samir Hussein/Samir Hussein/WireImage
Kate Middleton has a lot of commitments, but short hair isn't one of them.
At the annual Remembrance Sunday service in London, the Duchess appeared on the balcony wearing an up-do under a beautiful black hat. While it looked a lot like a voluminous bob, she has yet to cut her hair. Instead, her hairstylist carefully tucked her shiny brunette tresses under, pinning the curls at the nape of the neck, so she could rock the look without committing to the style. The result is chic and, best of all, temporary.
Max Mumby/Indigo/Getty Images
While Duchess' style is swoon-worthy, she isn't the first to rock the faux bob. Rihanna's hairstylist Yusef Williams revealed to E! News that he discovered the hair hack backstage of Paris Fashion Week years ago. 
"The wonderful thing about doing faux looks is that you don't have to commit," he told us before demonstrating how to recreate the look. 
Love the style? Watch Yusef's tutorial and follow the steps below!
Watch:
The Faux Bob, Made Possible by Rihanna's Hairstylist
Step 1: Add texture to your hair using a large barrel curling iron. If you have fine hair, spray with dry shampoo to thicken.
Step 2: Section off your hair, from the left ear over to the right ear, and pin it up.
Step 3: Braid the back section in a zigzag pattern, pinning the ends. Or, you can split it into two sections and twist each section into a small bun.
Step 4: Brush top section down.
Step 5: Backcomb and tease your hair to add shape and dimension.
Step 6: Split the top half into two sections and coil each section around two fingers.
Step 7: Anchor your coiled hair into the base braids using strong bobby pins.
Step 8: Pull hairs out from the top for a more imperfect look.
Step 9: Accessorize with gold bobby pins.
Step 10: Set the style with hair spray.