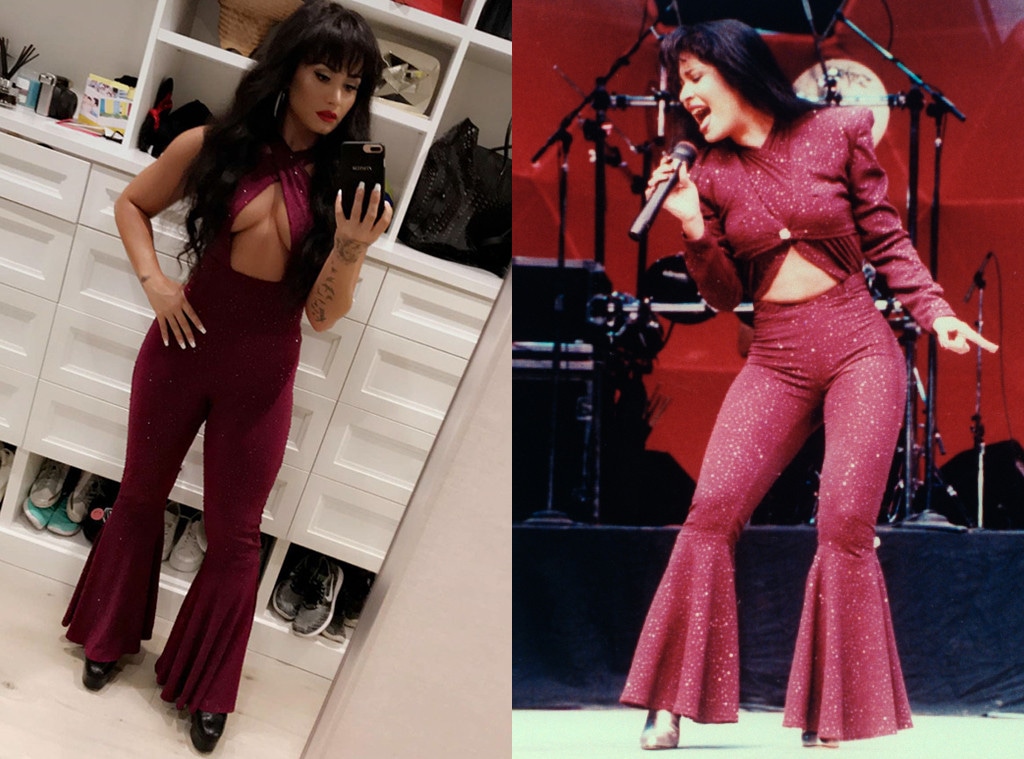 Snapchat; Arlene Richie/Media Sources/The LIFE Images Collection/Getty Images
This Halloween, various stars paid tribute to Selena Quintanilla by transforming themselves by sporting the late singer's signature look and iconic outfits. 
Celebrities like Kim Kardashian, America Ferrera, and Demi Lovato left us in awe of their costumes, and it seems that they had the same effect on Suzette Quintanilla. 
"She looked beautiful. She looked real Latina. I loved it," the late star's sister said referencing Kardashian's transformation when asked by Power 106.  
 She couldn't pick a favorite and said, "It's a tie because they both looked beautiful. Both of them are beautiful." 
While many didn't except costumes, it didn't surprise Suzette. As she explained, she's known for a long time that the Kardashian family loves Selena.
"Well a lot of people don't know this but I'm really good friends with Adrienne Bailon, and she was with the Cheetah Girls. Adrienne at the time, back in the day, she was dating Rob [Kardashian]," the musician explained. "She had Rob on the phone, and he was with Kourtney [Kardashian], and all of them were in the background singing my sister's music. They're big fans of our music from way back."
"And so to have her dress like that wasn't really a big surprise for me," she continued. "It was definitely a great honor."
Suzette also mentioned the Selena t-shirt that Kylie rocked last year and said, "That really didn't come as a surprise either because they are fans of Selena and our music."
As the family sees it, it's cool for people to pay homage to Selena and it gives her legacy "more power."
Because as it was once said, "Anything for Selenas!"