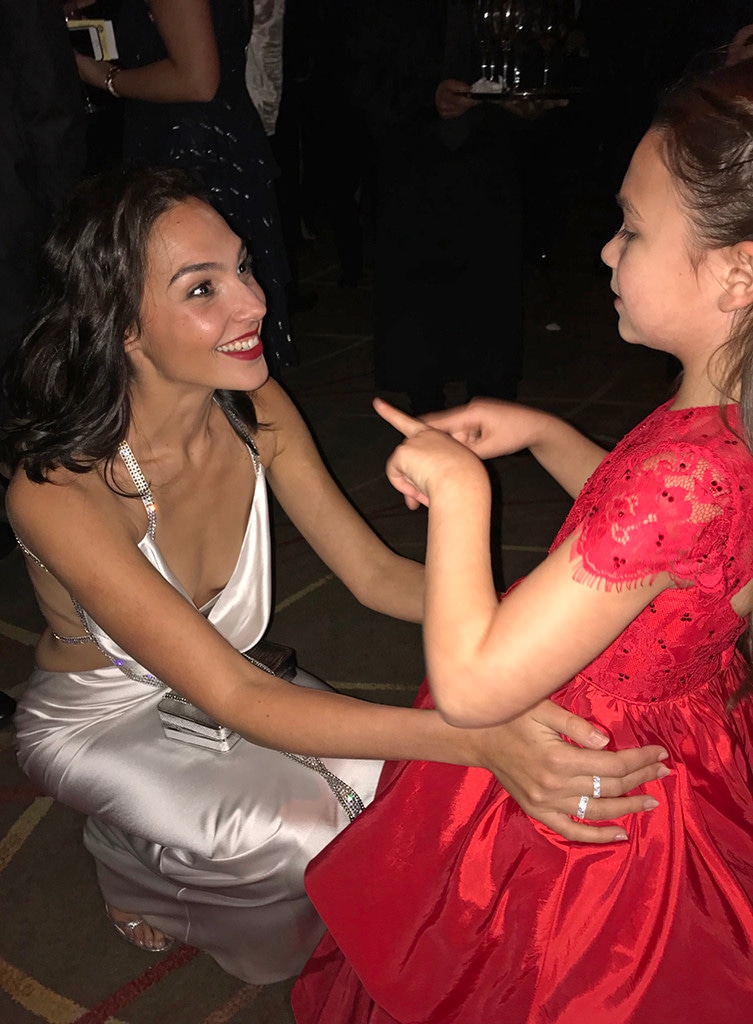 Courtesy Jazz Tangcay
Your move, Daisy Ridley.
In a recent interview with Entertainment Weekly, 7-year-old actress Brooklynn Prince revealed she's been dying to meet Gal Gadot and Ridley—and on Saturday, one of her wishes came true.
"I was just thinking about some of the celebrities I've met. I met Gary Oldman, I met Zachary Quinto, I met Emma Roberts, I met…what's her name?" the Florida Project actress said in October, turning to her mom for help. "Oh, Helen Mirren! I got to meet Elle Fanning." John Boyega is also on Prince's bucket list, who added, "Star Wars and Wonder Woman just rock!"
Prince got to meet Boyega and Gadot two days ago at the Academy of Motion Picture Arts and Sciences' Governors Awards in L.A. "This is the life man," she wrote on Instagram. "Better than a cruise!" Prince also took pics with Patty Jenkins, Laurie Metcalf, Questlove and Emma Stone. And Gadot (in custom Giorgio Armani) looked just as excited to meet the young star on the rise.
"My first word was, 'Hi,' so I will talk to any stranger," a confident Prince recently told the magazine, adding, "This is scary to my mom because I will talk to any people and make friends."
Other stars who attended the 2017 Governors Awards included Mary J. Blige (in Cushnie et Ochs), Jessica Chastain (in Alexander McQueen), James Franco (in Salvatore Ferragamo), Jake Gyllenhaal (in Gucci), Salma Hayek (in Gucci), Garrett Hedlund (in Salvatore Ferragamo), Allison Janney (in Monique Lhuillier), Angelina Jolie (in Elisabetta Franchi), Diane Kruger (in Givenchy), Jennifer Lawrence (in Alexander McQueen), Carey Mulligan (in Giambattista Valli) Robert Pattinson (in Dior Homme), Sarah Paulson (in Miu Miu), Margot Robbie (in Altuzarra), Sam Rockwell (in Gucci), Saiorse Ronan (in Ralph & Russo), Michael Shannon (in Tom Ford), Miles Teller (in Ermenegildo Zegna Couture), Tessa Thompson (in Altuzarra), Kristen Wiig (in Galvan London), Allison Williams (in Brandon Maxwell) and Michelle Williams (in Louis Vuitton).