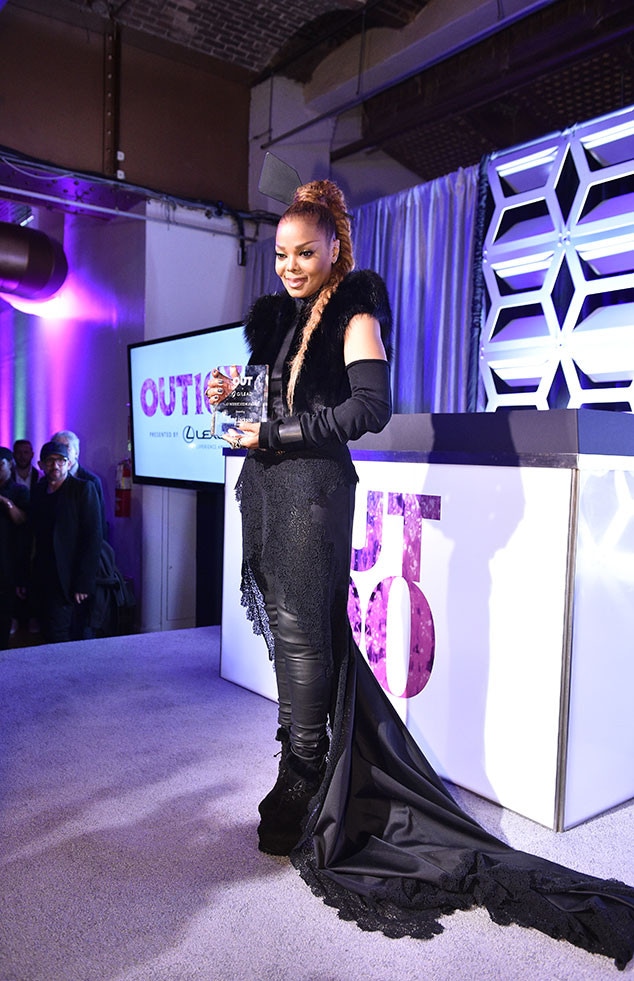 Bryan Bedder/Getty Images for OUT Magazine
Without missing a sartorial step, Janet Jackson is turning heads on the red carpet. 
After more than a year spent mostly out of the spotlight, the musical icon has resumed her world tour and is stepping back into the swing of pop star things. So, what was on the Janet Jackson calendar Thursday night? The 2017 OUT100 Gala, where the songstress was honored with the Music Icon Award along with fellow guest of honors Jonathan Groff and Chelsea Manning. 
Of course, Jackson wouldn't attend in just any old ensemble. The star looked bold as ever in a fur-accented top and leather look pants paired with a train accented with lace by David Ferreira. To top off the look, the star wore her hair in a braided ponytail and sported fingerless gloves. 
Bryan Bedder/Getty Images for OUT Magazine
Ahead of the event, the new mom teased her look with a snap of herself getting ready for Out's event with her glam squad. As she captioned the shot, "Together Again."
Her best accessory? A smile. Jackson beamed as she accepted her statue and waved to the crowd. It's clear the songstress is in high spirits as of late. In the wake of her separation from Wissam Al Mana and with her tour moving full speed ahead, the Grammy winner is focusing on the two tasks at hand: music and motherhood. 
Bryan Bedder/Getty Images for OUT Magazine
"She is happy and is in good spirits. I think the world is going to get something really special from her," Jackson's makeup artist Preston Meneses told E! News in August. 
"She's really excited. We all are—a lot of us have been working together for years so when we come together, it's just like being with your family and when you work with your family, things just come easy and it's a wonderful experience. Right now, I just feel like the universe put us all together for another moment."