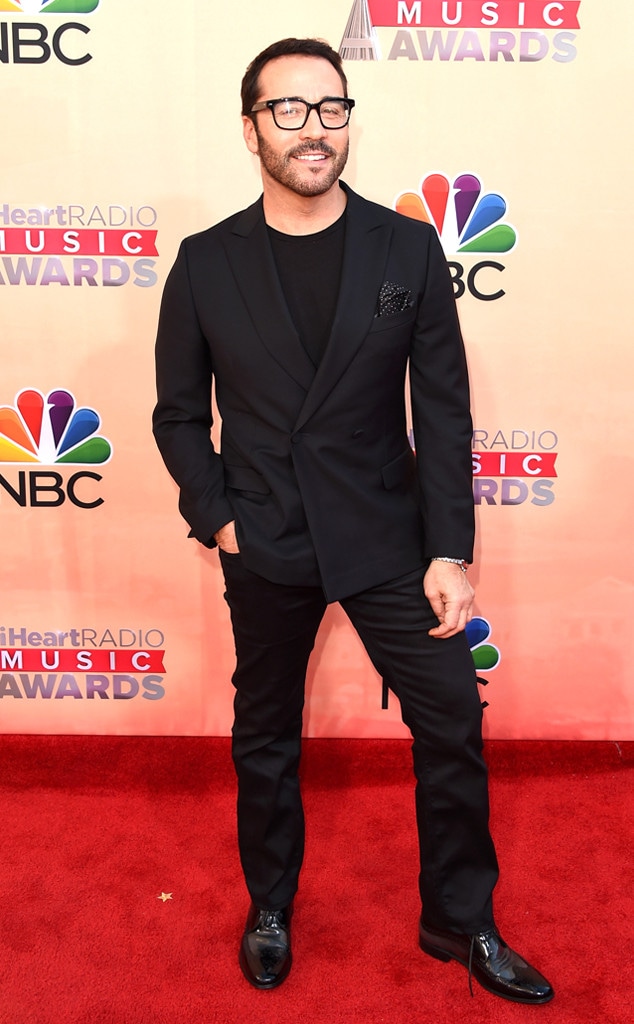 Jason Merritt/Getty Images for iHeartMedia
UPDATE: Three more women have accused actor Jeremy Piven of sexual misconduct, which brings the total to eight accusers, according to a report by Buzzfeed News today.
Piven and his legal team have denied the accusations. Additionally, his lawyers have threatened legal action against BuzzFeed.
In a written statement to the website, Piven said, "These allegations, which in one case goes back more than 30 years and the two others more than 20 years ago, are false. As evidenced by the lie detector test I took and passed, I have never forced myself on anyone, nor have I ever exposed myself or restrained anyone against their will. To the contrary, if any woman ever said no, I stopped."
The newest accusations are from 1985, 1994 and 1996. A woman named Susan McCain Olson says she was a 17-year-old extra on the set of Lucas when the actor groped her. The second alleged incident was made by a woman, who asked not to be identified, who said that Piven tried to force himself on her while he was filming Dr. Jekyll and Ms. Hyde in Montreal, Canada in 1994.The third incident allegedly occurred in 1996, when a woman named Diane Gonzalez says she was an extra on the set of the sitcom Ellen, in which Piven co-starred. Gonzalez says she had a "consensual romantic encounter" that "quickly turned physically aggressive and left her feeling threatened."
______
After a third woman came forward with sexual assault allegations against Jeremy Piven, he penned a lengthy note shared to his Twitter page on November 9.
"Let me begin by saying that the accusations against me are absolutely false and fabricated," the actor tweeted. "I would never force myself on a woman. Period. I have offered to take a polygraph to support my innocence. I keep asking myself, 'How does one prove something didn't happen?'
"What I am not able to do is speculate as to the motivations of these women. As a human being I feel compassion for the victims of such acts, but I am perplexed as to the misdirection of anger with false accusations against me and hope they do not detract from the stories that should be heard," continued.
"We seem to be entering dark times- allegations are being printed as facts and lives are being put in jeopardy without a hearing, due process or evidence. I hope we can give people the benefit of a doubt before we rush to judgment."
Piven concluded, "Continuing to tear each other down and destroy careers based on mere allegations is not productive on any level. I hope we can use this moment to begin a constructive dialogue on these issues, which are real and need to be addressed."
Tiffany Bacon Scourby, an advertising executive, has shared allegations with People, claiming that the actor sexually assaulted her back in 2003. Piven denies the claims by Scourby, telling the publication in a statement, "Let me be absolutely clear, this simply did not happen. I would never force myself on a woman, ever. I cannot speak as to why a person would create a story like this."
In her claims, Scourby alleges that she met Piven while at a club in New York City in October 2003. Scourby was in town for a work event and says that Piven was "very nice" to her when they met.
"He mentioned he was going to [tape an appearance on] Late Night with Conan O'Brien the next day and gave me his number and asked me to go with him as his guest," Scourby claims, adding that she met him at his hotel, the Trump International Hotel & Tower the next morning.
She then alleges that she and Piven were talking on a couch in his hotel room when "he jumped on top of me. I tried to push him off and he forced me to the ground." Scourby then alleges that Piven exposed his genitals and rubbed them against her. She also claims that during the alleged encounter, during which she remained clothed, Piven held her hands down and ejaculated on her turtleneck.
Scourby claims that she pushed Piven off of her and left to go back to her hotel.
In addition to Piven's denial of Scourby's accusations, the actor's rep tells People that if Piven were to take a polygraph test it "would have clearly proven this allegation to be entirely fabricated, a complete lie. He's now looking at legal options."
Scourby's allegations have surfaced one week after Piven denied sexual assault allegations from actress Ariane Bellamar. A second woman, actress Cassidy Freeman, also posted allegations against Piven on social media last week in response to his denial of Bellamar's sexual assault claims.
"@jeremypiven You will deny this because, sadly, she's deniable," Freeman's Instagram post began. "The backlash this woman received was horrendous. And whether or not her accusations are true, the TRUTH is I know you. I know what you did and attempted to do to me when I was far too young. THAT I know. And you know it too. Unless there were so many of us, that you can't remember. Predatory behavior is a chronic way for you to seek power. Do you feel powerful? With your lawyers and your networks and your die hard man-fans who call your victims bimbos? Or do you know, in your rotten gut, that you will have to lie for the rest of your life? I hope from now on, you keep it in your pants and you never get to do it again."
E! News has reached out to Scourby and Piven for comment.
(This story was originally published Thursday, November 9, 2017 at 10:37 a.m. PST)