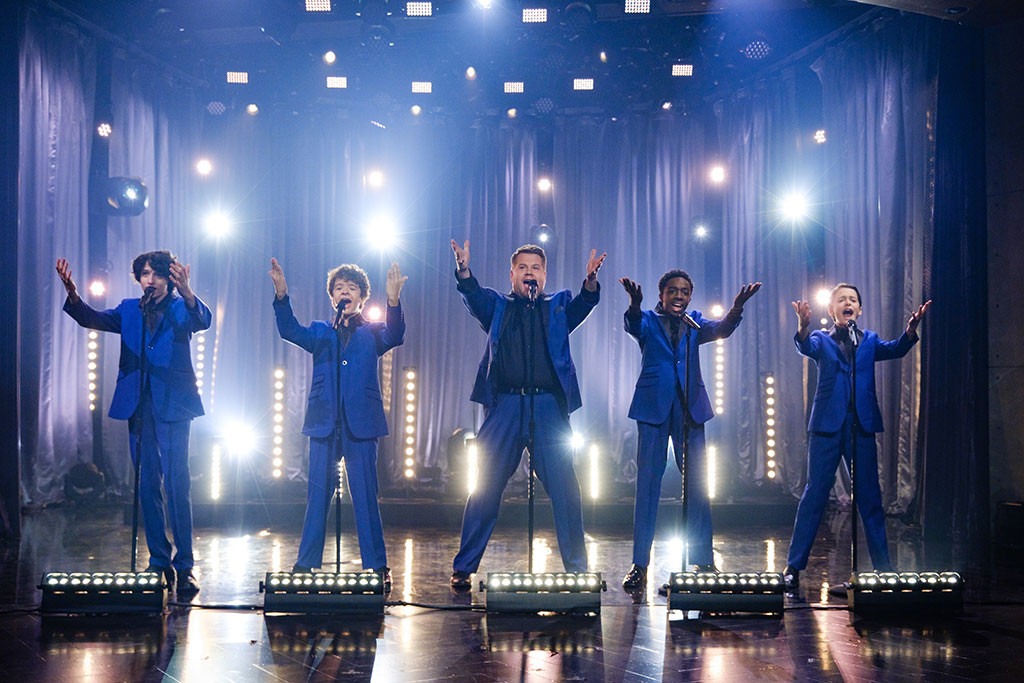 CBS/Terence Patrick
Before they were the kids of Stranger Things, they were pursuing their Motown dreams. 
Alright, so they're totally kidding, but that didn't stop Finn Wolfhard, Gaten Matarazzo, Caleb McLaughlin and Noah Schnapp from pulling off yet another one of James Corden's comical sketches. 
This time, the late-night host and the four young actors starred in a hilarious montage chronicling their faux past as students in an aspiring Motown group called The Upside Downs. Yes, Corden was one of the teens. 
"We actually went to school with him. He was held back a couple of years, but we were in the same grade," Wolfhard explained. Together, they sold out high school proms, bar mitzvahs, birthday parties and nursing homes. 
However, as they gained momentum, a guest at a wedding was a Netflix executive who asked them to audition for a new show. According to the boys, they were hesitant to go because they were "really committed to the band." Yet, at Corden's encouragement, they all went—and all but one got the part. We think you know which one...
"Don't worry about me. I'm gonna be ok," Corden, hilariously dressed as Eleven, assured. "I'll be fine as long as I don't end up wearing a suit and sitting behind a desk."
While the boys went on to experience massive success on Stranger Things, they decided to get together for a reunion performance on The Late Late Show stage. Spoiler alert: it was phenomenal. 
If you thought the young stars were talented in acting alone, guess again. One by one, they showed off their vocal chops, serenaded the audience with harmonies and danced in unison to classic hits like The Temptations' "My Girl," The Four Tops' "(Reach Out) I'll Be There" and the Jackson 5's "I Want You Back."
Though the entire thing was a joke, their talent certainly is not. First, Stranger Things. Next, an album!