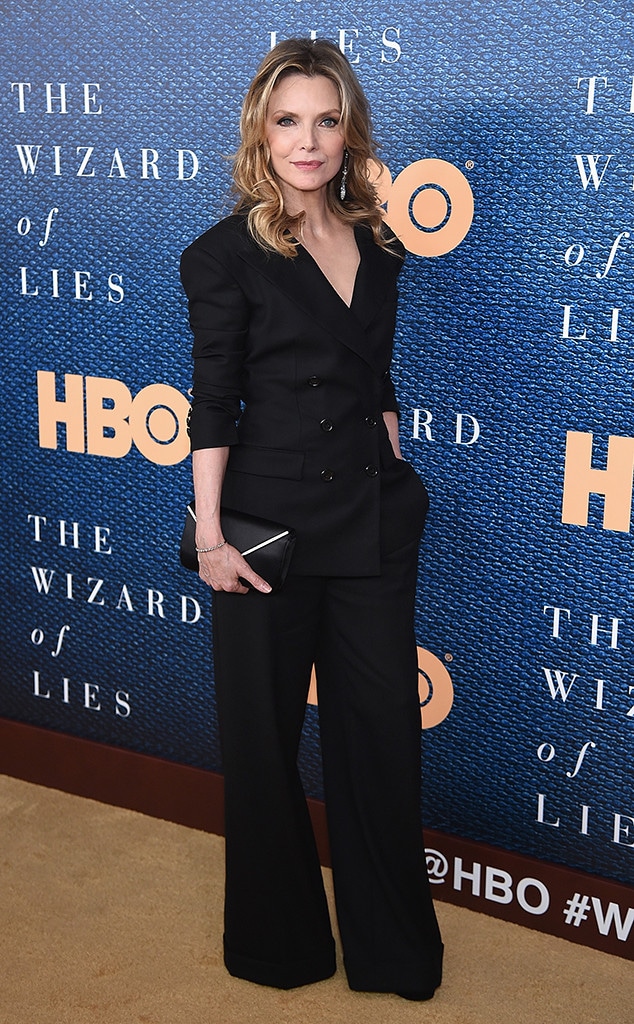 Dimitrios Kambouris/Getty Images
Don't call it a comeback!
When Michelle Pfeiffer appeared on NBC's Today Thursday to promote her new film, Murder on the Orient Express (in theaters Friday), the 59-year-old actress chalked up her career revival to good timing. This year alone, Pfeiffer also appeared in Darren Aronofsky's mother! and Andrew Dosunmu's Where Is Kyra?, in addition to earning an Emmy nomination for her role as Ruth Mader in HBO's made-for-TV movie Wizard of Lies. Pfeiffer will next play Janet Van Dyne in 2018's Ant-Man and the Wasp, and she shows no signs of slowing down after that. But the actress, who has previously said she put her career on hold to raise her kids with husband David E. Kelley, seems uncomfortable with the renewed attention on her reentry into movies.
"You know, I wish I could really take credit for making this big sort of sacrifice, but it sort of just evolved. I guess my priorities maybe shifted. We moved out of Los Angeles. The older the kids got, it became more and more difficult to say 'yes.' I became pickier and pickier: 'Well, where does it shoot? When does it shoot? How long will I be away?'" Pfeiffer told Savannah Guthrie. "And at some point, I became unhireable. That was really the real reason why I hadn't worked."
Before she realized it, Pfeiffer said, "time went by;" her last film, The Family, came out in 2013. "It was actually one of my children who said to me one day, 'Mom, are you ever going to go back to work?'—which kind of hurt my feelings. 'What do you mean? Isn't it great I'm home?'" Pfeiffer recalled. "And then when they started applying for colleges, I thought, 'OK, it is time.'"
Now that her kids are grown, Pfeiffer is happy to be back on set.
"It feels really good, because I don't feel that guilt anymore, [that] working moms feel—you can relate. No matter what profession you're in there's that tug. It doesn't even matter if you're not a working mom—if you're out doing something with your friends, you sort of feel this guilt that you should always be with them," she said. "I am relived of that, so in some ways it's more fun."
Admittedly, she was nervous to star in the latest film adaptation of the novel Murder on the Orient Express, which stars Penélope Cruz, Willem Dafoe, Judi Dench, Johnny Depp, Josh Gad, Derek Jacobi, Leslie Odom Jr. and Daisy Ridley. "I was a little intimidated and I hadn't really seen any of the earlier adaptations. I actually am not that familiar with Agatha Christie; it's not really a genre that I sort of gravitate toward. But I loved the script and I thought the character was challenging and not like anything I've ever done. It was such a fantastic cast, and Kenneth Branagh was directing it, so I was excited," Pfeiffer said. Even so, working with some of the greatest actors in Hollywood was scary. "I was really nervous and I was intimidated the first few days. It was such a massive amount of talent, and all people who I've admired over the years."
(E! and NBC are both members of the NBCUniversal family.)