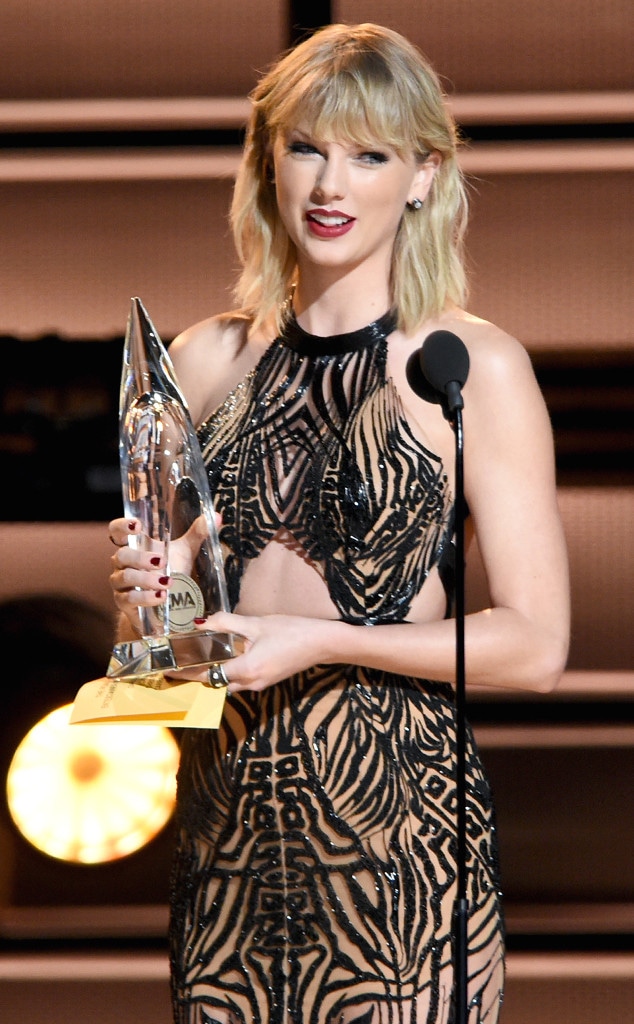 Erika Goldring/FilmMagic
Taylor Swift's presence was felt at tonight's 2017 CMA Awards. 
The pop star, who is currently awaiting Friday's release of her sixth studio album, won Song of the Year for writing Little Big Town's hit song, "Better Man."
Swift's close pal Karlie Kloss was on hand to present the award to the country music foursome, who accepted on her behalf. 
"We didn't write this," they teased onstage. "We're really grateful that Philip checked his email one night and that song was in his email. We want to say thanks to Taylor Swift. She couldn't be here tonight with us."
She continued, "Taylor, wherever you are, thank you for writing this beautiful song, and loving songs and loving Nashville. To the fans, to country radio, thanks for being so good to us."
Taylor appeared visibly shocked in a reaction video posted to Twitter following the announcement, which she captioned, "In NYC for SNL rehearsals. I LOVE YOU @littlebigtown and CMAs."
Evan Agostini/Invision/AP
When "Better Man" was released last November, Karen Fairchild explained to fans, "She sent us this song, and it was one that was really special to her. And she thought of us because of the harmonies, and she's never pitched a song to anyone before and the moment that we heard it we were like, 'Man, that is a song that we're gonna cut.'"
"Everybody has a better man. It might have been a lover, or a parent that disappointed you. I think the beauty of that storytelling is that we can all relate to being disappointed in someone and still loving them, but saying 'Enough is enough,'" she shared. "This would have been amazing if you would have gotten your act together. That's kind of a fun song to sing."
At last year's ceremony, Swift made a surprise appearance to present the Entertainer of the Year Award, which she has won twice.
It's a great week to be a Swiftie! Congratulations, to both Taylor and Little Big Town.