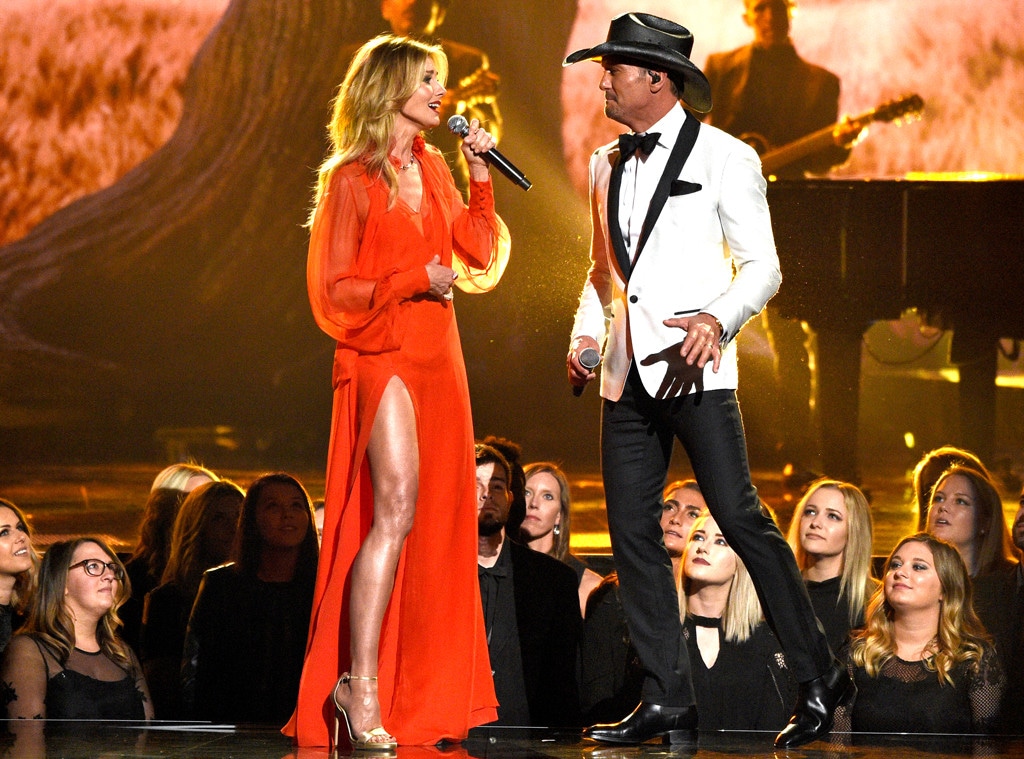 Chris Pizzello/Invision/AP
Glitz, glam, giddy ups and cowboy boots! It's the 51st Annual CMA Awards, which means that it's country music's biggest night of the year. 
Of course you watched Tim McGraw and Faith Hill's fiery performance, Keith Urban's female-empowering song and Carrie Underwood's emotional in memoriam tune, but would you believe that even more amazing things were going on behind the scenes between commercial brakes and away from cameras?
Check out all the things you didn't see during the country strong award show...
1. Getting Him to Church: Eric Church rocked sunglasses and his guitar slung around his shoulders as he slowly walked through the center front aisle right before showtime. He was getting into position by the podium and people were micing him up right before the show went live. Church hopped onto the podium and the show's announcer silenced everyone for 10 seconds and did a five second countdown so that the country crooner could have it quiet for his acoustic version of "Amazing Grace."
Later in the show, Church and many others walked up to the late Troy Gentry's widow Angie Gentry and daughter Kaylee after the tribute performance to the late country star, who died in a helicopter crash in September, to embrace and hug them. The members of Little Big Town also went up and gave the two hugs after the tribute.
2. Have a Little Faith: After Church's song ended, Faith Hill leaned over to Kelsea Ballerini and gave her a hug. Garth Brooks then leaned in to give Faith a kiss on the cheek before walking off stage.
3. Stand and Deliver: Before Miranda Lambert performed, Chris Stapleton and his pregnant wife Morgane stood up front during the entire commercial break chatting with Americana singer and Lambert's boyfriend, Anderson East.
Throughout the whole night, the Stapletons were busy chatting with everyone. They were quite the popular duo!
4. Clap It Out: During Miranda's performance Garth stood in back on the stage politely waiting, watching, and fiddling with his guitar. After Miranda finished Garth dropped his hands from the guitar and clapped loudly for the country star.
Evan Agostini/Invision/AP
5. Stand by Your Man: While Chris Stapleton accepted his award, Morgane stood up front with her hands clutched close to her face smiling, beaming, clearly thrilled for her hubby. All the members of LBT were also standing up in the front row while the singer accepted his award.
6. Always Fire: After Faith and Tim's performance, they embraced and then walked off the stage together with their arms wrapped tightly around their waists. They took their time strolling off stage.
Chris Pizzello/Invision/AP
7. Selfie Time: Lea's new boyfriend Zandy Riech was there and he took a few cell phone photos of his famous girlfriend and a friend.
8. Laugh It Up: When Karlie Kloss, Bobby Bones, Luke Combs and Brett Young were presenting their awards, the two were laughing together on stage while the nominees were rolling through before announcing that her bestie had won the award.
9. Feeling It: Carrie Underwood's emotional in memoriam performance was not just for the cameras. After the show went to commercial, she wiped tears from her face and took a moment to collect herself before stepping off the platform. Her gigantic dress was too big to move quickly though so she had to hike it all the way up to her knees and kneel down pretty low to step off, with the help of a few handlers helping her off. A man who was sitting right by her podium immediately embraced Carrie and she hugged him back for a solid 30 seconds, then she was rushed back stage by a team of production people.