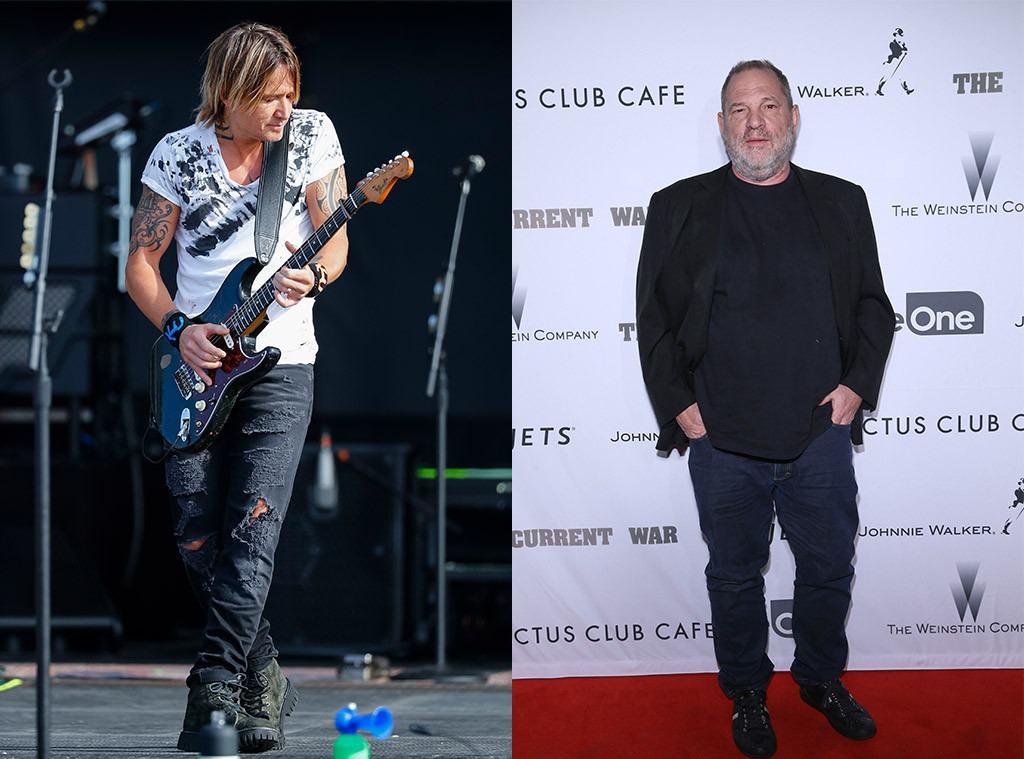 Michael Hickey/Getty Images. GP Images/WireImage.
Sexual misconduct allegations made against Harvey Weinstein helped inspire a song recorded by Keith Urban.
The country star performed the ballad "Female" at the 2017 CMA Awards this evening.
According to Billboard, Shane McAnally, Nicolle Galyon and Ross Copperman co-wrote the song days after the first public allegations against Weinstein were reported in the press. "Female" deals with sexual harassment, misogynism and rape culture and mentions a popular track by Beyoncé. 
Sample lyrics include "When you hear somebody say somebody hits like a girl / How does that hit you? / Is that such a bad thing?" "When you hear a song that they play saying you run the world / Do you believe it? / Will you live to see it?" and "When somebody laughs and implies that she asked for it just 'cause she was wearin' a skirt / Aw, is that how that works?"
"As a husband and a father of two young girls, it affects me in a lot of ways," Urban, who shares two daughters with wife Nicole Kidman (who played an abused wife in Big Little Lies) told Billboard. "And as a son—my mother is alive. It just speaks to all of the females in my life, particularly. For a guy who grew up with no sisters in a house of boys, it's incredible how now I'm surrounded by girls. But not only in my house; I employ a huge amount of women in my team. The song just hit me for so many reasons."
"The writers wrote this song on October 10th and I heard it the next day," Urban told Rolling Stone Country. "I got to hear it fresh out of the oven, and it was instant love for me. I know all three of [the writers] and I think obviously the tone of times right now was weighing on all of them, and compelled them to write this song."
"It affected me not just as a husband but also as a father of two young girls, and a son," he continued. "I had a heart reaction—my first thought was that it was a gospel soul prayer mantra, all rolled into one."
On October 5, five days before "Female" was written, the New York Times was the first to report about Weinstein's alleged sexual misconduct, saying that over the past 30 years, he reached at least eight settlements with accusers. The story spurred a New Yorker piece that told of three alleged rapes by the producer, which in turn spurred more women to go public with their own accusations against the producer. As of Wednesday, at least 75 people have accused Weinstein of sexual misconduct, including 12 who say he had sex with them against their will. He has denied allegations of nonconsensual sex.
"After Vegas, to be honest, I haven't wanted to do anything other than write songs that make an impact," Copperman told Billboard. "So that's all I've been doing. We got to talking that day, and then Shane McAnally was like, 'I've had this title in my phone a long time—I've never known how to do it—called 'Female.' Me and Nicolle were like, 'Uh, yes, we're doing that.' We thought the best way to write it was to just list things in the chorus."