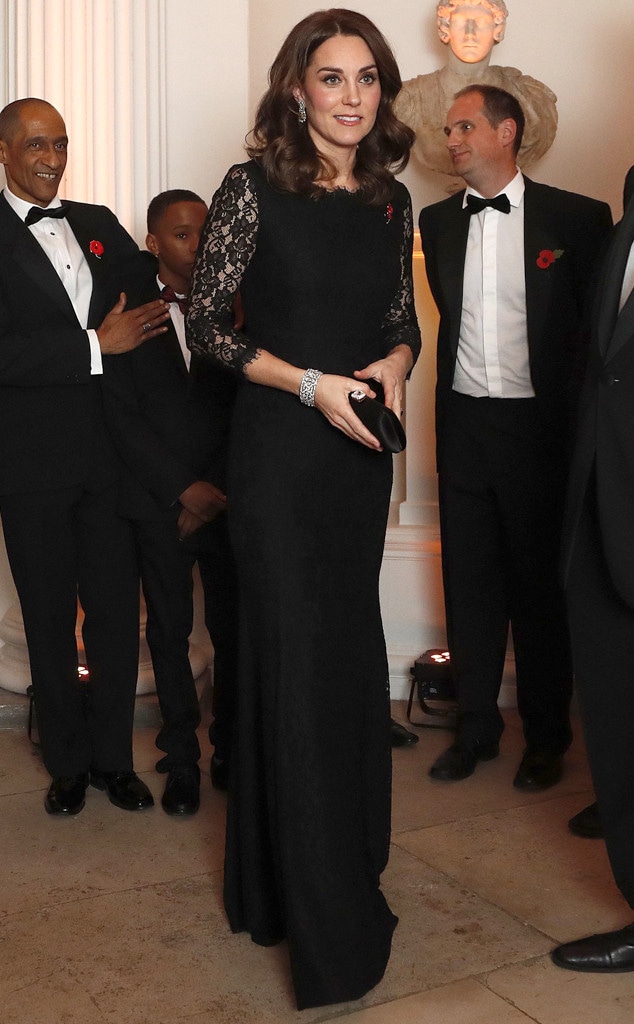 Frank Augstein - WPA Pool/Getty Images
It seems Kate Middleton and Meghan Markle are linked by more than their royal beaus—the two women also seem to share a love of Diane von Furstenberg's designs. 
When the Duchess of Cambridge stepped out Tuesday night for a charity gala in support of the Anna Freud National Centre for Children and Families, she sported a black lace gown by the popular designer. It seems the future mother of three quite adores the look because she's worn it before. In 2014, the royal, who is known to recycle outfits, donned the dress for the Royal Variety Performances, where they met some of the night's famous performers—the guys of One Direction. 
However, the dress didn't look familiar solely because of Middleton's clear penchant for the lace design. Her potential future sister-in-law, the Suits star, has also donned a type of Furstenberg's Zarita lace gown. However, instead of the floor length, Markle stepped out on the red carpet in the cocktail version at a 2012 event. 
Danny Martindale/Daniel Zuchnik/WireImage
Frederick M. Brown/Getty Images, Yui Mok - WPA Pool /Getty Images
It's not the first time the two women's fashion sense has overlapped. Whether they're rocking off-the-shoulder dresses or all-white looks, the women seem to share similar sartorial tastes. While it's unclear if either lady is taking style cues from the other, it certainly looks like they'd have a lot in common if they ever go on a shopping spree together. 
With the world anxiously waiting for a royal engagement announcement, it may be only a matter of time before the brothers' leading ladies are making fashion statements together. 
"While Meghan may not be wearing a ring or a formal engagement announced, it's fair to say they're as good as engaged now," an insider told E! News early last month. "They've spoken about their marriage plans openly with each other and friends and family around them are pretty much thinking about wedding attire already!"
When that day comes, we'd bet Middleton's dress for the wedding would get Markle's stamp of approval.