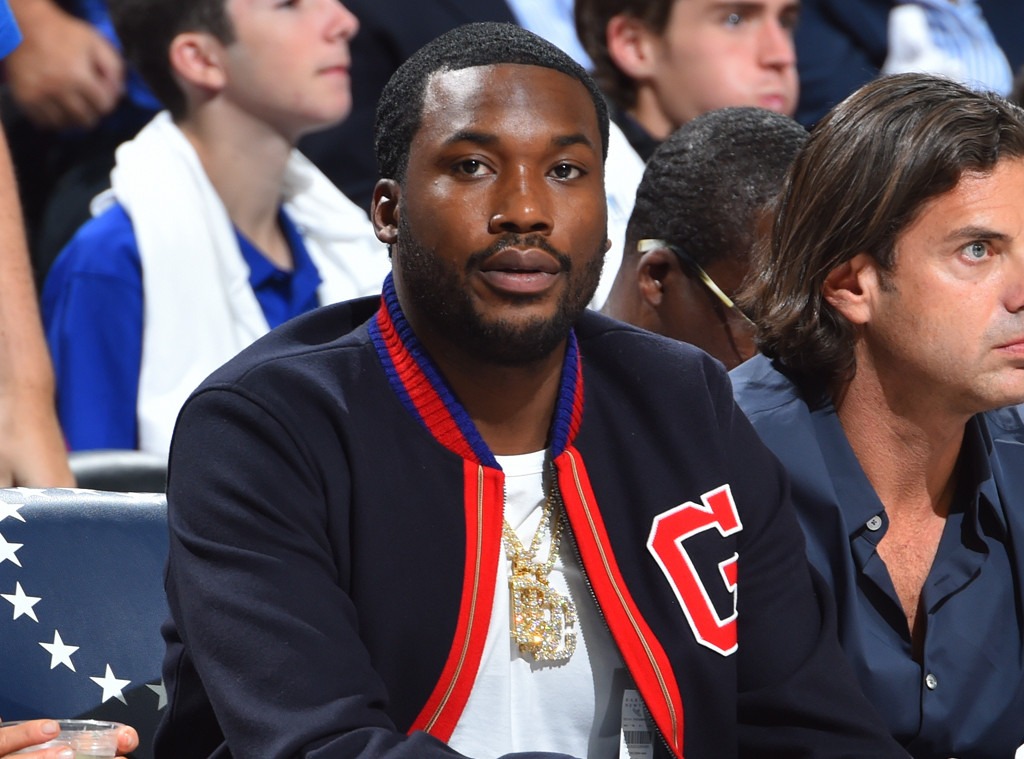 Jesse D. Garrabrant/NBAE via Getty Images
On Monday, a Philadelphia judge sentenced Meek Mill to spend two to four years in state prison for violating probation he was put on following a drug and weapons conviction in 2008.
At the time, Mill (real name: Robert Williams) was sentenced to serve 11 to 23 months in prison. The rapper was released early, in 2009, under a five-year parole agreement. He violated his probation twice, in 2012 and 2013, and in 2014, his probation was revoked. As a result, he was sentenced to spend three to six months in prison. The rapper was released on Dec. 2, 2014.
On Dec. 17, 2015, a judge found Mill guilty of violating his parole once again, and the rapper was given 90 days of house arrest. Additionally, he was also given six more years of probation.
In March 2017, Mill was arrested for misdemeanor assault at an airport in St. Louis. He was arrested again in August 2017 for reckless driving and reckless endangerment, stemming from a dirt bike stunt filmed in New York City. Charges from both arrests were ultimately reduced, and Mill was able to enter a pretrial diversion program both times. In October 2017, the "Dreams and Nightmares" rapper pleaded guilty to the reckless driving charge, while the March assault charge was dropped entirely, as he was allowed to do community service in lieu of prison time.
Per The Philadelphia Inquirer, prosecutors recommended that Mill not be imprisoned for his recent probation violations, as he's been drug-free since January and has complied with "most" requirements of his probation. However, Common Pleas Judge Genece Brinkley cited a failed drug test and a failure to comply with a court order restricting his travel. Brinkley said she has tried to help the rapper for about a decade, to no avail. Mill's legal team has vowed to appeal.
Before he was sentenced, Mill addressed the judge for 40 minutes, pleading for clemency and insisting that his "technical probation violations" were oversights and not disrespect. "I'm human. I'm not perfect. I'm asking for mercy. You gave me the ladder to do what I have to do to prevail in my struggle," he told Brinkley. "I made it this far. I can't really go back and start over."
"I gave you break after break, and you basically just thumbed your nose at this court," she said. Brinkley added that the hip-hop star will be eligible for state parole supervision after two years.
Fellow rapper Jay-Z, an outspoken advocate for criminal justice reform, spoke out against the judge's decision. "The sentence handed down by the Judge—against the recommendation of the Assistant District Attorney and Probation Officer—is unjust and heavy handed," the "4:44" rapper wrote on Facebook Monday. "We will always stand by and support Meek Mill, both as he attempts to right this wrongful sentence and then in returning to his musical career."