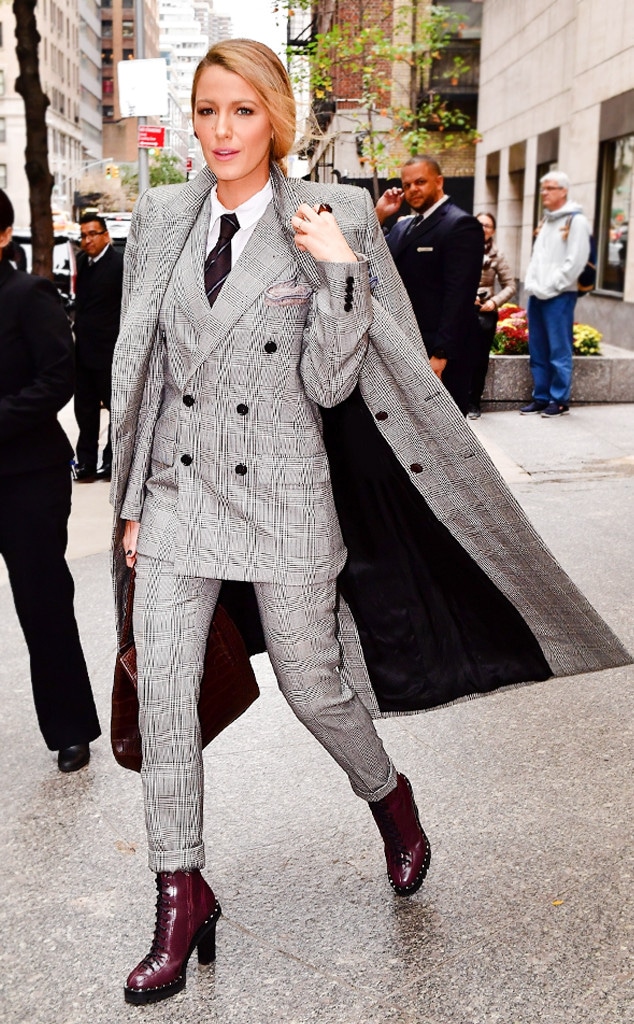 James Devaney/GC Images
According to celebrities, two coats are better than one.
While having to wear two coats sounds miserable, doubling up is a style choice you may want to make. Beyond providing extra warmth, the added coat adds a level sophistication that alludes to high fashion and menswear.
Case in point: Blake Lively's three-piece, menswear-inspired suit. While promoting her new film All I See Is You, the star appeared in a gray plaid suit, which included a coat, suit jacket and tailored pants. Instead of wearing the coat normally, Blake opted out of the sleeves, giving us a better view of her outfit. As she walked down the NYC street, the coat blew upwards, like a cloak fit for the street style queen.
David Crotty/Patrick McMullan via Getty Images
Kelly Rowland also wore the trend, but with a more feminine approach. The singer wore a forest green suit, without a top underneath, then contrasted her monotone ensemble with a pink duster. The color contrast makes the outfit standout, bringing us to add "colorful winter coat" to our Black Friday shopping list.
No suit? No problem. This style isn't limited to business attire, as shown by Karlie Kloss. On a cold day, the model wore an athleisure jacket and varsity bomber together, and it was amazing. For one, it solves the problem having to find a cute coat with a hood. Instead find a hooded jacket you love and wear it under your hood-less coat. For two, if it's chilly in the morning, but warmer in the afternoon, you have the layers to rely on—key during fall and winter. Third, it just looks cool and we love it.