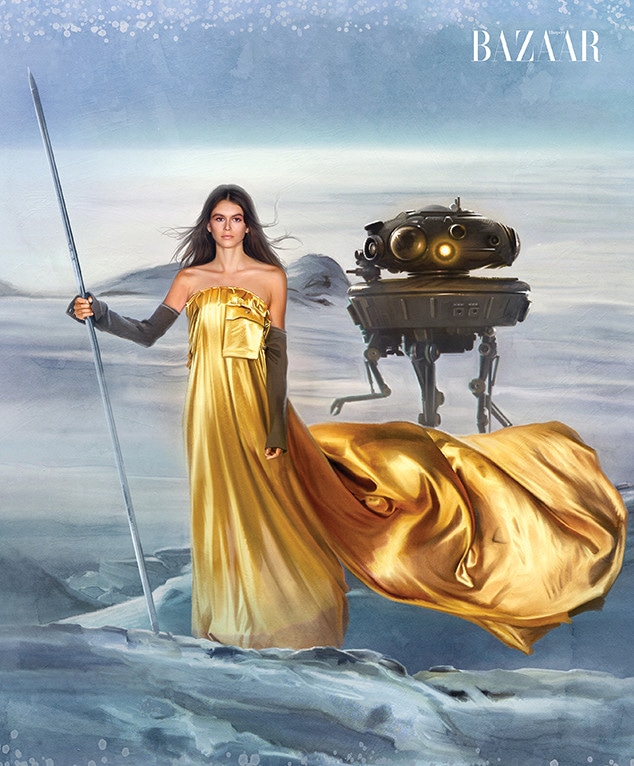 Illustrations by Brian Rood/Harper's Bazaar
Today's biggest supermodels are feeling the power of the Force.
For its November issue (in celebration of Star Wars: The Last Jedi), Harper's Bazaar enlisted Lucasfilm illustrator Brian Rood to place Kaia Gerber, Bella Hadid, Gigi Hadid, Taylor Hill and Kendall Jenner in classic scenes from the franchise. Gerber (in Vera Wang) and the Hadids (in Rag & Bone and Burberry) referenced 1980's Star Wars: Episode V – The Empire Strikes Back. Paying homage to the film that started it all, 1977's Star Wars: Episode IV – A New Hope, Hill (in Carolina Herrera) posed in front of the Deathstar while Jenner (in Missoni) wielded a lightsaber.
"[Editors] came through and they went through some of the storybooks that I had done and picked out some of their favorite iconic scenes from the Star Wars films, with backgrounds everybody felt familiar with that you've seen a million times, and they had a list of the models in those scenes that they wanted with the outfits they wanted," Rood tells the magazine. "You know, kind of replace [Luke Skywalker] with Kendall Jenner. So that's kind of how that evolved."
Illustrations by Brian Rood/Harper's Bazaar
Illustrations by Brian Rood/Harper's Bazaar
Rood, who has been working with Lucasfilm "for the better part of 13 or 14 years," says he loves being able to "dabble in a lot of different cultures with the Star Wars films." For example, he says, "If I'm doing a fine art painting, I can almost do a Wild West painting, or I can do a very hard sci-fi tech-y painting, or I can make it more fantastical. I mean, that's the beauty of the Star Wars films to me: they touch on so many levels and subject matters, and it's cool creatively to spread your wings a little bit in so many different genres all inside of one film franchise."
The November issue of Harper's Bazaar is on newsstands now.
Star Wars: Episode VIII – The Last Jedi is in theaters nationwide Dec. 15.