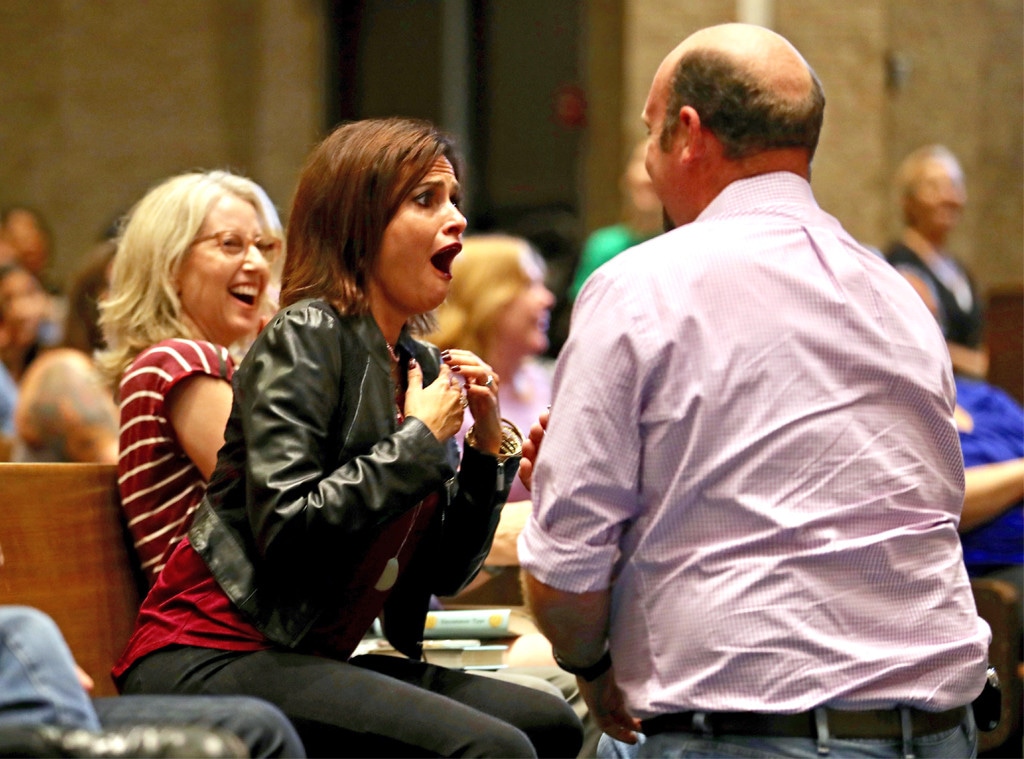 Courtesy Texas Book Festival
Spoiler alert: She said yes.
The world may be a troubling place right now, but over the weekend, Tom Hanks lent his talents to spreading some joy by helping one very lucky couple get engaged at the Texas Book Festival in Austin.
On Saturday, the two-time Oscar winner was at a talk about his new book, Uncommon Type: Some Stories, and at the end of the event, the superstar had a question-and-answer session that ended in his helping a man propose to his unsuspecting girlfriend, Nikki Young.
During the Q&A, Hanks read out a question from a man named Ryan McFarling: "Here's Ryan's question, and it's for Nikki Young..."Nikki, will you marry me?"
Hanks then brought the pair on stage and Ryan proposed to his lady love in front of the 1,000-person audience. Of course, the oh-so-surprised Nikki said yes.
After the big reveal, the newly betrothed couple took photos with the 61-year-old A-lister.
Courtesy Texas Book Festival
After the surprise proposal, Nikki, a self-proclaimed Tom Hanks "superfan," beamed to reporter Molly Oak from KVUE News, "I don't know how he did it and magic happened. Most epic proposal ever."
And that's why everyone loves Tom Hanks!
Check out all the other celebs who have helped couples get engaged...
Watch Daily Pop weekdays at 12:30 p.m., only on E!