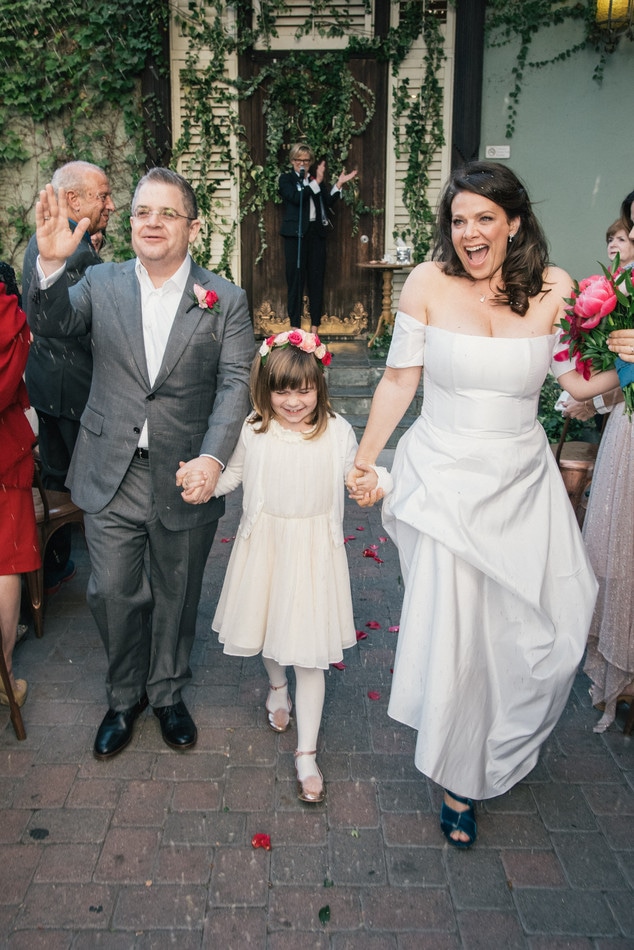 Jeff Vespa/@jeffvespa
It's not every day you find true love for the second time...and get married by a Goonie!
Comedian and actor Patton Oswalt, 48, tied the knot with actress Meredith Salenger, 47, in a Jewish ceremony on the Jim Henson Company Lot in Hollywood on Saturday, about a year and a half after the sudden death of his first wife Michelle McNamara, mother of his 8-year-old daughter Alice.
The bride wore a white off-the-shoulder gown, while the groom sported a gray suit with no tie, as seen in a picture taken by friend Jeff Vespa, founder of Verge and co-founder of photo agency WireImage. Alice served as the flower girl and wore a cream dress and metallic pink shoes and a pink flower crown.
The three were all smiles as they walked back up the aisle, as their officiant and friend Martha Plimpton, of Goonies and Raising Hope fame, and guests clapped. Questlove was also spotted at the ceremony.
The bride and groom danced their first dance to Gerry Rafferty's 1978 hit "Right Down the Line," which Aimee Mann and Michael Penn performed in person.
"True love," Salenger wrote on Instagram on Sunday. "True happiness. Forever and Always. The Oswalts. November 4, 2017 - Jim Henson Studios - Los Angeles, CA."
Salenger, who rose to fame in 1985 with her role in in Disney's The Journey of Natty Gann, praised Vespa, their "magnificent photographer and dear friend" and Plimpton, their "brilliant officiant the uber talented and most genuinely marvelous woman."
Salenger also posted a selfie with Plimpton.
"I️ have admired, loved, and respected this magical human since I️ was 15 years old," she wrote. "Last night she masterfully officiated my wedding making everyone who wasn't already a huge fan of hers fawn all over her genius and decide she is their new favorite person. Martha, how do I️ express my love and gratitude to you for every minute of love and care you gave to us. Thank you for the greatest gift. And your friendship and sisterhood. I️ love you. #family @marthaplimpton."
Plimpton, who was friends with both of them before they started dating, was instrumental in bringing them together. In February, she invited them to a dinner party and Oswalt was unable to attend. Salenger later sent him a Facebook message saying he "missed some amazing lasagna," joking, "You really screwed up." The two then exchanged messages for three months until they met in person in May.
Oswalt and Salenger made their red carpet debut as a couple the following month. A month later, in July, they announced their engagement, which prompted a backlash from fans.
At the time, Oswalt said he "expected some bitter grub worms to weigh in (anonymously, always always always) with their much-needed opinions," and "decided to ignore them" but did feel "rage." He shared a link to a blog a woman wrote, titled, "A Widow's Rage Defense Against Patton Oswalt's Engagement."
"I think for Patton, having met and found love after over a year of intense therapy and openly grieving and dealing with his pain...I am grateful to be the one who helps him climb out of the depth of grief and find some joy again," Salenger wrote on Facebook at the time. "Alice is happy and feels loved. I have waited 47 years to find true love. Creating our family unit while honoring the brilliant gift Michelle has given me will be my life's goal and happiness. I am deeply in love with boy Patton and Alice and very much looking forward to a beautiful happy life having adventures together.