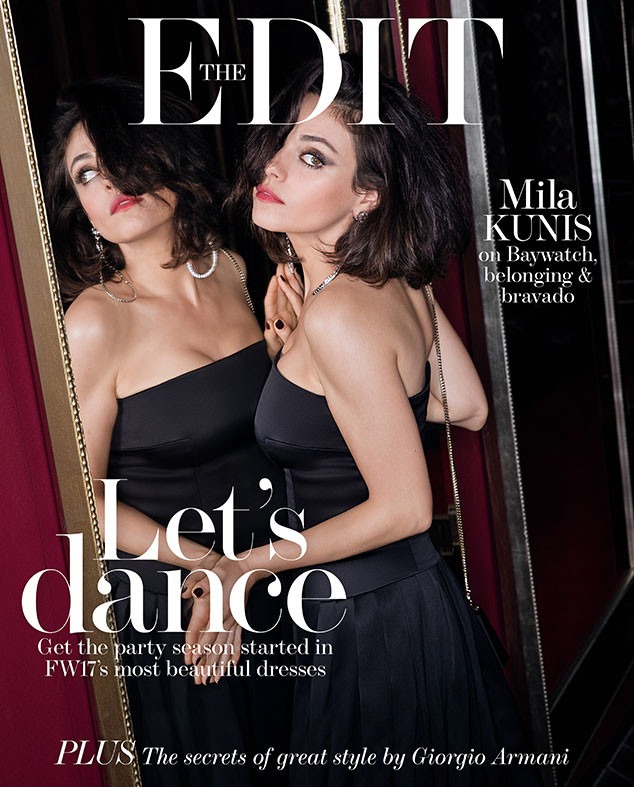 Photographed by David Bellemere, courtesy of The EDIT, NET-A-PORTER
Mila Kunis has been working in Hollywood for decades, but there was still something husband Ashton Kutcher could teach her about the business. 
Opening up to NET-A-PORTER's digital magazine, The EDIT, the Bad Moms Christmas star opened up how her famous spouse helped her hone her career from behind the scenes. 
"Honestly, full disclosure, when I started dating Ashton, I was like, 'I don't want to know [about the] business side, it makes me so uncomfortable,'" she recalled during an interview with her co-star, Kathryn Hahn. "And he said, 'Right, stop, get on the call.' And then I started educating myself, getting the language right. I would ask him questions, Googled lots of things, and now I know what everybody's doing, I know what I can do, I know what I can ask for."
Photographed by David Bellemere, courtesy of The EDIT, NET-A-PORTER
According to Kunis, this lesson was also fairly recent. "I am way more involved than I was five years ago," she added. "I've been in the industry 25 years and only five years ago I started. Think about that, perspective-wise."
While she wasn't always savvy about the language of Hollywood business, she did learn one word rather early: "no."  
"When I was 19, I made a conscious decision to surround myself with people [who are] better and smarter than I am. Prior to that point, any job that came my way, I was like, 'Yeah, I'll do this piece of s--t! Who cares, acting's fun,'" the star told The EDIT. "When I decided it was going to be my career, I reined everything in: 'No, I don't want to do this movie – it's great on paper, but I'm gonna hold out.' It's all false bravado; internally, I was like, 'Oh my God, I'm f—king up!'"
Photographed by David Bellemere, courtesy of The EDIT, NET-A-PORTER
Nevertheless, Kunis found her footing. "That's where I got my power from, because I said no, and I'm so proud of the projects I said no to. After That '70s Show, I had to audition and hustle because people were like, 'You can only do television, you can only do comedy.'"
All these years later, there's one performance that definitely stick out in her mind. "I was on Baywatch twice—two different characters. Once I was blind. I got lost in a fire and had to be saved," she said of the 1995 episode. "It's my best performance."'
To see The EDIT's full interview with Mila Kunis go here or download the free EDIT app at the App Store and Google Play.