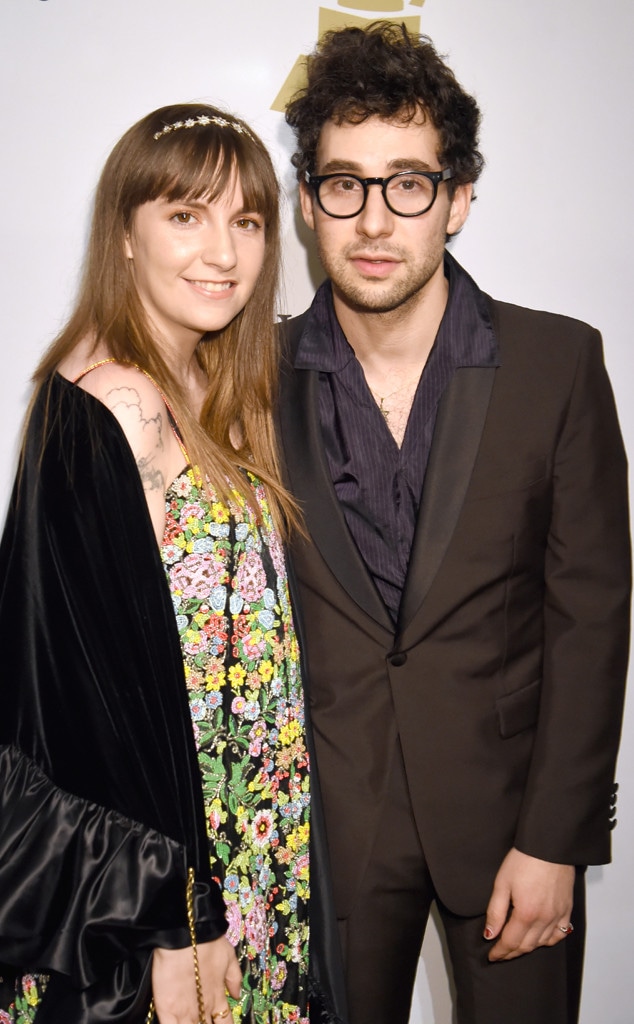 Jeff Kravitz/FilmMagic
Lena Dunham is no closer to becoming Mrs. Jack Antonoff.
In the wee hours of the morning Thursday, the creator and star of HBO's Girls revealed to her Twitter followers that she'd mistakenly thought she overheard Antonoff talking about popping the question. "I thought Jack was furtively planning a proposal to me with his sister and he just admitted I actually caught him 'talking s--t' about me!" the 31-year-old actress told her 5.69 million followers. "Now I literally can't sleep cuz I'm laughing too hard and I am also keeping him awake." Don't pity Dunham, though. "5.5 years, no rock and you know what? It's real nice."
Dunham was able to laugh at her innocent mistake, but the idea that Antonoff would propose wasn't totally crazy. "They were huddled and I heard him say 'Lena' and 'finger' so obviously it seemed like an engagement ring talk," the actress told her fans. "Anyway I want Cardi B's ring."
(If Antonoff were planning a surprise proposal, today would be the day to do it.)
For years, Dunham said she wouldn't get married until it was legal for everyone in the United States. "The idea of having a celebration that can't be fully shared among all the people in my life and all the people that we love just doesn't really feel like a celebration at all," she told Ellen DeGeneres in 2015. "Until that's something that everyone can join into with no sense of being left out on any level, politically, emotionally, it's just not something that we're gonna do."
Earlier that year, Dunham joked about engagement rumors. "I love my boyfriend. I'm very lucky to call him my life partner," she told E! News, "but you will sooner see me pregnant with twins."
The Supreme Court ruled in June 2015 to legalize same-sex marriage, but Antonoff didn't propose to Dunham on the spot. However, the couple has talked about what their wedding day might look like. "We've always said that when we get married we want our wedding party to just be our two sisters in tuxedos. Jack has a straight sister, I have a queer sister—they'd be our best men/women, and we'll call it a day," she told Pride Source last year. "That's our dream."