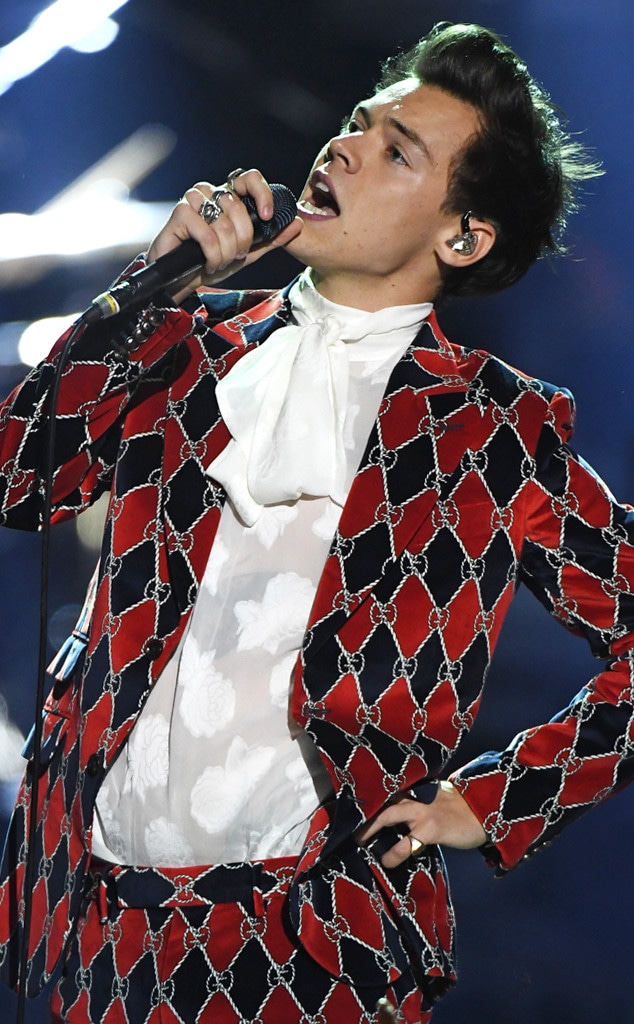 Ethan Miller/WireImage
If Harry Styles has learned anything on his first world tour as a solo performer, it's that the show must go on. 
Take for instance the former One Direction singer's latest mid-concert mishap, when he was this close to wiping out on a kiwi at the Hammersmith Apollo in London. Yes, a kiwi. Fans appear to be taking his hit song of the same name quite literally, hurling fruit at the 23-year-old and almost causing him to take a tumble. 
Like any seasoned pro, Styles continued right along, later teasing concert-goers, "It appears there is an actual kiwi thrown on stage. Has anyone else brought any fruit? Shame on you."
But that's just the tip of Harry's tour iceberg... 
While performing at the We Can Survive benefit concert in Los Angeles earlier this month, some people expressed outrage over an incident involving a fan groping Styles. The inappropriate encounter was caught on camera and as a result, #RespectHarry began trending on Twitter. 
As an eyewitness explained to Yahoo Celebrity U.K., "He got down onto his knees and was shaking his arms to the music with his eyes closed. A fan then reached out and touched his crotch. He very quickly got up and appeared to also shove their hand a little bit to remove them faster. You can tell it freaked him out a little because as he continued performing, he avoided the section that fan was standing in."
Then at another recent show in London, Styles paused the concert to help a fan who was having a panic attack. In footage shared online, the native Brit asks those around the individual in distress to "give her a little bit of space," adding, "Just chill for one second. We'll get some people."
Per Buzzfeed, the fan thanked Harry and the venue's medics for" having such a pure heart and stopping the show to get security to help me." 
And with more than a month of tour dates to go, who knows what other hijinxs Harry might come across?! Regardless, fans can rest assured Harry will handle any possible road bump with his signature charisma and ability to laugh at himself. 
Never change, Mr. Styles. Never change.