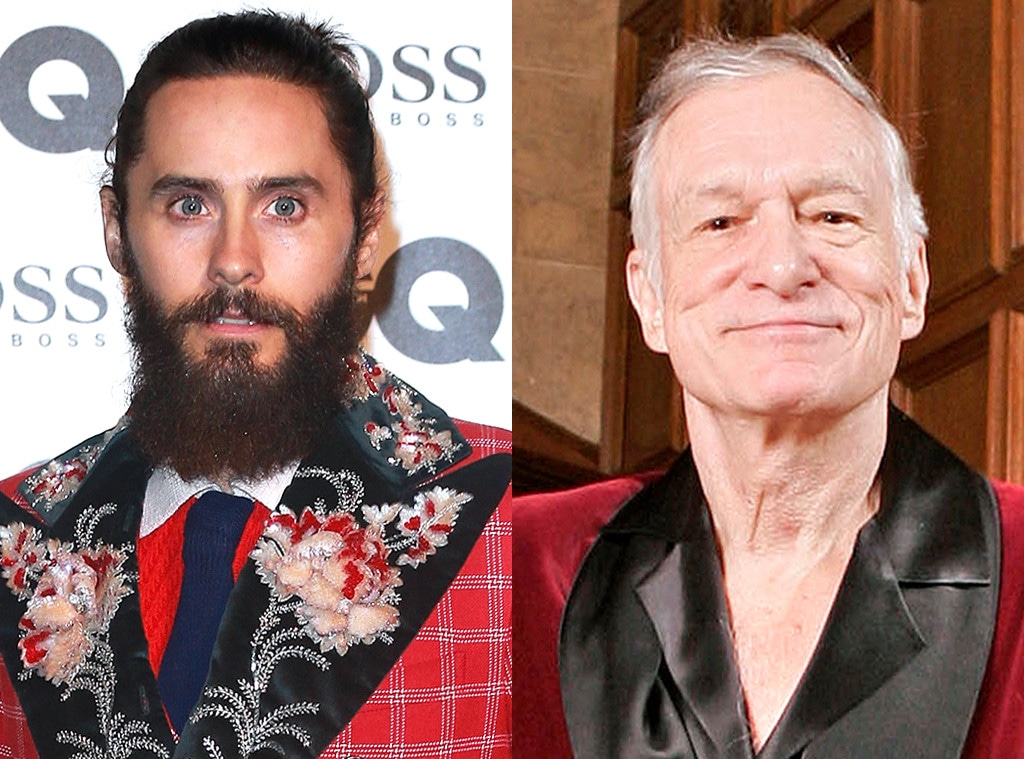 Fred Duval/FilmMagic, AP Photo/Kevork Djansezian
Not so fast, guys.
Last month, Brett Ratner, who was accused of sexual harassment earlier today, gave an interview in which he said that Jared Leto had contacted him to play Hugh Hefner in his biopic about the famed Playboy founder. But that movie ever becoming a reality seems highly unlikely because earlier today Playboy Enterprises said its involvement is "on hold" with Ratner amid the scandal and Leto's rep says that the Oscar is not attached to the movie and never was.
Earlier today, Playboy Enterprises announced that the biopic (and all other projects with RatPac Entertainment) would be put on pause due to recent sexual assault allegations made against Ratner. This morning, news broke that six women, including Olivia Munn and Natasha Henstridge, had come forward to detail experiences of sexual harassment and misconduct by the producer-director, whose lawyer Martin Singer has denied each woman's claims.
In a statement to E! News, Playboy Enterprises said, "We are deeply troubled to learn about the accusations against Brett Ratner. We find this kind of behavior completely unacceptable. We are putting all further development of our projects with RatPac Entertainment on hold until we are able to review the situation further."
Meanwhile, Leto's rep has also come forward to say that the star was never intending to be in the film about the famed Lothario.
"Jared Leto is not and was not attached to a Brett Ratner-directed Hugh Hefner film, nor will he be working with him in the future," Leto's rep told Deadline. "Earlier reports were incorrect and not confirmed by his representatives."
Previously, E! News reported that The Hollywood Reporter announced that Leto was all set to play the famous Playboy founder in an upcoming biopic. 
At the time, THR reported that the film was already in early development under his company RatPac Entertainment
"Jared is an old friend," Ratner told THR. "When he heard I got the rights to Hef's story, he told me, 'I want to play him. I want to understand him.' And I really believe Jared can do it. He's one of the great actors of today."
At the time, E! News reached out to Leto's rep for additional comments on his involvement.
According to THR, Ratner's intent to direct the film dates back to 2007, when the film was set to be made by Universal Pictures and Imagine Entertainment. However, when the rights expired, THR wrote, Jerry Weintraub bought them. It wasn't until the Ocean's and Westworld producer died, THR continued, that Ratner purchased the rights for his own company.
THR also wrote that Ratner tried to introduce Leto to Hefner back in April at the premiere of Amazon's docuseries American Playboy: The Hugh Hefner Story; however, he was unable to make the introduction due Hefner's declining health.
Hefner died at the age of 91 on Sept. 27.