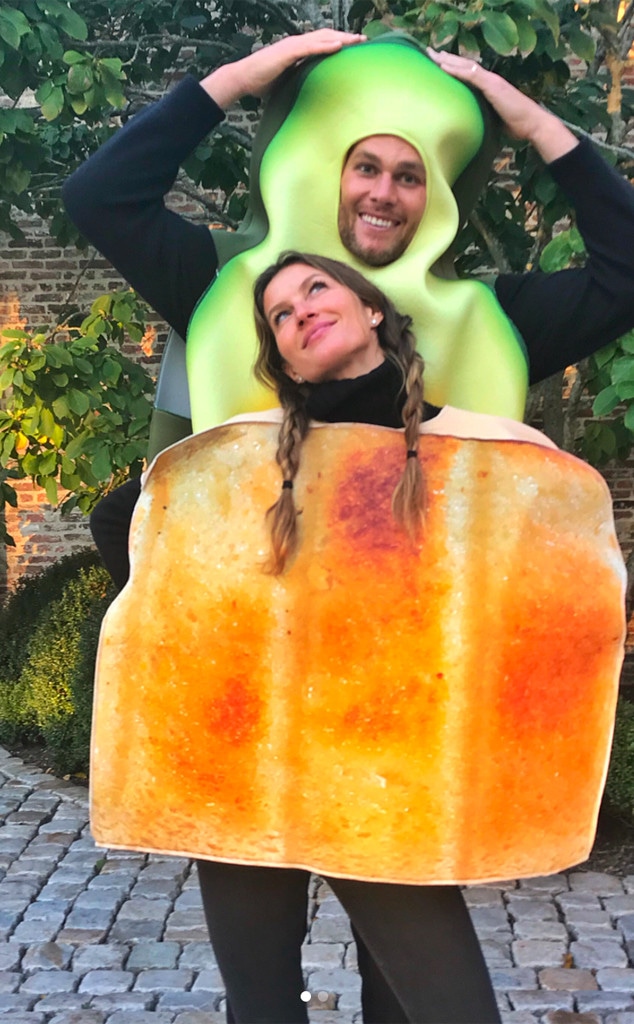 Instagram
Halloween isn't just for kids — and these celebrity couples are proof of that.
Several Hollywood sweethearts got into the Halloween spirit this year and dressed up for the spooktacular holiday. And we have to say, we're quite impressed.
While Halloween is normally a time for candy, Tom Brady and Gisele Bundchen took a healthier direction and dressed up as avocado toast. The supermodel, the toast part of the costume, posted a picture of her and her football hubby on Instagram, writing "I just can't resist an avocado !! #happyhaloween."
Jenna Dewan Tatum and her husband Channing Tatum also went all out this year by dressing up as the characters from Tim Burton's film The Nightmare Before Christmas—per the request of their little one Everly.
"When your daughter asks for Sally and Jack, you give her Sally and Jack," the actress and dancer wrote on Instagram. "Happy Halloween everyone."
But these weren't the only celebrity couples to get dressed up. Kourtney Kardashian and boyfriend Younes Bendjima wore Bonnie and Clyde costumes, and Khloe Kardashian and Tristan Thompson dressed up as as Khaleesi and Khal Drogo from Game of Thrones. Fans even claimed they could see a baby bump underneath's Khloe's costume. Gigi Hadid and Zayn Malik also channeled their inner superheroes by dressing up as Marvel's Black Cat and Spider Man.
To see other cute celebrities' costumes, check out the gallery:
Which costume was your favorite? Tell us in the comments below.
For more celebrity news, watch E! News at 7 and 11 p.m.